Home > Cricket > The Cup > Special


The Rediff Special

McGrath hoping to end on a high

March 02, 2007



Good timing is an obligatory requirement for any international cricketer. In this respect Australia's retiring fast bowler Glenn McGrath has always been a master at choosing the perfect moment.

The lanky paceman defied childhood predictions he would never make it as a top player to become the most successful paceman the game has ever seen.

He has tormented and occasionally made fools of some of the greatest batsmen in history and always had the theatrical sense to save his best performances for the biggest stages.

At 37, it is no surprise that McGrath has decided to quit after the World Cup. His best days are gone and he has been plagued by injuries for the past few years.

But McGrath is anything but a spent force and, while he may not be as consistent as he once was, he still retains that uncanny sense of timing.

He took a wicket with his final ball in Test cricket in the last Ashes Test against England and a wicket with his final delivery in a one-day international on home soil. All that remains now is the fairytale finish at the World Cup.

McGrath has already won two World Cups (1999 and 2003) and is bidding, along with team mates Ricky Ponting and Adam Gilchrist, to become the first players to win three.

He was the spearhead of the Australian attack in the previous two finals and while he is longer guaranteed the new ball, his importance to the team has not diminished.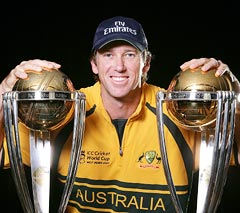 While Australia's younger paceman intimidate their opponents with their blistering speed, McGrath plays with their minds, relying on his unerring accuracy, subtle movement off the seam and sharply rising bouncers to get wickets and keep the runs down.

His simple approach to the game belies the fact he is one of the hardest working fast bowlers Australia ever produced who rose from humble beginnings in the dusty outback to become an outstanding international.

He took 8 for 38 in his first Ashes Test at Lord's in 1999 and a hat-trick against the West Indies a year later. McGrath took career-best one-day figures of 7-15 against Namibia at the 2003 World Cup then 8-24 in a Test against Pakistan in 2004.

He scored his only Test half-century with the bat when he made 61 against New Zealand that same year and returned from injury to play a leading role in Australia's 5-0 Ashes whitewash of England.

After completing all his unfinished business, McGrath might have been tempted to call it quits then but the showman in him demanded he save his final curtain call for one last appearance at the World Cup.

 


The Cup: Complete Coverage | More Specials

© Copyright 2007 Reuters Limited. All rights reserved. Republication or redistribution of Reuters content, including by framing or similar means, is expressly prohibited without the prior written consent of Reuters. Reuters shall not be liable for any errors or delays in the content, or for any actions taken in reliance thereon.