Home > Cricket > The Cup > Special


The Rediff Special/Harish Kotian in Mumbai

Harbhajan banking on basics

February 21, 2007



India's ace off-spinner Harbhajan Singh believes the Indian squad for the 2007 World Cup is a good mixture of youth and experience, and has the potential to win the mega event.

"It is a very good team, with a good blend of experienced players and youngsters. If we stick to our basics and play to our potential, then we have a very good chance at the World Cup," he told rediff.com in Mumbai on Tuesday.

Harbhajan said the recent series victories against the West Indies and Sri Lanka would serve as a huge boost for the team, which hopes to carry the momentum into next month's World Cup.

"The team has done well recently [against West Indies and Sri Lanka] which is a very good sign. Everybody is performing well. All the players are very excited and looking forward to the World Cup," he said.

The 26-year-old enjoyed a rather decent outing in the last two series, against the West Indies and Sri Lanka. Although he picked just six wickets in seven matches, he managed to check the flow of runs, an important factor in one-dayers.

"The more number of overs you bowl before the World Cup will obviously benefit you. You need to be in a good rhythm before the World Cup, whether you are a bowler or batsman. I am quite happy with the way I have bowled recently in one-dayers and I will try to better this performance in the World Cup," he said.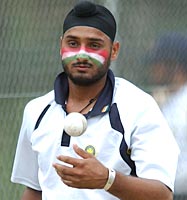 Harbhajan said he is just concentrating on getting the basics right and not looking to experiment too much.

"I will just need to get my basics right and try to bowl the right line and length. It is important to get the situational line and length right, know where to bowl to which batsman, bowl according to a set plan. If you can get those things right, then you have a good chance of getting a batsman out or you can keep him under pressure by not giving runs," he said.

India finished runners-up at the 2003 World Cup, losing to Australia in the final. Harbhajan believes that the current team appears similar to the one that played in the last edition and could even go a step further.

"Last time [in 2003] also we had a very good team; this team is also good. The team is more or less the same. We have done well in the last two ODI series and we will need to carry this momentum into the World Cup."

India's pace bowling attack, led by comeback man Zaheer Khan, has been a revelation in the last few months. Zaheer, particularly, has emerged as a major force, getting early wickets in almost every match he played and that has helped the spinners in the middle overs, says Harbhajan.

"Zaheer [Khan] is doing a wonderful job; so is Ajit Agarkar. Munaf Patel is also coming back to his rhythm, so our pace attack looks good. If you get two or three wickets at the start, it helps you build up the pressure in the middle overs."

Most of the pitches in the West Indies have reportedly been re-laid, but Harbhajan is not bothered whether the tracks would support spin bowling or not.

"I have heard that pitches in the West Indies have been re-laid, so I am not sure as to how the pitches will behave. In one-dayers, I don't think the pitches matter much, as you mostly always get a good sporting wicket. So, I will just try to go out there and perform to the best of my abilities," he said.

Harbhajan, who has taken 170 wickets in 147 one-dayers since making his debut in April 1998, says he feels no pressure with Anil Kumble's return to the ODI team.

"There is no pressure with Anil Kumble also being in the squad. He is the greatest bowler India has ever produced. I am really happy to have a great bowling partner like Kumble. No other team has the luxury of having two such good spinners in their squad. It's always great to have him in the team, and great to have him at the other end. I always learn a lot from him."

There have been few instances when the off-spinner was dropped in favour of the veteran leggie, but Harbhajan feels it is just a part of the game.

"Why will I feel bad if I am dropped? The team will field the best eleven players that they feel are best for the conditions. We are one team, just like one family. It's just like you respect a decision taken by the elders in your family and move on and concentrate on how to improve yourself. You just need to concentrate on working hard on your bowling, fitness and wait for your chance."

So what's going to be his mantra to win the World Cup?

"We will have to perform well in all departments if we want to win the World Cup. You will have to be better than the other team in all departments if you want to beat them. All the teams are closely matched and, as you know, in one-day cricket a game can change very quickly, so you always have to be at your best," he said.

India's campaign in the World Cup starts against Bangladesh on March 17 and Harbhajan is hoping it ends with the title on April 28.


The Cup: Complete Coverage | More Specials