Take a look at some of the most innovative utility products for your home, personal care, safety and for your better health.
#1. Reduce Your Stress With This Eye Massager:
Buy Gadget Hero's Electro Magnetic Vibrating Eye Massager @ Rs.1300
If you are a person who spends most of the time on a laptop, computer or mobile chances that you will soon have thick glass or have a common eyes problem like eye-ache, headache, ache of facial nerves, neurasthenia, insomnia.. Thus this eye massager improves blood circulation, eliminates eye strain and reduces eye muscle tension.
#2. Get a Good Night Sleep:
Buy Side Sleeper Pro Hypoallergenic Side Sleeping Neck Pillow @ Rs.795
This pillow is specially designed to help correctly position your head and neck and reduce stiffness. It lets you sleep properly so that you can wake up rejuvenated
#3. Keep those mosquitoes at bay!
Buy Smart Sensor Ultrasonic Anti Mosquito Insect Repellent Watch Wrist Band @ Rs.799
Rising cases of dengue, malaria, swine flu are common among children and adult these days. To treat this problem today we have ultrasonic anti mosquito insect repellent watch wrist band which can repel mosquitoes and other insect away.
#4. Something For Your Personal Safety:
Buy Self Defense Mobile Phone Stun Gun With LED Torch Shock Security Gadget @ Rs.599
Spy Mobile Stun Gun is a guarding tool which ensures personnel protection from any threat or danger. The protective spy gadget is of immense usage for senior citizens, women, jewellers, cashiers, late night travellers, BPO employees and body guards.
#5. Look More Sexy and Sensuous this Valentine's Day:
Buy Personal Touch Pump It Up Inflatable Bra Pad Inserts @ Rs.299
This is inflatable bra pad inserts which is designed to create a more feminine shape by increasing the cup size by 1/2 to 2 full cup sizes. Can be adjusted either bigger or smaller, depending on your desired size. Comfortable, non slip and non-irritating to the skin. Just pump to inflate and press to deflate
#7 To Bring A Light On Your Home: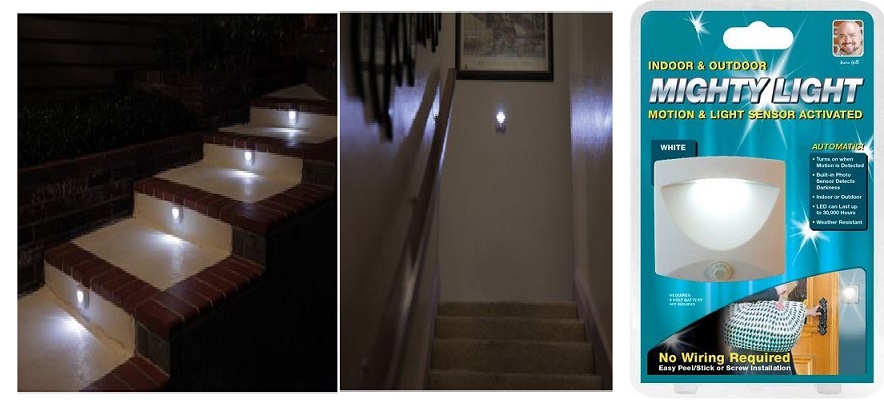 Buy Mighty Light Indoor Outdoor Motion Sensor Activated LED Light Weathr Proof @ Rs.470
This is Hands free motion activated indoor/outdoor light that needs no wiring. Easy peel/stick or screw installation to put light where you need it. Perfect for indoor use Perfect indoors for Hallways, Closets, Cabinets, Walkways, Steps, Trunk of car and more.
#6. Games For Kids:
Buy 7-in-1 Educational Solar Robot Energy Diy Kit @ Rs.495
This is 7-in1 educational rechargeable solar energy kit for your curious kid. If you are hoping to find the best gift for your kid, look no further. Your child will definitely enjoy assembling the different pieces to come up with his or her own masterpiece as many as five cool vehicles, and they are sure to have fun with this variety.
#7. Intelligent Games For Adult: Neocube magnetic ball is really a miraculous intelligent toy.
Neo Cube Magnetized Balls Silver @ Rs.1499
When you play Neocube magnetic ball, you should not only use to space imagination and creativity, you can use your logical thinking ability and even mathematical knowledge.
#8. Cool & Stylish Hair Comb To Maintain Your Hair Style On The Move.
Set Of 2 Ultimate Comb Hair Comb Lhs Brand Cool Style Hair Comb @ Rs.499