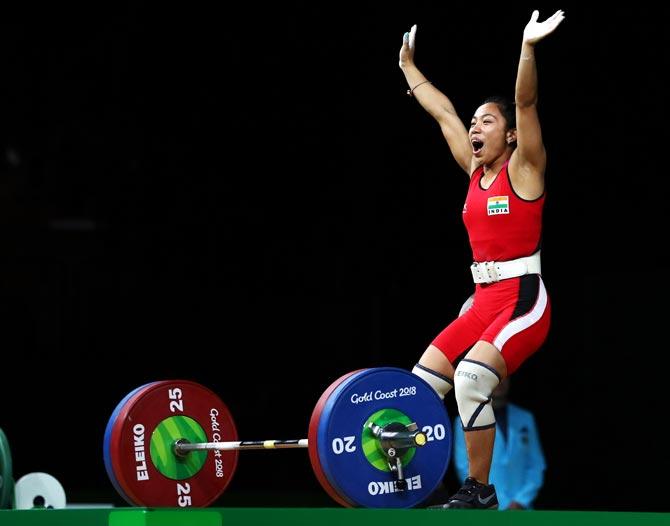 Commonwealth Games 2018 gold medallist Mirabai Chanu had shown her weightlifting prowess even as a 12 year old when she would comfortably lift more firewood than her elder brother.
Now, at 23, Mirabai has the world at her feet having earned India its first gold medal at the Gold Coast Commonwealth Games after smashing the Games records in 48kg category snatch, clean and jerk.
Born to a poor family in Nongpok Kakching village about 20 kilometres from the capital Imphal, the youngest among six siblings, Mirabai would go to collect firewood from a nearby hill with her brother Saikhom Sanatomba Meitei, who is four years her elder.
"One day I could not lift the bundle of firewood but Mira easily lifted it and took it our home, about two kilometres away. She was about 12-year-old then," Sanatomba told PTI, amid the noise of firecrackers in celebration of Mirabai's success in her hometown.
It was the earliest memory of Mirabai that Sanatomba could recall on a day the world champion weightlifter lived up to the reputation and brought laurels to the country at the 2018 Commonwealth Games.
"I used to play football then and I could see the passion in her to do something. She gradually went on to join weightlifting," Sanatomba, a state level footballer at junior level, said.
"She always has the passion to achieve big. She never put herself under pressure and is always ice-cool, something that was evident in her flawless lift."
WATCH: Family & friends of weightlifter Mirabai Chanu celebrate her Commonwealth Games gold medal victory in Nongpok Kakching, Manipur on Thursday
Video: ANI/Twitter
Mirabai smashed the Commonwealth and the Games record in snatch, pulling off clean lifts in all of her three attempts (80kg, 84kg and 86kg) to secure India's first gold.
Miles away, her family along with about 15 village folk sat glued to the TV in the morning to watch Mirabai in action.
"I could see tears of joy in the eyes of my father (Saikhom Kriti Meitei) and mother (Saikohm Ongbi Tombi Leima). They were speechless for a moment," he added.
Parents of Chanu were ecstatic at their daughter's astounding success.
"I am crying not because I am feeling sad but I am overwhelmed by my daughter's success. I was worried about her performance at the game, but now I can relax. Not only the people of the state are happy but the whole India is celebrating her win," Mirabai's mother Saikom Tombi told ANI.
Chanu's equally ecstatic father mirrored her mother's thoughts.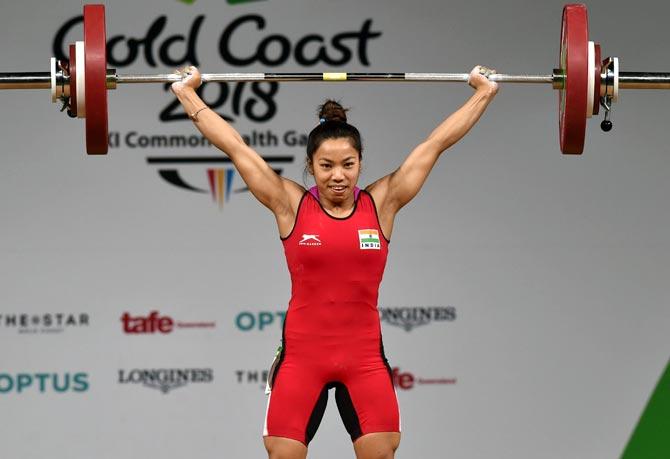 Tombi further said she was a proud mother on this day when her daughter has brought accolades to the nation.
The villagers came in and took her mother to celebrate with a traditional folk dance -- Thabal Chongba -- and smeared colours on each other's face, dancing in a circle.
An Army sepoy posted in Sringar, Sanatomba is on a holiday for his son's feeding ceremony (Annaprashan).
"It will be a double celebration tomorrow. We will make Mira's favourite food -- Kangsoi (a Manipuri stew). Sweets were being distributed since morning today and you could still hear the firecrackers late into the evening."
Mirabai's father is a lower level employee at the Pubic Works Department in Imphal, while her mother runs a small shop at their village.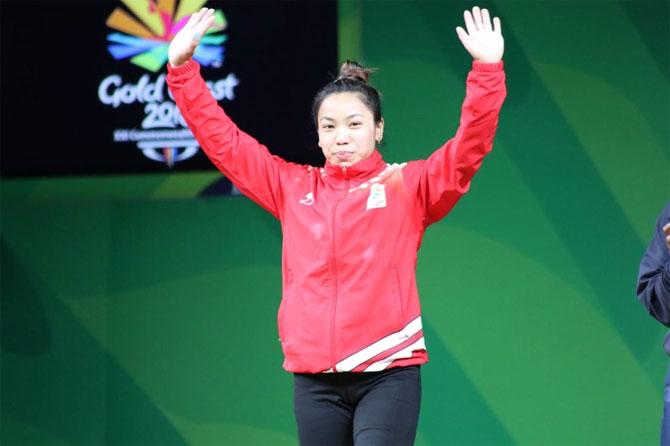 "There was a lot of financial crisis for her and they could hardly support her. Despite all the hardships, she has reached a stage we never thought of... All these brought tears to my father and mother," Sanatomba said.
Things, however, have changed since the Chanu's success, a silver medalist in CWG Glasgow 2014 and a gold medallist in the Commonwealth Championships in Australia in July last year.
Their family now hope that Mirabai is offered a Deputy Superintendent of Police post after the CWG success.
"All the people of the region have written to the authorities requesting DSP post for her. Now we hope she will get her dues," he signed off.