Top seed Jeevan Nedunchezhiyan will take on the in-form Arjun Khade in the men's singles final of the Fenesta Open National Tennis Championships in Delhi on Saturday.
The women's singles final will be between top seed Rishika Sunkara and Prerna Bhambri.
While Nedunchezhiyan outplayed third seed Siddharth Rawat, winning 6-1, 6-0, Khade beat Ramkumar Ramanathan 6-3, 6-2 in Friday's semi-finals, at the RK Khanna Tennis Complex.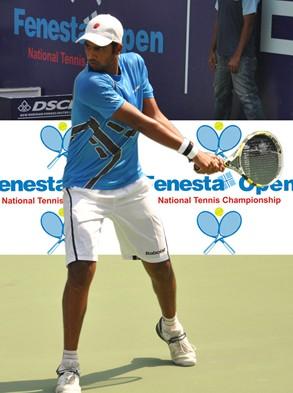 Nedunchezhiyan has hardly been tested in the tournament, and Friday was no different, as Rawat was all at sea against the No 1 seed's repertoire of strokes in the day's first semi-final.
The match between big servers Khade and Ramanathan was a keener contest, but the former's ability to return well won him the day.
Prerna Bhambri and Rishika Sunkara, the two top seeds in the women's singles, had a safe passage into the final without any hiccups.
Bhambri, up against promising young talent Sri V Pedireddy, had little difficulty in winning 6-4, 6-4, while Sunkara made short work of third seed Natasha Palha, winning 6-2, 6-1.
Rishika and Prerna, however, were not very lucky when they teamed up for the women's doubles final. They lost to Palha and Treta Bhattacharya 4-6, 6-0, 6-10.
The men's doubles final was an exciting affair. Mohit Mayur Jayaprakash and Ramkumar Ramanathan showcased great team spirit to beat Vivek Shokeen and Kaza Vinayak Sharma 5-7,7-6 (5), 10-3.
In the girls' under-18 singles semi-finals, Tarranum Handa beat C Sai Samitha 3-6, 7-6(9), 7-5 to the enter the final, where she will face Pranjala Yadlapalli, who prevailed over Nehal Sahini 6-3, 6-2.
Top seed Rishab Aggarwal beat Neeraj  Elangovan 6-1,6-1 to set up a final meeting with third seed Karan Salwan, who beat second seed Shaikh Abdullah 6-3, 4-6, 7-6 in the semi-finals.