Nirupama Sanjeev was an unbeatable star of Indian tennis for over 10 years before she bid adieu in 2003. But after making a successful comeback last year, the former India No 1 is now eyeing nothing less than a gold medal at the Commonwealth Games.
"I am looking forward to a gold medal in both women's and mixed doubles. Only if you aim high, you end up doing well," said Nirupama, who is all set to represent India in the women's doubles and mixed doubles categories at the Delhi Games.
Nirupama, who became the first Indian woman to win a round in a Grand Slam in the 1999 Australian Open, felt the Indian men's team have realistic medal chances while the women too are in the reckoning.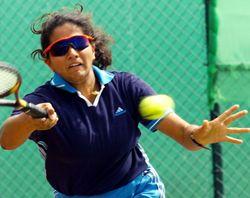 "Men have a fantastic chance of picking up a number of medals. Nonetheless, we are also quite confident of our chances, but personally speaking, I am not sure how much I will be able to support the girls' team," said the 33-year-old, who runs a tennis academy in the US and has made a comeback only last November.
She further said that the first match would set the tone.
"First match is going to be very crucial and if I can do well then hopefully things will fall in place."
While Nirupama will pair with Poojashree Venkatesha in the women's doubles, she will team up with the latest Indian tennis sensation, Rohan Bopanna, in the mixed doubles.
"I am in good shape to play doubles but I don't have the fitness to play singles," said the veteran, who won the mixed doubles bronze with Mahesh Bhupathi in 1998 Asian Games and also represented the country in the Sydney Olympics with Manisha Malhotra.
"I will be playing for the first time with Rohan, although I have seen him play and also spoken to him a number of times.
"But as far as Poojashree is concerned, everything is going on very smoothly and I have no problems with her. In fact, I never had any problem pairing with anyone because my communication is my biggest strength," she said.
Earlier, Nirupama was scheduled to combine with Sania Mirza in the women's doubles event but the decision was later changed as that would have rendered the duo unseeded.
"It was decided that I would not play with Sania as I have no rankings at the moment... If we had paired up together we would have remain unseeded," she said.
Having made a comeback last year, Nirupama has played a few ITF tournaments in India, the US and China.
As a wild card entrant, she made a dream comeback to professional tennis after defeating Serbian qualifier Tamara Curovic by 7-6 (5), 6-3 in the first round at US $50,000 NECC-ITF Women's Tennis championships in Pune.
"I wasn't thinking of a comeback and was playing for fun. Then I thought of playing a couple of tournaments. In the US, I just played a few local tournaments and I did very well. It was after I beat a ranked player, I felt that I can make a comeback," said the mother of a four-year-old girl, Nirupama, who has only 10 WTA points.
"However, now I cannot train the way I used to, because I have to take care of my daughter, my husband. So, I am unable to give 100 per cent time and effort," Nirupama said.
Talking about the newly-laid surface at the R K Khanna stadium that drew a lot of criticism for being risky, she said, "These courts can be very tricky. These are not very slow as it was mentioned in some reports. But one cannot play on these courts wearing brand new shoes as it sticks with the surface."
Nirupama, who first won the National Women's title at the age of 14 in 1992-93, continued to do well before she eventually shifted base to US, where she runs a tennis coaching camp in the Bay Area, California.
"I am still carrying on just on the basis of a very solid game that I developed as a youngster. My basic has been very strong. I used to play with boys in Coimbatore, a city that has a great tennis culture and has some quality players. That helped me a lot."
Nirupama was also influenced by her cousins, K G Suresh and K G Ramesh, who were among the best in India, and her brother Ganesh, who also played top level tennis.
Her father K S Vaidyanathan was a cricketer, who had played for Tamil Nadu in Ranji Trophy, and coached her at the start of her career.
© Copyright 2021 PTI. All rights reserved. Republication or redistribution of PTI content, including by framing or similar means, is expressly prohibited without the prior written consent.