Home > India > Sports > First Look


Discuss |
Email |
Print | Get latest news on your desktop


Asteroid named after Rafael Nadal

July 15, 2008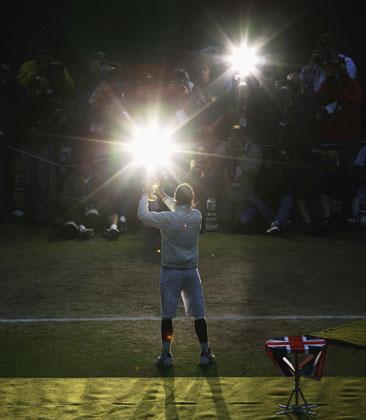 If the success French Open and Wimbledon was not enough to send Rafael Nadal [Images] into orbit, the Spaniard now has an asteroid named after him!
The Rafael Nadal asteroid, currently located between Mars [Images] and Jupiter, is 4 kilometers in diameter and travels through space at a speed of 20 km per second.
It had previously been known as '128036' since its discovery in 2003.
The International Astronomical Union approved a request placed by the Astronomical Observatory of Mallorca that the asteroid be named in tribute to "one of the greatest tennis players of all time."
Nadal, who hails from the Mallorcan town of Manacor, has been invited to the Observatory to visit its installations.
Nadal defeated five-time defending champion Federer 6-4, 6-4, 6-7(5), 6-7(8), 9-7 in the longest final in Wimbledon history, at four hours and 48 minutes in duration.
In doing so, he became the first man since Bjorn Borg in 1980 to clinch the Roland Garros-Wimbledon double.
Courtesy ATP
Photograph: Ian Walton/Getty Images
Email |
Print | Get latest news on your desktop