Home > India > Sports > First Look


Discuss |
Email |
Print | Get latest news on your desktop


Nadal takes a bite of tennis history

July 07, 2008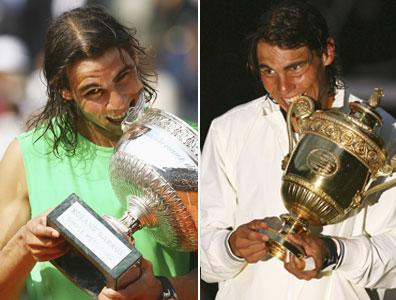 Spain's Rafael Nadal [Images] took a huge bite of tennis' history when, on Sunday, he became the first person since Bjorn Borg in 1980 to win back-to-back titles at French Open and Wimbledon.
In keeping with his celebratory tradition, the 22-year-old, known for his hunger for success, bit the Wimbledon trophy. He began the act during his breakthrough season on clay in 2005, when the photographers first asked for this striking pose.
On Sunday, Nadal's astounding journey to win his first crown at the grasscourt Grand Slam began under cloudy skies at 1336 GMT, and finished in near darkness at 2016.
- Complete Coverage: Wimbledon 2008
In one of the most nerve-jangling finals seen at the All EnglandClub, Nadal survived two rain breaks and an astonishing Federer fightback to end the Swiss's five-year reign as Wimbledon champion with a thrilling 6-4, 6-4, 6-7, 6-7, 9-7 victory.
"It's impossible to explain what I felt in that moment... winning my favourite tournament, it's a dream," Nadal told the crowd.
Photographs: Rafael Nadal with the French Open and the Wimbledon trophy/Getty Images
Email |
Print | Get latest news on your desktop