Advertisement
September 30, 2007


Viswanathan Anand [Images] replaced Vladimir Kramnik of Russia [Images] as champion, when he won the World Chess Championship in Mexico City on Saturday night.

The 37-year-old Indian ace emerged triumphant after drawing with Hungarian Peter Leko in the final round of the tournament, which he dominated from the start.

Eight of the world's best chess players participated in the 14-day tournament, which had US $390,000 as the champion's purse.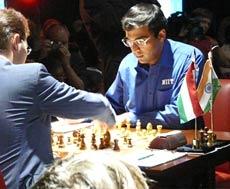 Anand had previously won the World Championship in 2000, but the achievement was valued less since at the time the chess world was split between two rival world titles.
Last month Anand won the World Rapid Chess title after defeating Armenia's Levon Aronian in a cautiously-played final in Mainz, Germany [Images].
Join us in congratulating the king of the 64 squares board.
Also read:
The Vishy Anand interview
Anand wins tenth World Rapid title
'Awesome to better your record'
'I also strive to have chess-free days'