The Modi government wants to have a smooth relationship with the DMK government, reports R Rajagopalan.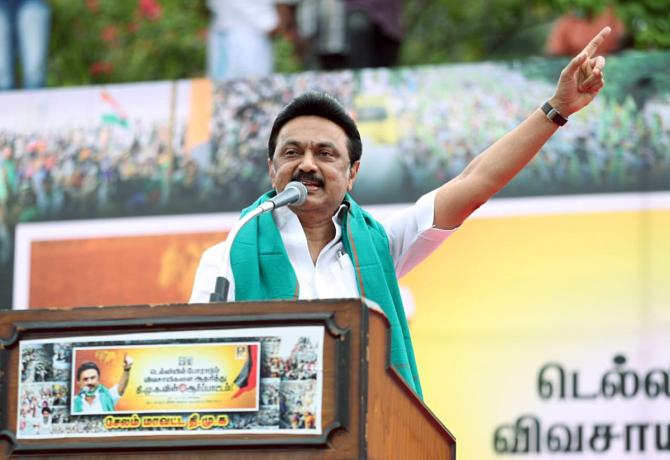 The prime minister's office has prepared a list of 35 main subjects concerning Tamil Nadu, and Prime Minister Narendra Damodardas Modi will be briefed on them by Principal Secretary Dr P K Misra on Wednesday, June 16, ahead of his meeting with Tamil Nadu Chief Minister M K Stalin on June 17.
New Delhi is gearing up at various levels for Stalin's three-day visit to the capital, his first since taking as chief minister, which is deemed is to be crucial at an administrative, political and personal levels.
Apart from the one-hour meeting with Modi at which officials will be present, including state Chief Secretary Irai Anbu and state Minister Durai Murugan, the two leaders will also meet one on one for 10 minutes.
According to a senior Bharatiya Janata Party leader, the Modi government wants to have a smooth and easy relationship with the new Dravida Munnetra Kazhagam government in Chennai.
The meeting between the two leaders comes on the heels of a bitterly fought election campaign in Tamil Nadu, with the DMK even trending #GoBackModi on Twitter. However, both the sides are eager to put back the bitterness of the election season and move forward.
Former member of Parliament A K S Vijayan's appointment by Tamil Nadu as its special representative ahead of Stalin's arrival in New Delhi indicates that he will be doing the necessary political coordination, along with senior DMK leader T R Baalu and Durai Murugan.
Like with predecessors J Jayalalithaa and M Karunanidhi, a Special Protection Group bullet-proof car will pick up Stalin from Tamil Nadu House and drive him to the main entrance of 7 Jan Kalyan Marg, a courtesy not extended to other chief ministers. The normal SPG routine is to drop the dignitary at the main road and for a ferry car to take them to the PM's residence.
The DMK plans to accord Stalin a Tamil Nadu-style welcome in Delhi. Accordingly, huge posters of Stalin have been printed and transported from Chennai by plane, to be pasted across New Delhi. Big cutouts of Stalin are also planned at three traffic junctions.
Stalin will be armed with bullet points collated and collected by Additional Secretary in the PMO Amudha, an IAS officer from Tamil Nadu. These bullet points are based on data from 18 Union ministries and listed subject-wise as Vaccine, Oxygen, NEET, Defence Corridor, Upper House for Tamil Nadu, etc.
On the evening of June 17, Stalin will inspect the under-construction DMK office being constructed in the capital -- near the BJP office, in fact.
The Government of India has a scheme to allot land to recognised political parties who have a minimum of 10 Lok Sabha MPs, and the DMK was allotted land in 2013 as per an order by then President Pranab Mukherjee.
At his meeting with Home Minister Amit Anilchandra Shah, Stalin is expected to make a strong pitch for more vaccine doses for Tamil Nadu. Shah is the nodal minister for the distribution of Covid vaccines.
Other issues that will be discussed between them is the allotment of land for the National Investigation Agency's office in Chennai, internal security, and the replacement for state Director General of Police J K Tripathi who retires this month.
Stalin and Defence Minister Rajnath Singh are expected to discuss the defence corridor near Chennai and Air Expo 2022 to be held in Tamil Nadu. The Raksha Mantri is also expected to brief the Tamil Nadu CM about Chinese plans to build the Colombo Port City project, a major security concern for India.
From Finance Minister Nirmala Sitharaman, Stalin would like the clearance of the state's GST dues as well as loan moratorium to MSMEs, about which he recently wrote to 12 chief ministers urging them to raise the issue with Sitharaman and the RBI governor.
Stalin will spend an hour with Railway Minister Piyush Goyal discussing various state government projects against the backdrop of the Indian Railways transporting oxygen during the coronavirus second wave. T R Baalu is keen to establish a working relationship between the two leaders.
Apart from government ministers, Stalin will also meet Congress President Sonia Gandhi and Rahul Gandhi, the CPI-M's Sitaram Yechury. The DMK fought the assembly elections in alliance with the Congress and Left parties.
The Tamil Nadu CM, who will be arriving in New Delhi on June 16 by special plane, will meet the media at the end of his Delhi visit, on June 18.