The Top Videos of the Week, listed by Shailajanand Mishra.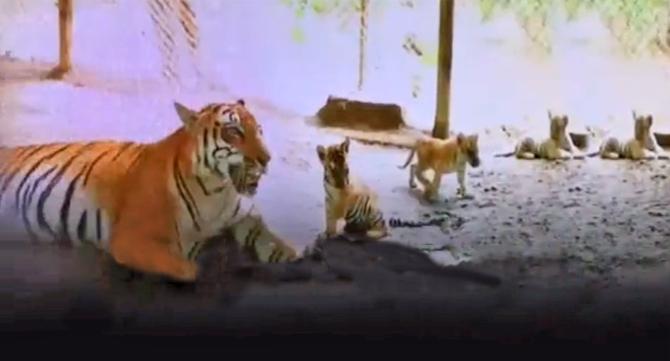 Specially-abled students making Rakhis for soldiers.
A wonderful birthday.
And teachers who deserve our applause.
Just some of the videos in our weekly round-up, chosen by you, through your likes on iShare.
---
Should students be asked to do this?
Location: Mathura
What do you do when you are in primary school and the teacher gives you certain instructions?
You follow them, of course.
When muddy rainwater entered a primary school's premises in Mathura's Baldeo area, this teacher did not want to dirty her feet. Not only did she ask her students to make a bridge of chairs, she also walked on it with their help. While the little ones stood in the same murky water.
Action has been taken against the teacher.
---
And then, there are these teachers...
Location: Uttarkashi
Facing the brunt of the heavy rains that continued to lash parts of Uttarakhand were these inter-college students.
Instead of watching them struggle through an overflowing drain, here's what their teachers did.
---
The lovely Rakul Preet
Location: Mumbai
Bollywood star Rakul Preet was spotted in Mumbai, looking pretty as a picture.
After posing for the photographers, the actress delighted fans by clicking selfies with them.
---
The amazing Sara Ali Khan
Location: Mumbai
Sara Ali Khan believes in comfort when she is travelling.
The actress was spotted at Mumbai airport in a white Punjabi suit offset by a colourful dupatta, black bindi and green bangles.
---
Aww! Meet these lil' tigers
Location: Patna
They were born two months ago at the Patna zoo.
And on World Tiger Day, the four tiger cubs -- three male and one female -- were named.
Meet Keshari, Vikram, Magadha and Rani.
Aren't they cute?
---
Happy birthday, Sawan!
Location: Bijnor
It was Sawan's birthday and he had turned four years old.
Of course there was going to be a celebration. And a special fruit cake.
The party, which took place at the Kalagarh elephant camp in Bijnor, was hosted by forest department officials.
Doesn't the birthday boy look happy?
---
Specially-abled students make rakhis for soldiers
Location: Surat
With Raksha Bandhan around the corner, these specially-abled students in Surat are doing something wonderful -- they are making rakhis for the soldiers guarding India's borders.
Take a look.
---
Feature Presentation: Ashish Narsale/Rediff.com