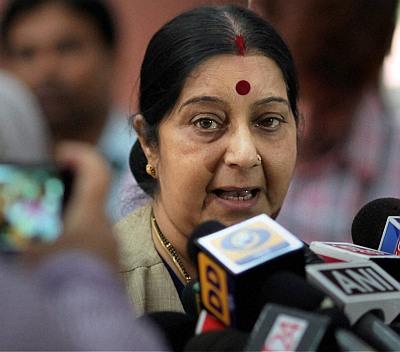 Pressing for the Centre to declare Bhagwad Gita as a 'Rashtriya Granth' (national scripture), External Affairs Minister Sushma Swaraj has kicked up a storm by claiming that only a formality remained to be done in this regard.
Swaraj was speaking at 'Gita Prerna Mahotsav', organised "to celebrate 5,151 years of religious book Gita" at the Red Fort Maidan in New Delhi where VHP President Ashok Singhal said Prime Minister Narendra Modi should immediately declare the sacred text of Hindus as a national scripture.
The minister said she was able to face the challenges as external affairs minister only because of the teachings of the Bhagwad Gita.
She also said that the respect of a "national scripture" was accorded to Gita when Prime Minister Modi gifted it to US President Barack Obama during his visit to the country in September this year.
"Bhagwad Gita has answers to everybody's problems and that's why I said it while standing in the Parliament that, 'Shrimad Bhagwad Gita' should be declared as the national holy book.
"The formal announcement for it hasn't been made for it since the government came in power but Swamiji Maharaj, I am happy to say that the prime minister has already given it the honour of a national 'Rashtriya Granth' when he handed over the 'Shrimad Bhagwad Gita' to America's President Barack Obama
"Everyone should read two shlokas of Gita everyday...it is a scripture of 700 shlokas and it can be finished in a year. Read it again and continue this till the end. After reading it three to four times, you will discover a path to lead a life, the way I discovered," she said, addressing the crowd.
"When I read Gita for the first time, I did not agree with the concept of whatever happens, happens for the best and whatever happens in future, will be for good.
"But when I read it for the third and fourth time, I understood its meaning. This has helped me all through my life. Even now, when I am handling the External Affairs and the challenges related to it," she said.
Referring to cases where people consume chocolates and pop pills to fight depression, she said, "Eating chocolates or popping pills won't reduce depression. Instead, one must read Gita. This will help relieve the stress and depression in life. It will help in dealing with challenges of life."
Reacting to Swaraj's remarks, Trinamool Congress said, "Our Constitution says India is a secular country. The Constitution is the Holy Book in a democracy"
"We respect all Holy Books. Quran, Puran, Ved, Vedanta, Bible, Tripitak, Zend Avesta, Guru Granth Sahib, Gita -- All are our pride," the TMC said in a tweet.
Congress leader Manish Tewari said the essence of the Gita lies in its substance and not in its symbolism.
"So, if anybody has seriously read and internalise the teachings of the Gita they would not make such a frivolous statement," he said.
Singhal said, "There are two ways here. First is to pass a bill and declare it as a national scripture. But if the Prime Minister immediately declares it as a national scripture... Sushma Swaraj is present here today. As a member of the Union Cabinet, I request Swaraj to make Prime Minister Modi declare Gita as the national scripture."
© Copyright 2022 PTI. All rights reserved. Republication or redistribution of PTI content, including by framing or similar means, is expressly prohibited without the prior written consent.