Sama Shabir Shah says she used to study outside Tihar jail while waiting for hours to be allowed to meet her father.
Umar Ganie reports from Srinagar.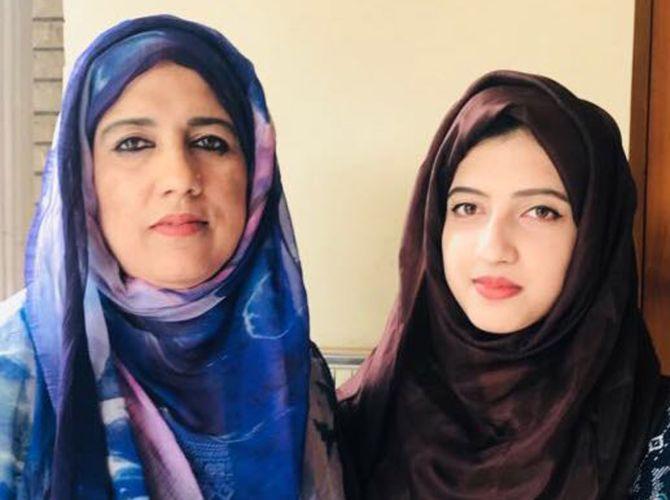 Bringing laurels to her family, Sama Shabir Shah, separatist leader Shabir Shah's daughter, has topped the Central Board of Secondary Education Class 12 examination in Jammu and Kashmir, which were declared on Saturday.
Sama, a student of the Delhi Public School, Athwajan, scored 97.8 per cent marks in Class 12.
Shabir Shah, leader of the Jammu Kashmir Democratic Freedom Party, is currently lodged in New Delhi's Tihar jail.
He was arrested in September 2017 by the Enforcement Directorate in a case of alleged terror funding in the Kashmir valley.
Sama attributed her success to her father's guidance.
Though the news about her success has gone viral across India, Sama said her father is yet to hear about it.
"I miss my father. I attribute my success to his guidance which helped me pass the examination with distinction. We were made to wait for five hours at the Tihar gate to meet my father just for 20 minutes and I would always read books for those five long hours at Tihar gate," Sama said.
"I can't forget this. I am proud of my father," she said.
Jammu and Kashmir Chief Minister Mehbooba Mufti congratulated Sama in a tweet, saying she was 'truly an inspiration for the youth of our state'.
'Congratulations to Sama Shabir Shah for securing 97.8% marks in the class 12th class examination,' Mehbooba tweeted.
'Her hard work and determination has helped her overcome all odds and she is truly an inspiration for the youth of our state.'
Additional inputs: PTI