Thousands of police personnel have been deployed and multiple layers of barricades put in place in the Lutyens' Delhi area on Sunday as part of the security arrangement for the inauguration of the new parliament building and protesting wrestlers' 'Mahila Mahapanchayat', officials said.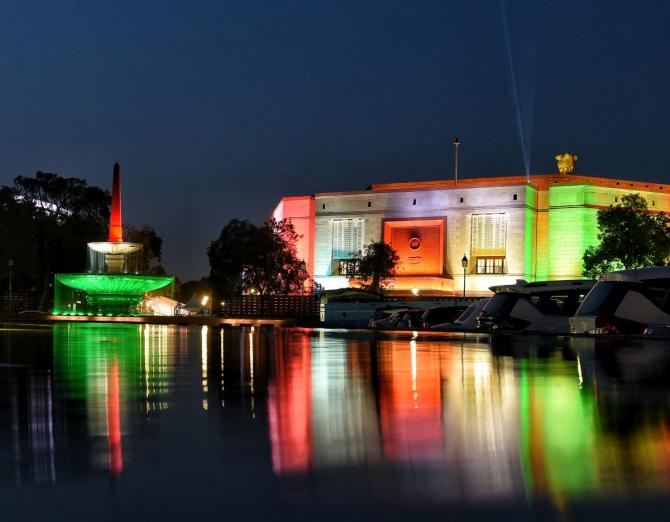 Also, all entry and exit gates at the Central Secretariat and Udyog Bhawan stations of the Delhi Metro have been closed as part of security measures.
The new parliament building is located near the Central Secretariat station which is an interchange facility between Yellow Line and Violet Line.
Prime Minister Narendra Modi inaugurated the new building on Sunday morning.
Representatives of 25 political parties and many dignitaries, including chief ministers and ministers, are slated to attend the inauguration.
A senior police officer said security has been stepped up by enhancing police deployment, placing multiple barricades and sufficient police pickets.
Intensive patrolling is also being carried out across the national capital and its bordering areas to ensure that law and order is maintained, he said.
The wrestlers protesting at Jantar Mantar, about two kilometres from the parliament building, said they will go ahead with their 'Mahila Mahapanchayat' near the new building at any cost.
Police, however, said no protester will be allowed to move towards the new building as permission has not been granted to hold the 'Mahila Mahapanchayat'.
"We respect our athletes, but we will not let there be any disturbance in the inauguration (of the new parliament building)," Dependra Pathak, Special CP, Law and Order, told PTI.
Police personnel have put up barricades at border points and are checking vehicles entering the national capital.
Farmer leader Rakesh Tikait said thousands of farmers from Uttar Pradesh will gather at Delhi's Ghazipur border at 10.30 am on Sunday and enter the national capital to extend their support to the protesting wrestlers.
Farmers plan to enter Delhi from other border points as well.
The agitating wrestlers have demanded the arrest of Wrestling Federation of India president Brij Bhushan Singh who, they alleged, sexually harassed several women grapplers.
In view of the protests, police have requested the Municipal Corporation of Delhi to grant the necessary permission to create temporary jail in the MC Primary Girls School, Kanjawala Chowk, Old Bawana on Sunday.
"Strict vigil is being kept along Delhi's borders. We have increased our pickets. Multiple barricades have been placed and no one will be allowed entry to the national capital without thorough checking," a senior police officer said.
Every vehicle will be checked and no suspicious entry with potential to disrupt the law-and-order situation in Delhi will be allowed, another police officer said.
Police have already issued a traffic advisory that the New Delhi district will be treated as a controlled area and entry of vehicles will be restricted.
Besides additional deployment of force, CCTV monitoring is being carried out continuously, the police said.
According to the traffic advisory, only public transport vehicles, civil service aspirants, bona fide residents, labelled vehicles and emergency vehicles will be allowed to move in the New Delhi area.
The Delhi traffic police urged people to plan their journey accordingly and avoid the New Delhi district from 5.30 am to 3 pm.
A police official said adequate security personnel have been deployed near the Parliament building and robust security arrangements have been made at Jantar Mantar where wrestlers and farmers have been staging a sit-in.
"We have covered the entire Jantar Mantar protest venue. It is being guarded by our security personnel. CCTV cameras installed there are being constantly monitored.
"Heavy barricades have been put up. For each protester, we have deployed at least five police personnel. That's how elaborate the security arrangement is at Jantar Mantar," he said.
The ceremony to inaugurate the new Parliament building on Sunday began with an early morning havan and multi-faith prayers followed by the formal opening by Prime Minister Modi.
© Copyright 2023 PTI. All rights reserved. Republication or redistribution of PTI content, including by framing or similar means, is expressly prohibited without the prior written consent.