Since the demise of former All India Anna Dravida Munnetra Kazhagam supremo and chief minister J Jayalalithaa in December last year, Tamil Nadu's political scenario has witnessed unprecedented drama.
The state has seen it all -- revolt, conviction in a graft case of Jayalalithaa's aide and her successor to the party post V K Sasikala, split in the party, cancellation of bypoll to RK Nagar seat held by the late CM, sidelining of party deputy chief T T V Dinakaran and the eventual merger on Monday.
Following is the chronology of major events in the southern state's ruling party.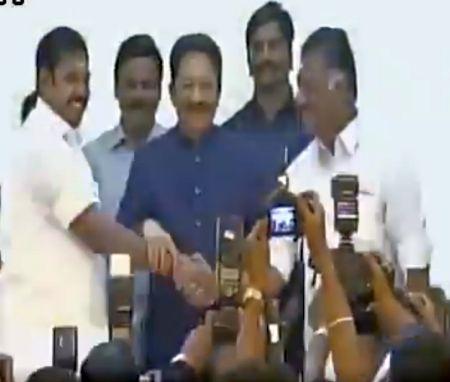 December 5, 2016: Jayalalithaa, 68, dies following a cardiac arrest after being in hospital for about 75 days. O Panneerselvam, popularly known as OPS, who was finance minister in the Jayalalithaa cabinet, is swiftly sworn in as the chief minister.
December 29: Sasikala is appointed the general secretary of AIADMK after the party's general council unanimously passes a resolution.
February 5, 2017: OPS resigns as chief minister, paving way for Sasikala's elevation. Sasikala elected as the head of the AIADMK legislature party, plans to stake claim to form government. Governor C Vidyasagar Rao accepts OPS' resignation, but asks him to continue until a new chief minister is appointed.
February 7: OPS meditates at Jayalalithaa's burial place, announces revolt against Sasikala.
February 10: More than 120 AIADMK MLAs taken to a resort apparently to prevent any defections to the OPS camp.
February 14: The Supreme Court convicts Sasikala setting aside the Karnataka high court verdict acquitting her in a 19-year-old disproportionate assets.
K Palaniswami appointed head of the AIADMK legislature party; OPS and 19 other senior leaders expelled from primary membership of AIADMK.
February 16: Palaniswami sworn in as chief minister.
February 17: OPS camp announces expulsion of Sasikala and her two relatives T T V Dinakaran and S Venkatesh from the party.
February 18: Palaniswami wins confidence vote by 122 to 11 votes amid high drama in the assembly.
March 8: In its first public protest, OPS-led AIADMK faction observes a day-long fast across the state demanding probe into the death of Jayalalithaa.
March 15: AIADMK nominates T T V Dinakaran as party's candidate for the RK Nagar bypoll scheduled for April 12.
March 22: The Election Commission issues an interim order freezing the 'two leaves' election symbol of AIADMK; says the two rival camps cannot use the party symbol as well as its name for the bypoll.
March 23: The Election Commission allots Palaniswami camp "hat" as its symbol. The faction was named AIADMK-Amma.
The O Panneerselvam camp was allotted 'electric pole' as its symbol and named as AIADMK-Puratchithalaivi Amma.
April 9: The EC cancels the bypoll over the alleged use of money power to influence voters.
April 17: The crime branch of the Delhi Police books Dinakaran for allegedly trying to bribe an EC official to get the 'two leaves' poll symbol.
April 18: The ruling AIADMK-Amma faction announces team to hold talks with Panneerselvam camp on possible patch up. Palaniswami cabinet revolts against Dinakaran and decides to keep him and his family out of the party and government.
April 19: The Delhi Police serves summons to Dinakaran in the EC bribery case.
April 20: Merger moves hit stumbling block with the Panneerselvam camp putting conditions, including a formal expulsion of Sasikala and Dinakaran from the party, besides a Central Bureau of Investigation probe into Jayalalithaa's death.
April 25: The Delhi police arrests Dinakaran in the bribery case.
April 26: Banners featuring Sasikala removed from the AIADMK party headquarters appear, a demand made by the Panneerselvam camp to "uphold the sanctity" of the party office.
May 2: The Enforcement Directorate registers a money laundering case against Dinakaran and others in connection with the Election Commission bribery case.
May 6: AIADMK-Amma describes as "opportunism" Panneerselvam camp's demand for a CBI probe into Jayalalithaa's death as a pre-condition for merger talks.
May 19: The Panneerselvam camp approaches the Election Commission in Delhi urging it to restrain the Sasikala faction from using the AIADMK office.
June 5: Dinakaran meets Sasikala at the Parappana Agrahara prison in Bengalaru.
June 11: Panneerselvam dissolves seven-member panel formed to hold merger talks with AIADMK-Amma faction.
August 10: Prospects of merger brighten as the Amma faction says Dinakaran's appointment as deputy general secretary was against party rules.
August 17: Palaniswami announces a Commission of Inquiry to go into the death of J Jayalalithaa, says her PoesGarden residence in Chennai will be turned into a memorial run by the government.
August 18: Dinakaran meets Sasikala at Parapana Agrahara Prison in Bengaluru on her birthday. AIADMK's rival factions' marathon deliberations begin but make no headway with ticklish issues posing hurdles.
August 19: Palaniswami and Panneerselvam express confidence merger will happen soon.
August 21: The two factions merge.
© Copyright 2023 PTI. All rights reserved. Republication or redistribution of PTI content, including by framing or similar means, is expressly prohibited without the prior written consent.