In excerpts from his journal, John Allen Chau, the American, reveals what it was like to meet the isolated tribe in the Andamans.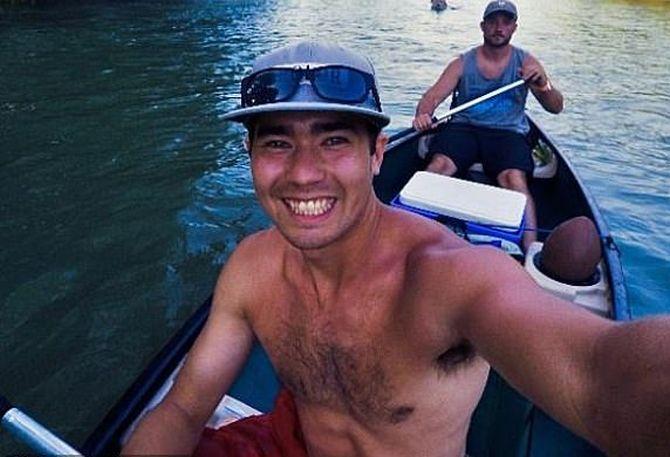 An American missionary trying to meet and convert one of the most isolated hunter-and-gatherer tribes in the world offered them fish and other small gifts before the tribesmen killed him and buried his body on the beach, journals and emails show.
In excerpts from his journal, John Allen Chau, the American, said that he reached North Sentinel Island -- one of the world's most isolated regions in India's Andaman islands that is off-limits to visitors -- in his kayak on November 15.
Chau said at one point he was 'just inches' away from the tribesmen -- who he described as about 5 feet 5 inches tall and with yellow paste on their faces -- and offered them gifts of a football and fish.
But when they reacted with hostility, he threw the gifts in their direction and fled.
"My name is John. I love you and Jesus loves you... Here is some fish!" he said he hollered at them before fleeing.
The revelations about Chau's encounter with the Sentinelese tribe as his mother shared pages of his diary with the Washington Post.
In his diary, which clearly shows his desire to convert the tribe, he writes about a young member of the tribe shot at him.
"Well, I've been shot by the Sentinelese… By a kid probably about 10 or so years old, maybe a teenager, short compared to those who looked like adults," he wrote.
"The little kid shot me with an arrow -- directly into my Bible which I was holding at my chest," he added.
"Lord, is this island Satan's last stronghold where none have heard or even had the chance to hear your name?" he wrote.
It appears from his writings that Chau's near-death experience made him reluctant to return to the island.
But it seems it was his faith in God that led him to change his mind.
"I don't! Would it be wiser to leave and let someone else continue? No. I don't think so," he penned.
''I'm stuck here anyway without a passport and mainly been off the grid.
"I still could make it back to the US somehow as it almost seems like certain death to stay here."
But it appears he remains determined to continue, adding: "Will try again tomorrow."
In his final journal entry before his death, penned in the early hours of November 16, Chau writes that he had 'a fairly restful sleep.'
"Woke up after a fairly restful sleep, heading to island now. I hope this isn't my last notes but if it is, to God be the glory.
"One thought occurred to me last night: only young adults were seen and kids, but no elderly - are they separated and must stay on the shore? Are the elderly in the jungle?
"I'm heading back to the hut I've been to. Praying it goes well."
Dependera Pathak, director-general of police on India's Andaman and Nicobar Islands, said Chau organised his visit to the island through a friend who hired seven fishermen to take him there on a boat, which also towed his kayak there.
Pathak said the following day the fishermen watched from a distance as the tribesmen dragged Chau's body away.
Pathak said officials are consulting anthropologists, tribal experts and scholars to figure out a way to recover the body.
Chau is not the first person to fall victim to the Sentinelese after intruding on their island, which it is illegal for outsiders to land on.
In 2006, members of the tribe killed two poachers who had been illegally fishing in the waters surrounding North Sentinel Island after their boat drifted ashore, according to tribal advocacy nonprofit Survival International.