The Kerala government on Monday declared novel coronavirus epidemic as a 'state calamity' with a third student testing positive for the infection in the state.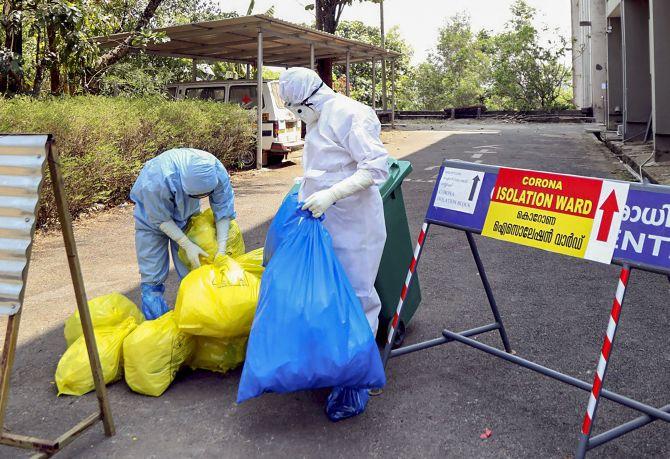 State Health Minister K K Shailaja told reporters that the government has declared the epidemic as a 'state calamity' to take all necessary steps to ensure that the outbreak is effectively controlled.
The decision was taken at a meeting of the apex committee of the State Disaster Management Authority chaired by Chief Secretary Tom Jose, she said here, hours after the third positive case in the country was confirmed from the state.
A medical bulletin issued by the government said the health status of all the three students, who tested positive for the virus, was 'satisfactory'.
Earlier, two students from the state who studied in Wuhan in China, the epicentre of the epidemic, had tested positive for the virus in Thrissur and Alappuzha.
Till date, a total of 2,239 people, who travelled from the novel coronavirus affected countries, including China, have been identified and placed under surveillance in the state, it said.
Of them, as many as 2,155 are under home quarantine and 84 have been admitted to isolation wards in hospitals.
Shailaja said some people who have returned from China were evading the health department.
"What they are doing by not reporting is very dangerous", she said.
Meanwhile, a Group of Ministers (GoM) formed to review, monitor and evaluate the preparedness to contain the deadly coronavirus infection in the country held its first meeting on Monday.
The high-level GoM includes Union ministers Harsh Vardhan, Hardeep Puri, S Jaishankar, G Kishan Reddy, Ashwini Kumar Choubey and Mansukh Lal Mandaviya.
The ministers were apprised of the three confirmed cases reported from Kerala and the preventive steps and measures taken to contain coronavirus, the Ministry of Health said.
The GoM also took note of the government announcing temporary suspension of e-visa facility for Chinese travellers and foreigners residing in the neighbouring country and a fresh advisory saying anyone with travel history to China since January 15 can be quarantined.
'e-Visa facility for Chinese passport holders has been temporarily suspended, e-Visa already issued to Chinese nationals is also not valid temporarily and the facility for submitting the application online for the physical visa from China is suspended,' the ministry said.
They were also informed that 645 people evacuated from Wuhan, the epicentre of the outbreak, have been admitted to quarantine centres of the Army and the ITBP in and around the national capital. All inhabitants are medically examined on a daily basis, though none of them have tested positive for coronavirus, the ministry said.
The ministry has also advised that people having compelling reasons to visit India should contact the Indian embassy in Beijing or consulate in Shanghai or Guangzhou.
The Ministry of Aviation has also issued instructions to all national and international airlines operating from China to comply with the above travel advisory.
The GoM was also briefed that as of Monday, 72,353 passengers in 593 flights have been screened for the infection. Screening of passengers is ongoing in 21 airports, international seaports and border crossings, particularly with Nepal.
Universal screening in all flights from Singapore and Thailand, besides Hong Kong and China is being done.
Further, 2,815 people are presently under community surveillance across the country.
Out of a total of 338 samples sent for testing, three are positive, 335 negative, while 70 are being processed, the health ministry said.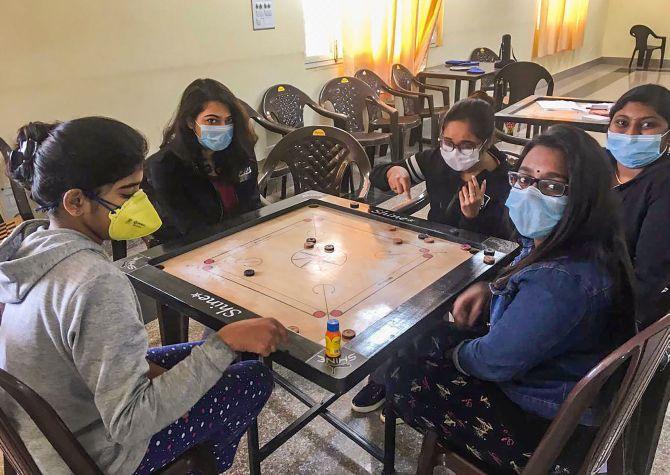 The ICMR National Institute of Virology (NIV), Pune has been made a nodal centre for coordinating diagnostics for coronavirus. Twelve regional labs have been activated, standardised and are testing the samples.
"The GoM was also apprised that adequate materials like Personal Protection Equipment (PPE) and N95 masks are available and the situation is closely monitored in all states and union territories.
"The preparedness and actions are being reviewed at the highest level everyday by the Union Health Minister and the Cabinet Secretary, in addition to Secretary (HFW). A 24x7 control room is operational (011-23978046). IEC material is prepared and widely disseminated through various channels of print, electronic and social media," the statement said.
The meeting was attended by Secretary (MHFW) Preeti Sudan, Secretary (Foreign) H Vardhan Shringla, Secretary (Civil Aviation) Pradeep Singh Kharola, Special Secretary (Health) Sanjeeva Kumar, Additional Secretary (Shipping) Sanjay Bandopadhyay.
*****
406 people kept at ITBP facility test negative
Tests conducted for coronavirus on 406 people, who were evacuated to Delhi from China's Wuhan city to a Indo-Tibetan Border Police facility in New Delhi, have been negative till now, a senior official of the border guarding force said on Monday.
"Periodical medical checks are being done and all the tests conducted on the inmates for possible coronavirus exposure have been negative till now," an ITBP spokesperson said.
"Four isolation beds have been kept prepared at the facility in case it is required and doctors from AIIMS and Safdarjung are visiting regularly to assist the medical team of the force that is posted here round-the-clock," the spokesperson said.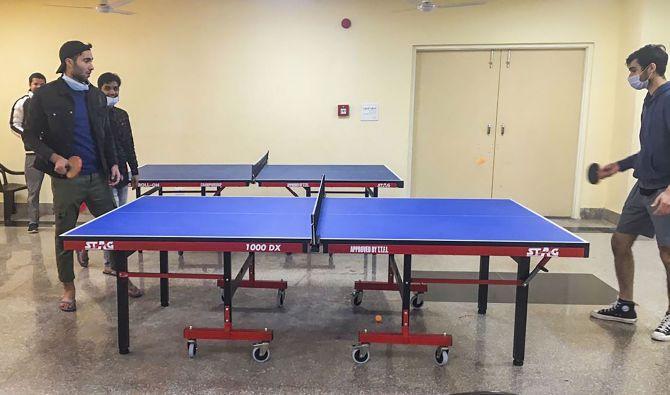 A total of 406 people have been kept at the ITBP facility in Chhawla area of the national capital after they were brought in two batches from Wuhan on board separate Air India flights.
There are a total of 302 males, including three children, and 100 females, including a child, at this facility.
Two people were shifted from the Manesar facility to here on Sunday.
Seven Maldivian nationals are also part of this group. They were evacuated by the second AI flight and brought here on Sunday.
Apart from this facility, the rest have been kept at an another quarantine facility prepared by the Army in Manesar (Gurgaon).
*****
Stranded Indian woman in Wuhan appeals for evacuation
An Indian woman, preparing to marry next month, has appealed to the Indian government to evacuate her from China's virus-hit Wuhan city, days after she was stopped from boarding the special New Delhi-bound flights due to high body temperature.
The woman was among 10 Indians who were stopped from boarding the special Air Indian flights last Friday and Saturday organised by the India government to evacuate stranded Indians from Wuhan.
The Indian Embassy is in touch with the Indians who could not be evacuated along with 647 others due high body temperature, officials in Beijing said.
One of them, Annem Jyothi hailing from Kurnool district in Andhra Pradesh, made a video appeal to the Indian government to arrange her exit from the city, saying that her body temperature is normal now and she is fit to travel.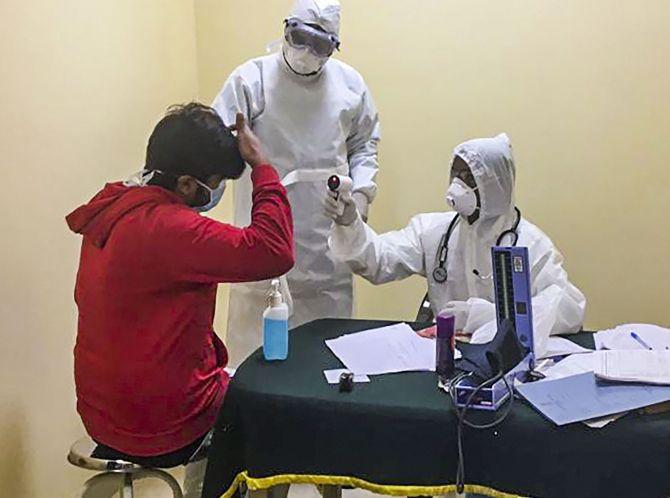 She was part of a group of 58 Indian employees of a Chinese electronic company to board the Friday flight.
While others made it, she and her colleague could not do so due to high body temperatures, she said.
"We are asked to stop and not to take the flight. They said that we can take the next flight. But today in the afternoon they called and said that we were not even allowed to take that flight because of yesterday's body check…We are stuck," said the mask wearing young woman who is in her 20s.
The video was reportedly made on Saturday when the second AI flight evacuated 323 Indians from Wuhan.
"We are ready to prove that we don't have any virus because we don't have any symptoms," she said.
She said her body temperature was not very high.
"It was just some 37.5 degrees which was due to some physical activities under some strain at that time. We were panicked a bit," she added.
"We request our government to take us back to India and for that we are ready to prove that we don't have any symptoms regarding the virus and we are safe and healthy. So, I request the government to take us back to India," said the woman, who is preparing to marry in March.
Her mother said Jyothi was under lot of stress as she was alone after her friends were evacuated.
Two Indian students -- Ajith, a student from Bihar, and Manzoor from Kashmir -- who were stopped due to the same reason also said they have no fever now.
Both made similar appeal while talking to PTI over phone and said their body temperatures are normal and they're fit to travel.
Indian Ambassador to China Vikram Misri said about 100 Indians may still be residing in Hubei province.
25 Indians reportedly preferred to stay back when they were approached by the Indian Embassy for evacuation.
Indian officials in Beijing said they are in touch with the 10 stranded Indians. It appears that their evacuation may be difficult as the city and the province where the virus is increasingly turning virulent have been virtually sealed.
© Copyright 2021 PTI. All rights reserved. Republication or redistribution of PTI content, including by framing or similar means, is expressly prohibited without the prior written consent.