Congress leader Navjot Singh Sidhu's wife Navjot Kaur on Friday said her husband 'gifted' the chief minister's chair to Bhagwant Mann, claiming that Arvind Kejriwal once wanted the former cricketer to lead Punjab but he chose not to betray his party.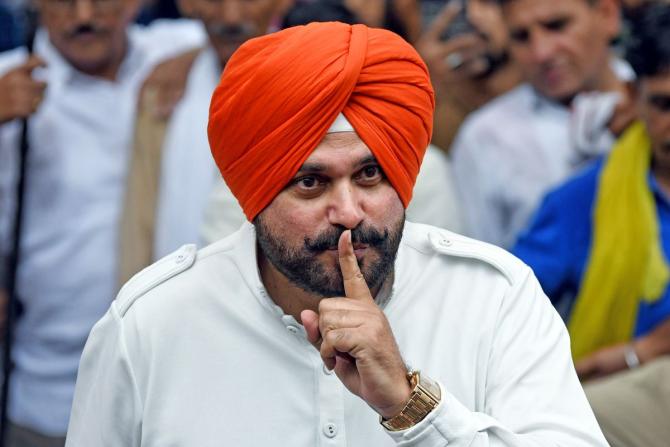 Her claims came in the backdrop of a war of words between Mann and Navjot Sidhu.
In a series of tweets, Kaur said, 'CM, Bhagwant Mann; let me today open out a hidden secret from your treasure hunt. You should know that the very honourable chair you are occupying has been gifted to you by your big brother, Mr Navjot Sidhu. Your very own senior most leader had desired Navjot to lead Punjab.'
She claimed that the Aam Aadmi Party's national convener and Delhi Chief Minister Kejriwal had approached Sidhu through various channels to lead the state.
Punjab went to polls in February 2022 and after the AAP's landslide win Bhagwant Mann became the chief minister.
'Mr Kejriwal through various channels approached him to lead Punjab knowing about his passion for our state. Just because he didn't want to betray his party and thought that two strong headed people might clash when it came to strategy to uplift Punjab, he gave you a chance,' Kaur claimed.
She further said Sidhu's only concern is the welfare of Punjab and he has sacrificed everything for it.
'You tread on the path of TRUTH and he shall support you but the moment you deviate he will target you left and right. Golden Punjab state is his dream and he lives it 24 hours a day,' she said in another tweet.
Mann had on Sunday attacked opposition parties for their gathering in Jalandhar in support of the editor of a Punjabi daily who was under the vigilance scanner.
Reacting to it, Navjot Sidhu had said, 'Those who make democracy a vigilance system at the behest of Delhi, those who run Punjab as pawns with remote control" were now indulging in moral lecturing.'
Several leaders cutting across party lines had on June 1 gathered at the office of Punjabi newspaper 'Ajit' in Jalandhar to rally behind its editor-in-chief Barjinder Singh Hamdard who is under the vigilance bureau scanner over alleged misuse of funds in the construction of Rs 315-crore Jang-E-Azadi memorial in Jalandhar.
© Copyright 2023 PTI. All rights reserved. Republication or redistribution of PTI content, including by framing or similar means, is expressly prohibited without the prior written consent.