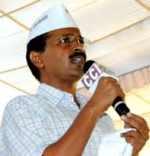 Congress leader Digvijaya Singh on Monday claimed that India Against Corruption activist Arvind Kejriwal had approached him in the past to push his name for a position in the Sonia Gandhi-led National Advisory Council.
"He came to me in 2005 or 2006 and requested me that I should promote his name with (Congress President) Sonia Gandhi to be made a member of the NAC," Singh said, recalling Kejriwal meeting him.
"...And I did recommend his case but probably Sonia ji knew about him more than me and she was wiser than me that she refused meeting him," he told
NDTV
.
Kejriwal, however, declined to give a specific response to Singh's claim.
"Whatever Digivijaya Singh says, is false, is useless and I don't think that I find the need to respond to what he says," Kejariwal told the media when he was asked to comment on Singh's statement.
© Copyright 2023 PTI. All rights reserved. Republication or redistribution of PTI content, including by framing or similar means, is expressly prohibited without the prior written consent.