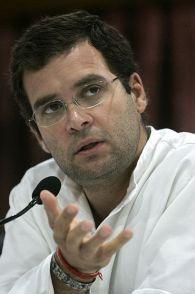 Congress vice president Rahul Gandhi on Wednesday said he was sad that 7 people convicted of killing his father, former prime minister Rajiv Gandhi, were being released by the Tamil Nadu government.
"My father became a martyr. We are against the death penalty. (But) If a prime minister's killers are being released, what kind of justice should the common man expect?" Gandhi said.
Twenty-three years after they were jailed, the Tamil Nadu government on Wednesday decided to set free within three days all the seven convicts in the assassination case after the Supreme Court commuted the death penalty of three assassins.
Besides Santhan, Murugan, the husband of Nalini, Perarivalan, who earned a major reprieve from Supreme Court on Tuesday which spared them from gallows, Nalini, Robert Pious, Jayakumar and Ravichandran would walkout from prison.
Chief Minister J Jayalalithaa, who took the decision for early release of the Rajiv killers at an emergency Cabinet meeting convened this morning over the issue, made a suo motu announcement in the state assembly.
The Congress party officially denounced the Jayalalithaa government's decision, calling it "irresponsible, perverse and populist."