The US is providing assistance to its critical partner India to enhance capabilities that it might need to defend its border with China and also develop its own defence industrial base, a top American commander has said, stressing that New Delhi and Washington face the same security challenge from Beijing in the Indo-Pacific region.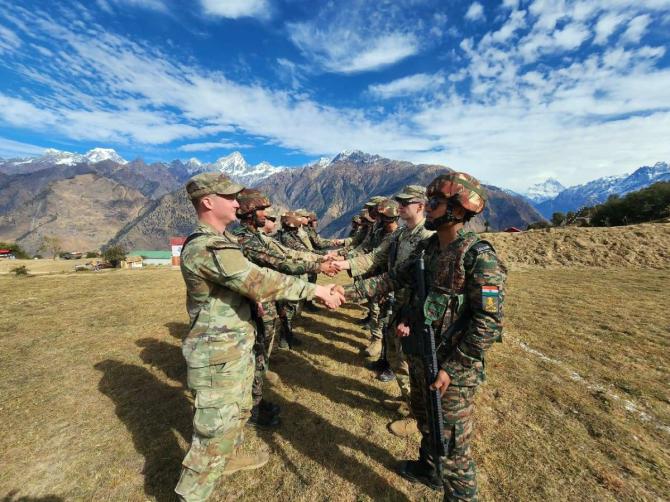 "We value our partnership with India, and we've been increasing it and doing a lot more, over time. They have the same security challenge, primary security challenger that we do, and it's real on their northern border," Admiral John Christopher Aquilino, commander of United States Indo-Pacific Command, told members of the House Armed Services Committee during a hearing on Indo-Pacific National Security Challenges.
"Two skirmishes now in over the past nine or 10 months on that border, as they continue to get pressurised by the PRC (People's Republic of China) for border gains," Admiral Aquilino said.
He was responding to a question from Indian American Congressman Ro Khanna.
"I would like you to reflect on the importance of the relationship -- postcolonialism India and China had a relationship to emerge as the Asian voice. But that relationship now has really soured with a concern that there should not be a hegemon in Asia and that China is treating other countries as junior partners," Khanna said.
"It seems to me that this gives us an opportunity to ensure that China doesn't emerge as a hegemon to strengthen the relationship with India," said the Indian American Congressman.
Aquillino said both India and the US have the same security challenges.
"We also have the desire to operate together, based on the world's largest democracy. We have common values, and we also have people-to-people ties for a number of years. I met with General (Anil) Chauhan, my counterpart, at the Raisina Dialogue not long ago. I've been to India five times now in the past two years.
"So, the importance of that relationship can't be overstated. We operate together, frequently, with the Quad nations. Again, the Quad is not a security agreement, it's diplomatic and economic, but the Quad nations come together, often, to operate together in multiple exercises. So, we continue to work to be interoperable and to expand the relationship," he observed.
In November 2017, India, Japan, the US, and Australia gave shape to the long-pending proposal of setting up the Quad to develop a new strategy to keep the critical sea routes in the Indo-Pacific free of any influence.
Indian and Chinese troops are locked in a three-year confrontation in certain friction points in eastern Ladakh even as the two sides completed disengagement of troops from several areas following extensive diplomatic and military talks.
India has been maintaining that its ties with China cannot be normal unless there is peace in the border areas.
Beijing claims almost all of the 1.3 million square miles of the South China Sea as its sovereign territory.
China has been building military bases on artificial islands in the region also claimed by Brunei, Malaysia, the Philippines, Taiwan, and Vietnam.
In response to another question from Congressman Patrick Ryan, the admiral said India is a critical partner and besides conducting joint war exercises in the Malabar, the US is providing assistance to India 'as it applies to cold weather gear and other capabilities that they might need, as they defend their border on the northern side'.
"But additionally, we're expanding our cooperation in the form of production as India tries to work to develop its own industrial base. So, C-130 critical components are made in India, helicopter and critical frameworks made in India. That is expanding the partnership and moving them towards self-sufficiency and increased partnership with the United States," Aquilino added.
Referring to the recently launched India-US initiative for critical and emerging technology announced by the national security advisors of the two countries, Jedidiah P Royal, Principal Deputy Assistant Secretary of Defense for Indo-Pacific Security, said: "We're already delivering offers under the context of the ISAT arrangement. This is a real moment of convergence for the United States and India and we're looking to take full advantage of it, going forward."
Testifying before the committee, Royal said: "India faces the same challenges that we face in the region. So what we're seeing right now is a moment of strategic convergence in our relationship with the government of India. There's a lot of momentum in that regard. With respect to your question on from whom do they buy their weapons, we believe that they are through a generational process of looking to diversify off of traditional suppliers."
"We want to make sure that the US defence industrial base is in the best position possible to be India's partner of choice moving forward," he said.
In response to another question, Aquilino said the US is working with our Indian partners both to advance their warfighting capabilities together to ensure that the US is sharing information that's needed.
"We do have the same strategic competitor or whatever definition we want to put on it and in my time over in the theatre now for five years straight, it has increased exponentially. It's trending in the right direction. They're really good partners," he said.
© Copyright 2023 PTI. All rights reserved. Republication or redistribution of PTI content, including by framing or similar means, is expressly prohibited without the prior written consent.