Delhi Police has arrested six people and registered 49 first information report (FIRs) in connection with posters put up against Prime Minister Narendra Modi here, a senior officer said on Wednesday.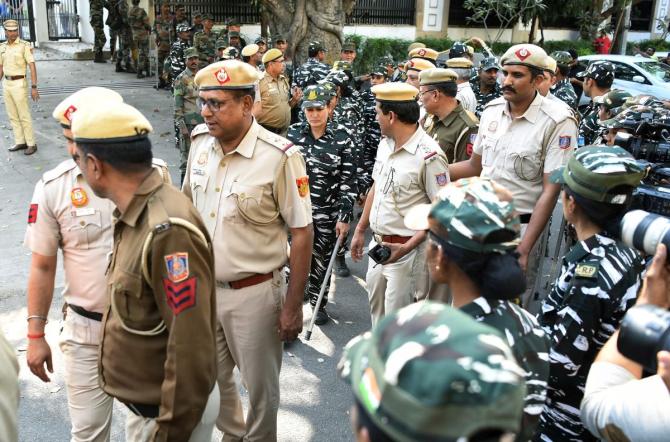 Earlier in the day, police had said that 100 FIRs were registered, but they later revised the figure.
Delhi Chief Minister Arvind Kejriwal, reacting to the police action, called Modi 'insecure' and 'scared' even as police claimed they have seized more than 2,000 posters from a vehicle moments after it came out of the Aam Aadmi Party headquarters in New Delhi.
Posters reading 'Modi Hatao, Desh Bachao' (Remove Modi, Save the Nation) were found glued all across Delhi's walls and electricity poles, police said.
The six arrested include owners of two printing presses, who were arrested for not giving the details of their printing presses on the posters, police said.
An investigation is being conducted to ascertain if any AAP worker is involved in the incident, they said.
The FIRs have been registered under the Delhi Prevention of Defacement of Property Act and the Press and Registration of Books Act, according to the officer.
Asked about the FIRs during a post-budget press conference, Kejriwal said, "They registered an FIR over a poster! Why is Modi ji so scared! This is a normal poster and anybody can put it up in a democracy. Such a scared PM, such an insecure PM. I think he (Modi) wakes up every morning thinking who he can put in jail."
Delhi Minister Gopal Rai also criticised the city police during the press conference, and said: "Prime Minister Modi can get 1,000 FIRs registered, but from tomorrow, the slogan 'Modi Hatao, Desh Bachao' will resonate across the country. They have crossed all limits. If the legacy of freedom fighters is to be saved, there is only one way -- 'Modi Hatao, Desh Bachao'."
According to police, the presses were given an order to print 50,000 posters and workers associated with the firms put several of them up Sunday night.
Posters put up at Mandir Marg, Deen Dayal Upadhaya Marg, Aruna Asaf Ali Road, Seemapuri, New Usmanpur, Khajuri Khas, Ashok Vihar, Model Town, and Bharat Nagar have been removed, police said.
Around 20,000 posters have been seized so far, including 2,050 from a car after it exited the AAP headquarters on DDU Marg, police said, adding the vehicle was impounded and its driver arrested.
"During interrogation, the driver told police that he was taking the posters to Anand Parbat-Zakhira crossing," a senior police officer told PTI.
© Copyright 2023 PTI. All rights reserved. Republication or redistribution of PTI content, including by framing or similar means, is expressly prohibited without the prior written consent.