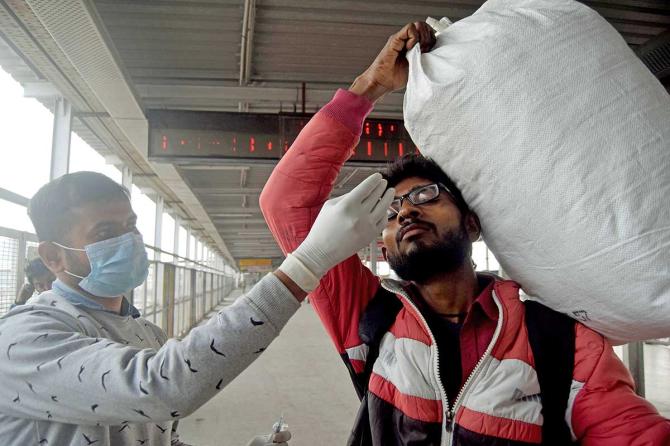 The recent rise in COVID-19 cases is not a cause for concern, as the viral disease is in an endemic stage, epidemiologists have said.
However, experts feel there is still a need to be watchful not just for COVID-19, but also in view of a seasonal influenza outbreak.
The total number of daily COVID-19 cases has more than doubled since a fortnight ago. There were 125 new cases detected on February 21. This has risen to 326, as of March 7.
The number of cases is up by a third since the beginning of the month (chart 1). Global numbers have been declining in the same period.
The total cases worldwide fell from 149,726 on February 28, to 119,651 as of March 7.
The number of deaths has not risen in similar fashion.
A Business Standard analysis looked at deaths over a rolling seven-day period. There were around 10 COVID-19 deaths weekly at the end of February.
This has since fallen to 3, as of March 7 (chart 2). Deaths have been rising globally; they are up from 875 on February 28 to 923 on March 7.
Experts stressed that the COVID-19 outbreak was in the endemic stage and the spurts in cases were not a big concern.
"It is nothing to worry about, but we have to be watchful of the situation as influenza cases are also increasing. There has been a dip in the numbers in the last few days" says virologist Dr Jacob John.
Dr John says while influenza is highly seasonal, COVID-19 does not seem to spike in any particular season.
"All waves have been in different times of the year. We cannot associate seasonality with Covid," adds Dr John.
Virologists also feel that the strain of Covid that is now spreading is of Omicron, which is a milder variant.
"The fortunate part is that the severity is less. New strains are continuously forming and the virus is getting less severe," says epidemiologist Dr Jayaprakash Muliyil.
While COVID-19 cases showed an increase, it is the common flu or influenza that has been worrying health authorities.
The Indian Council of Medical Research (ICMR) said recently that influenza-A subtype H3N2 is the major cause of current respiratory illness.
'ICMR-DHR conducted a pan-respiratory virus surveillance across 30 virus research and diagnostic laboratories,' ICMR said, while issuing a detailed advisory.
Doctors cited three major reasons behind this increase in cases: Cold weather from November to January, environmental pollution and greater prevalence of viral infections.
Virologists also attributed the rise to a drop in masking by the general population after three years of the pandemic.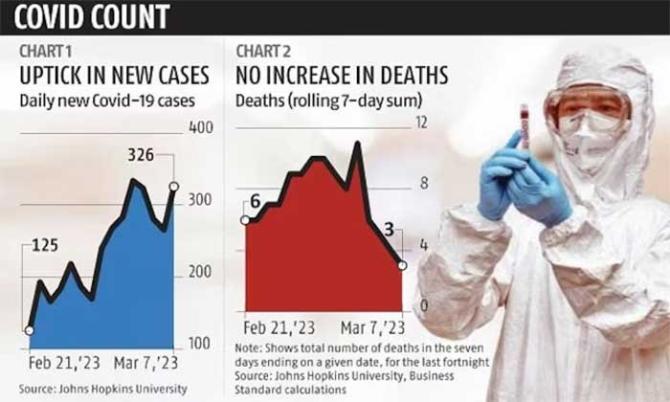 Feature Presentation: Ashish Narsale/Rediff.com