A Border Security Force jawan was killed and two Assam Rifles personnel suffered gunshot wounds Manipur's Serou area, the Army said on Tuesday.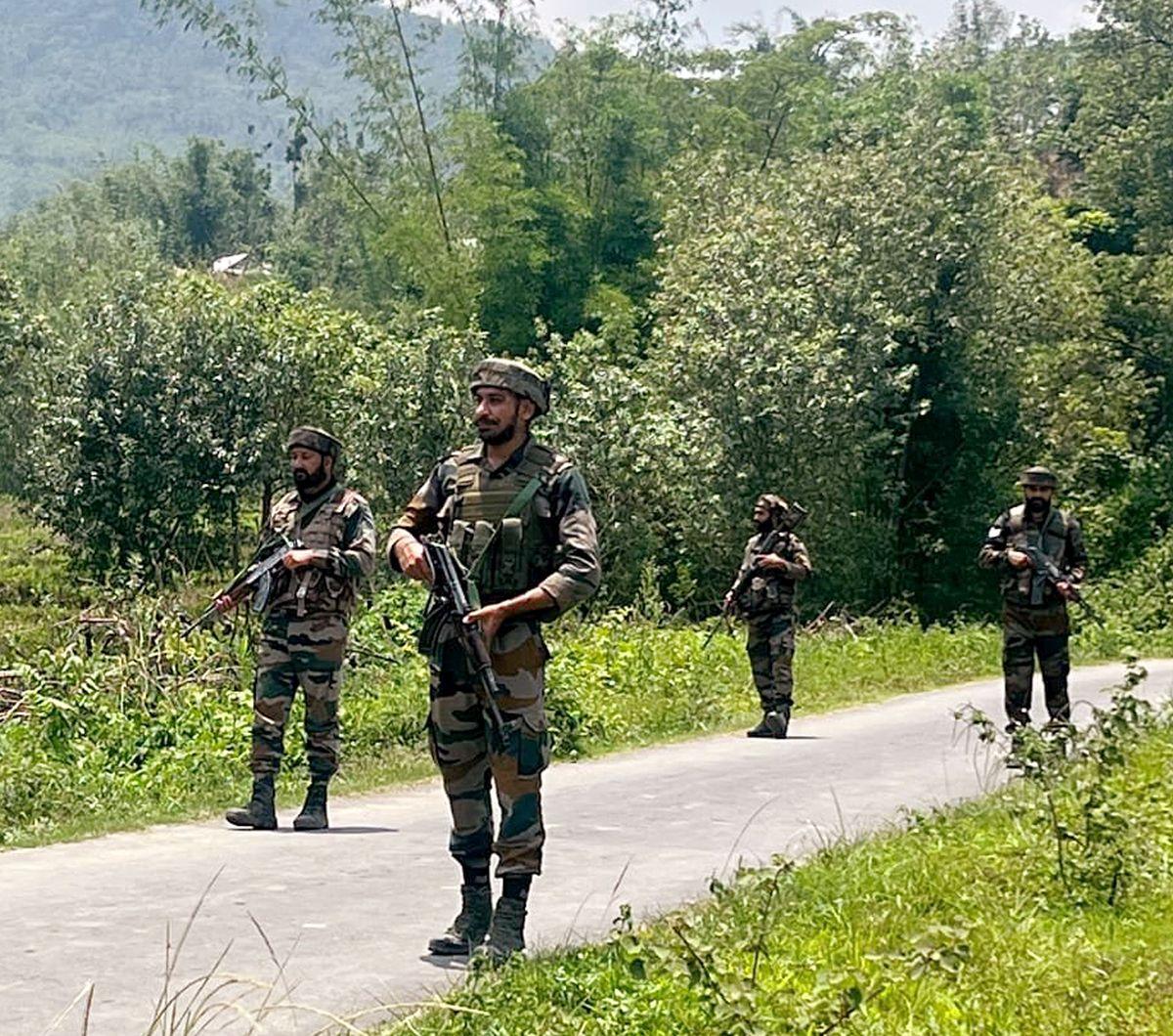 A Border Security Force jawan was killed and two Assam Rifles personnel injured in an encounter with suspected Kuki insurgents in Manipur's Serou area early Tuesday, officials said.
The exchange of fire between the two sides took place in a school in Serou area of Sugnu in Kakching district, the officials said.
A BSF official said suspected Kuki miscreants resorted to indiscriminate and heavy firing targeted at BSF troops deployed at the Serou Practical High School around 4.15 am.
Constable Ranjit Yadav sustained a bullet injury during the gunfight and was evacuated to Kakching's Jivan Hospital where he was declared dead, the official said.
The two injured Assam Rifles personnel have been air evacuated to Mantripukhri and search operations are in progress, the Indian Army's SpearCorps, headquartered in Dimapur, added on Twitter.
"Extensive area domination operations by Assam Rifles, BSF & Police undertaken in areas of Sugnu/Serou in #Manipur. Intermittent firing between Security Forces & group of insurgents took place throughout night of 05/06 June. Security Forces effectively retaliated to the fire," SpearCorps posted on its official Twitter handle.
A fierce exchange of fire was also reported between security forces and suspected Kuki militants from Phayeng in Imphal West district, police said, adding that there was no report of any casualty.
Irate villagers had earlier on Sunday night set ablaze an abandoned camp at Sugnu in Manipur's Kakching district on Sunday night, where militants from the United Kuki Liberation Front(UKLF) were staying after signing a peace accord with the government.
The villagers were venting their anger after militants burnt down at least 100 abandoned houses including the residence of Sugnu Congress MLA K Ranjit at Serou in Kakching district on Saturday midnight.
Meanwhile, the Manipur government on Tuesday extended its ban on internet services till June 10.
"The suspension of mobile data services, including broadband, has been extended till 3 pm of June 10", an order issued by Commissioner (Home) H Gyan Prakash said.
The ban was first imposed on May 3.
At least 98 people lost their lives and 310 others were injured in the ethnic violence in Manipur that broke out a month ago.
A total of 37,450 people are currently sheltered in 272 relief camps.
Clashes first broke out on May 3 after a 'Tribal Solidarity March' was organised in the hill districts to protest against the Meitei community's demand for Scheduled Tribe (ST) status.
Meiteis account for about 53 per cent of Manipur's population and live mostly in the Imphal Valley. Tribals Nagas and Kukis constitute another 40 per cent of the population and reside in the hill districts.
Around 10,000 Army and Assam Rifles personnel have been deployed in the state to bring back peace.
© Copyright 2023 PTI. All rights reserved. Republication or redistribution of PTI content, including by framing or similar means, is expressly prohibited without the prior written consent.