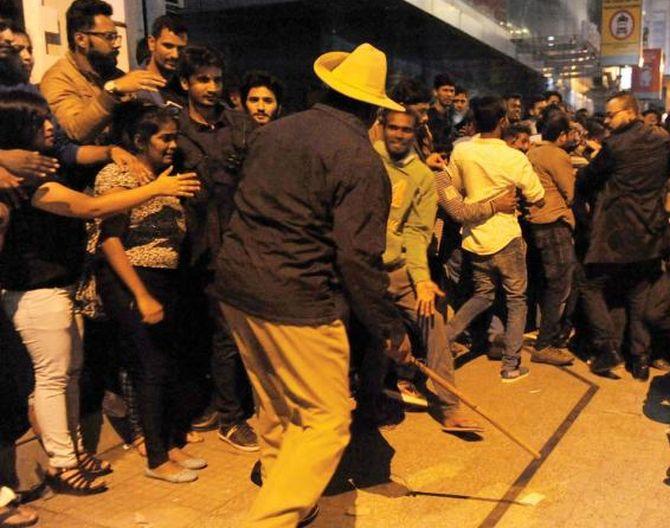 Three days after New Year eve revelry turned into a nightmare for several women who were allegedly molested at a large gathering in Bengaluru's downtown area, police claimed to have found "credible" evidence of molestation and have registered an FIR.
As the incidents drew widespread outrage with no action from the police, Bengaluru's new commissioner of police, Praveen Sood through a series of tweets, said his team was working on the case silently.
"As promised we have found credible evidence repeat credible evidence in a case of wrongful confinement, molestation and attempt to rob," Sood had said in a tweet.
"We have taken action by registering an FIR. Investigation is in progress. Police is working.... though silently," he had said in another tweet.
Stating that an enquiry is underway by an officer of deputy commissioner of police rank, he has said that they have gone through the feeds from 45 cameras on MG road, and unedited video is available with police.
Eyewitness accounts had suggested that women were molested and groped and lewd remarks were also passed by miscreants late night on December 31 in the posh area even as it was claimed that 1,500 police personnel had been deployed to control the crowds.
Police had earlier said that no one had come forward to file a complaint about the incident.
If any woman lodges a complaint of molestation that took place on December 31 night, the police will not waste even a minute in registering a case and launch a probe, Sood had tweeted on January 2, adding even without a complainant if police finds credible evidence of molestation, a case will be registered suo motu without waiting.
Sood took over as the city police commissioner from N S Megharikh, on January 1.
Bengaluru incident shameful, says Aamir Khan
Superstar Aamir Khan condemned the molestation incident in Bengaluru, terming it as extremely shameful and saddening.
"What happened in Bangalore was very sad. We all are saddened and feel ashamed when something like this happens in our country. Every state government should take a step for this," Aamir said.
The 51-year-old actor feels it is high time the law and order "becomes strong and works rapidly" to set an example.
"You see in America, if an incident like this happens, within two-three months the guilty person is punished and the case is closed. When this happens, I feel there will be a big change."
Aamir says it is important to punish the culprits so that a strong message is sent across.
"In today's age, people who misbehave with girls think 'nothing will happen to us'. When such examples come in front of us, that whoever did this is behind bars within 2-3 months, and continuously if we see this, situation will change. There will be fear among people, which is a very important thing."
© Copyright 2021 PTI. All rights reserved. Republication or redistribution of PTI content, including by framing or similar means, is expressly prohibited without the prior written consent.