Opposition leaders slammed the Centre on Wednesday for its 'limited' focus on important sectors like health and education in the Budget for 2023-24 fiscal.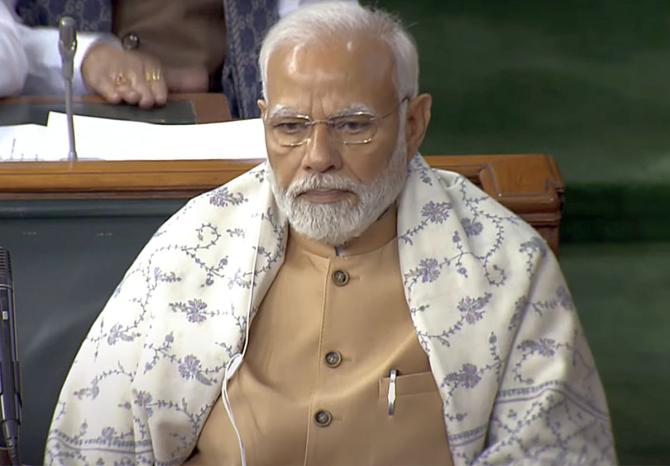 In the annual budget presented by Union Finance Minister Nirmala Sitharaman, the health sector has been allocated Rs 89,155 crore, a hike of around 13 per cent over Rs 79,145 crore allocated in FY 2022-23.
The government also announced a mission to eliminate sickle cell anaemia by 2047.
The budgetary allocation for school education saw an overall increase of Rs 9752.07 crore (16.51 per cent) while for higher education, Rs 44,094.62 crore has been made available compared to Rs 40,828.35 crore in 2022-23, which is an increase of 8 per cent.
Biju Janata Dal MP Amar Patnaik, however, said the increase in allocations is very 'nominal' which 'does not really count'.
"The most important thing is the social sector spending -- on health and education. There was no mention of the allocation in the budget speech and if you look at the fine line, one finds that the increase is very nominal as a percentage of GDP.
"These increases really don't count, particularly because people in the rural areas are negotiating the post-pandemic pangs even now," he told PTI in an exclusive video interview.
Rural development, health and education should have been addressed more aggressively in allocations, the BJD MP added.
Rajya Sabha member Priyanka Chaturvedi also slammed the Centre for a 'limited focus' on education and health in the budget.
"If the Centre does not spend on health and education infrastructure, it is putting that burden on states. You (Centre) don't send GST reimbursements on time.
"You also ask states to give primacy to this. But there is no support from the Centre. This strains the federal structure," Chaturvedi, a leader of the Uddhav Thackeray faction of the Shiv Sena, told PTI.
Terming the 2023-24 Union Budget 'big on announcements and short on delivery', Congress president Mallikarjun Kharge alleged that there is no boost to education and health budgets. "In fact, they have been reduced."
Rajasthan Chief Minister Ashok Gehlot also accused the Centre of 'neglecting' important areas such as education, health, social justice and women and child development.
Delhi Chief Minister Arvind Kejriwal alleged that the education and health budget has been reduced.
'There is no relief from inflation in this budget. On the contrary, this budget will increase inflation. There is no concrete plan to remove unemployment. Unfortunate to reduce education budget from 2.64 per cent to 2.5 per cent. Reducing health budget from 2.2 per cent to 1.98 per cent is harmful,' he tweeted.
Kejriwal's deputy, Manish Sisodia, who also holds the education portfolio in the Delhi government, said, "The finance minister was saying that this is a budget for inclusive growth. But if it doesn't spend on education and health, how is it inclusive?"
"There has been no announcement of building a new hospital despite there being a shortage of doctors per person in the country. The situation is worse than in even poorer nations. They have decreased health budget from 2.2 per cent to 1.98 per cent," the Delhi deputy chief minister claimed.
"If you talk about education to any leader from the Centre, they say they have brought the National Education Policy. The NEP talks about allocating six per cent of the GDP to education. Leave aside six per cent per cent, the budget has been decreased from 2.64 to 2.5 per cent. Then they beat the drum for introducing NEP," he said during a press conference.
According to Oxfam India, the Union Budget has missed yet another opportunity to address the growing inequality in the country.
It claimed that the allocation for key social sectors like health and education continued to remain abysmally low in the Union Budget.
"While the poor and marginalised in the country continue to suffer health, education, cost of living and climate crises, the Union Budget, unfortunately, offers no relief.
"Instead, the Budget provides further tax cuts and incentives to the rich in the country. Inadequate allocation in the health and education sectors runs the risk of depriving the socio-economically marginalised populations of good-quality education and healthcare," said Amitabh Behar, the CEO of Oxfam India.
© Copyright 2023 PTI. All rights reserved. Republication or redistribution of PTI content, including by framing or similar means, is expressly prohibited without the prior written consent.