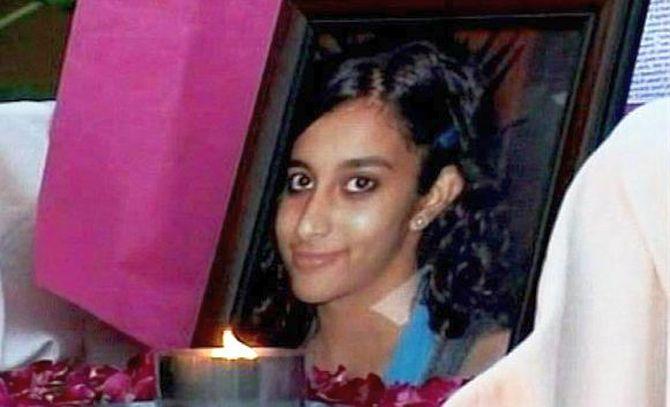 Aarushi Talwar, daughter of a dentist couple, Rajesh and Nupur Talwar, was found dead with her throat slit at her home in Noida, near Delhi in 2008.
The body of their domestic help Hemraj was found on the terrace of the Talwars' house two days later.
Aarushi's parents who were found guilty and given life term by a special court in 2013 had appealed against the order in the Allahabad High Court.
As the court delivers its verdict on Thursday on the conviction of the Talwars in 2008 double murder case in Noida, here's a timeline in the case:
2008
>> May 16: Aarushi Talwar found dead with her throat slit in a bedroom of her home in Jal Vayu Vihar Noida. Based on Aarushi's parents' complaint, missing domestic help Hemraj, a Nepali, suspected of murder
>> May 17: Suspect Hemraj's decomposed body found on the terrace of Talwars' home
>> May 18: Police said murders done with surgical precision; insider job suspected. Aarushi's post mortem report ruled out sexual assault
>> May 19: Talwars' former Nepalese domestic help Vishnu Sharma named as suspect
>> May 21: Delhi Police joined murder probe; police said murder committed by a "doctor or a butcher"
>> May 22: Aarushi's parents come under suspicion; police began investigation in dishonour killing angle. They quizzed Aarushi's close friend, whom she spoke to 688 times in the 45 days preceding her murder
>> May 23: Aarushi's father Dr Rajesh Talwar arrested for the two murders, Aarushi and domestic help Hemraj
>> June 1: Central Bureau of Investigation took over the investigation in the case.
>> June 13: The Nepalese compounder of Dr Rajesh Talwar, Krishna (alias Kishan) arrested by the CBI after his polygraph test and Narco Analysis test at Forensic Science Laboratory, Bangalore the day before. Based on his info, a lie detector test was also conducted on Vijay Mandal, the domestic help of the Talwars' neighbours Praful Durani and Anita Durani
>> June 19: Judicial custody of Dr Rajesh Talwar extended up to July 2, 2008. An application was moved for a second lie detection test of Dr. Rajesh Talwar, as his first lie detection test was inconclusive
>> June 20: Second lie detection test conducted on Rajesh Talwar
>> June 25: Second lie detection test conducted on Nupur Talwar. Her first lie detection test was found inconclusive
>> June 26: CBI declared the case to be a "blind case". Rajesh Talwar refused bail by the special magistrate in Ghaziabad
>> July 3: The Supreme Court rejected a plea which challenged the narco-analysis test on the accused
>> July 12: Ghaziabad court gives bail to Rajesh Talwar after the CBI fails to provide evidence
2010
>> January 5: CBI moved court to conduct narco test on the Talwar couple
>> December 29: CBI submitted closure report. Clean chit to servants but points fingers at parents
2011
>> January 25: Rajesh Talwar attacked in the Ghaziabad court premises
>> February 9: Court took cognisance of the CBI report, charged Aarushi's parents with murder and destruction of evidence
>> February 21: Couple approached the Allahabad high court for quashing trial court summons
>> March 18: High court dismissed their plea to quash summons and orders initiation of proceedings against them
>> March 19: The couple approached the Supreme Court which stays the trial against them
2012
>>January 6: Supreme Court dismissed Talwar's plea and allows the trial to proceed.
June 11: Trial started before Special Judge S Lal
>> April 30: Wife of Rajesh Talwar, Nupur Talwar was arrested
>> May 25: Talwars were charged by Ghaziabad court with murder, conspiracy and destruction of evidence
2013
>> April: The CBI told the court that Aarushi and Hemraj were murdered by Rajesh and Nupur Talwar. CBI also said that Aarushi and Hemraj were found in objectionable and compromising position
>> October 10: Final arguments began
>> October 18: In closing arguments, the CBI said that the couple "misled" investigators
>> November 25: Talwar couple convicted by a special CBI court, sent to Dasna jail, Ghaziabad
>> November 26: Quantum of punishment delivered and Talwars were sentenced to life in prison by CBI court
2016
>> September 5: Nupur Talwar was released on parole for three weeks as her ailing mother needed medical attention