'It has been a phenomenal effort at all levels of the government.'
'People were working 15-16 hour shifts in the central government, in the state governments, in the districts....'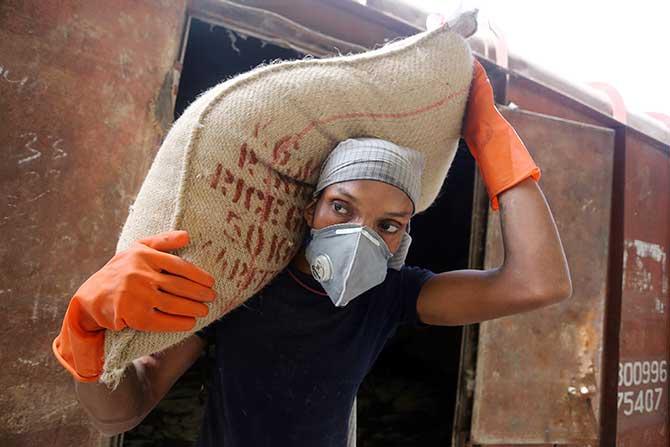 "We've faced all kinds of situations, but we figured out ways of overcoming them along the way," Union Secretary Parameswaran Iyer -- who heads the COVID-19 task force on supply chain and logistic management which has helped keep up the flow of medicines and food all over the country -- tells Sheela Bhatt in the concluding segment of a two-part interview.
When there was a nationwide lockdown, how did you manage human resources?
I would say we managed it quite well actually.
We were troubleshooting to streamline the supply chain.
At that point in time, we were functioning with skeletal staff.
Since we have a very lean team, just four or five people, we would function from our control room in the ministry.
I've been going there since the beginning.
Of course, I have my regular job as well, which is sanitation and water so we were doing two things.
One must remember that everyone, in all the ministries, has been working.
It has been a phenomenal effort at all levels of the government.
People were working 15-16 hour shifts in the central government, in the state governments, in the districts...
Honestly speaking, the kind of effort people have put in, young district collectors and all, has been phenomenal.
They are the ones in the front line; we are sitting here, trying to coordinate.
Most of our communication is virtual though.
We are using technology and are in touch on a daily basis through meetings.
We have three or four people in my office; the rest of the group connects virtually via video conferencing.
All our meetings with the private sector take place using technology.
It went similarly with the state governments, with the collectors, with different stakeholders.
For example, we had meetings with wholesale suppliers with the help of Mr Praveen Khandelwal (national secretary general, Confederation of All India Traders).
We are trying to get the perspective of every single stakeholder -- from the packaging industry to the manufacturing industry to hygiene products, e-commerce...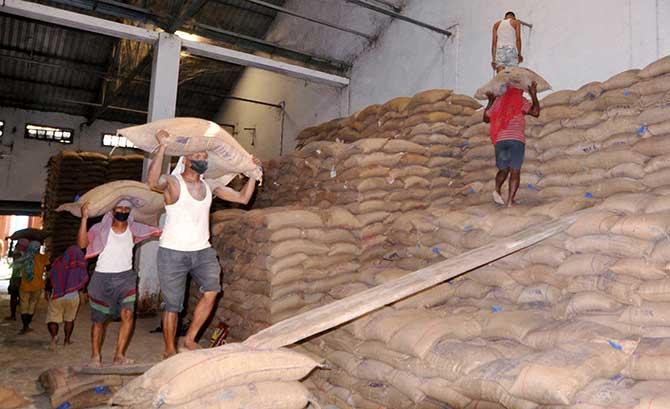 Paramji, there must be something wrong with the supply chain, otherwise, why would migrants struggle to get home?
Why would they choose to walk thousands of miles instead of staying where they were?
Our group includes the food ministry and the consumer affairs ministry.
So far, over 50 lakh metric tonnes of food grains have been distributed nationally under the Pradhan Mantri Gareeb Kalyan Yojna.
I think the FCI (Food Corporation Of India) did a phenomenal job.
Even today, more than 1.5 crore (15 million) cooked meals are provided every single day.
This is happening through NGOs working for the government, big organisations and small organisations, so I don't think there was a big issue as far as availability of food was concerned.
There may be isolated cases, of course, and we look into them whenever we get intimated.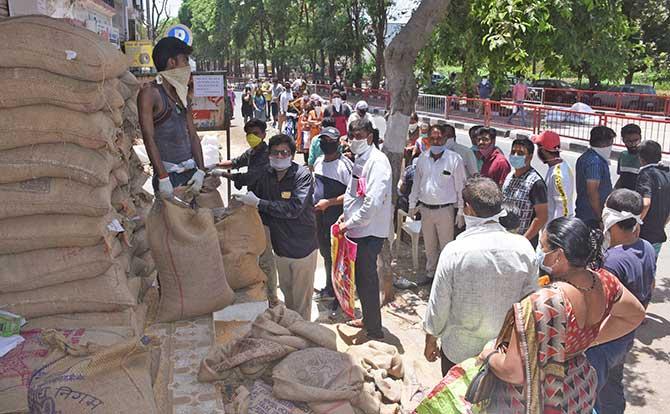 I'll give you two examples.
The ration moved and -- this is very significant -- there was a phenomenal effort to feed all the people and not just the migrant workers.
There are many other factors as far as the migrant worker issue is concerned.
There may be cases where migrant workers have set out to return home and some of them may have had limited access to food at some point during the journey.
But all state governments across the country have made a phenomenal effort to feed the hungry.
Every district has a nodal officer who coordinates with all the NGOs in the district.
I want to mention again that 1.5 crore cooked meals are being provided every day.
Apart from that, many states are giving additional free ration as well.
States like Karnataka, Kerala and Gujarat are giving ration packs.
Many states are not drawing a distinction between those who have a ration card and those who don't.
We also reached out with the department of empowerment of persons with disabilities and the ministry of social justice to make sure that two of the most vulnerable groups, the elderly and the disabled, are taken care of.
The disabled found it difficult to go out and buy food, so we ensured home delivery.
The elderly needed care givers, so we wanted to make sure it wasn't only bedside caregivers but also those who help in washing and cooking food.
Even corporations have stepped up.
Ahmedabad started Vegetable on Wheels, so home delivery became the norm in many cases.
It has been a team effort.
We have started calling the people on the supply front -- truck drivers, unloaders, port dockyard workers, swachhta workers -- Supply Warriors.
So, Paramji, what went wrong then?
Wrong in what sense?
The image that comes to mind when one thinks of India today is lakhs of poor people walking hundreds and thousands of kilometres to reach home.
How would you explain this?
This issue is happening now, migrant people in urban areas trying to go home... what can I say?
The assumption is that they want to get back to where they came from because of the pandemic.
The government is facilitating that through the Shramik Expresses.
Remember, the fight against the pandemic is ongoing and the migrant numbers are very big.
There will be cases where everyone cannot be accommodated at one go.
But all efforts are being made by the central and all the state governments.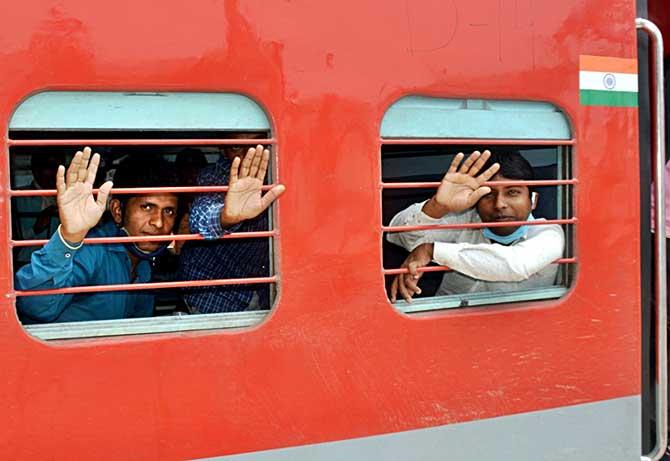 Both the host and the receiving governments and the railways have risen to the challenge.
I'm sure more trains and other transport mechanisms will be evolving as we go along.
We have been discussing, particularly with the food ministry, how can they ramp up the provision of rations, how can they speed up the delivery of food grain, in the initial phases under the Pradhan Mantri Gareeb Kalyan Yojna.
We have also looked at this specific issue of delivery of food to the needy and the poor and the vulnerable.
Can you share some examples of the people's enthusiasm to fight back in this kind of a crisis?
Under very difficult circumstances, people are going above and beyond the call of duty.
Postal workers, daakiyas, particularly rural daakiyas, are delivering medicine.
Their work is particularly impressive.
Another example that I can think of is the railway catering service -- they did a great job.
They were supplying meals in local areas where people needed it.
The IRCTC has got a big capacity and are willing to scale up to help.
Then, of course, there are the pilots who have delivered medicines, whether it's the air force pilots who have flown to Ladakh and far flung areas or the civil aviation pilots and the entire crew... there are examples galore.
And what about all the countless truck drivers and unloaders?
In the beginning there was an issue -- railway cargo was lying at the stations, but workers were not available to unload it.
Due to fear?
Yes.
For example, in Dimapur, Nagaland, there was a bit of a hold-up initially because there were lots of railway rakes that needed to be unloaded both for Nagaland and Manipur.
We called up the chief secretaries of both states who coordinated with each other and the workers came in.
In some cases, there were unloading problems because there were rakes which were carrying non-essential items and they blocked the railway sidings, so it was difficult to unload the rakes with the essential items.
We've faced all kinds of situations.
But we figured out ways of overcoming them along the way.
Production: Ashish Narsale/Rediff.com