'What I have heard is that more Hindus are excluded from NRC than Muslims'
'There is a lot of fear among people about losing their statehood'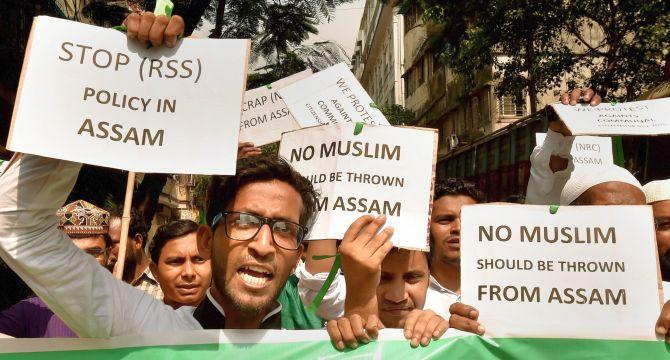 The Supreme Court mandated deadline for publication of the final National Register of Citizens in Assam ends on August 31.
A year ago, a draft NRC list was released in which around 40 lakh people were declared as 'foreigners'.
These 40 lakh people could not provide proof of their citizenship or that of their parents or grand-parents preceding the cut-off date of March 24, 1971.
The NRC is also an emotional issue for the people in Assam as many of them feel that their lands and jobs have been taken away by migrants -- both Hindu and Muslim -- from Bangladesh.
Union Home Minister Amit Shah has already promised to 'throw illegal migrants out of India', calling them 'termites'.
Joyeeta Bhattacharjee, senior fellow, Observer Researcher Foundation, who has specialised on India's neighbourhood and border studies, spoke to Rediff.com's Syed Firdaus Ashraf about what lies ahead after the final NRC list is declared on August 31.
"It may not disturb peace by there will be harassment of people. This is a big concern for the people of Assam," he says.
What do you foresee happening after August 31?
Right now there is no clarity. People are in a confused state. There is a lot of fear among people about losing their statehood.
More than statelessness, people fear harassment and the social tension that will emerge. This is the major fear.
Do you feel peace in Assam can be disturbed after the publication of the final NRC list?
It may not disturb peace by there will be harassment of people. This is a big concern for the people of Assam.
Not only by the police, but also at the hands of xenophobic groups who will target people not on the list, unless a proper redressal mechanism is worked out.
Almost 40 lakh people were excluded from the draft NRC list. Do you feel more names will be added or will the number be reduced?
We really don't know. There is no clarity and it is difficult to say; but there are chances that the number may go up.
A lot of things will depend on the justice delivery system and how the government resolves those cases.
Resolving four million cases satisfactorily is not easy. In one case, a 70-year-old woman is missing (from the list) but all her family members are included.
Sometimes the names of children in the family are missing. This is creating a lot of confusion, uncertainty and tension in society.
Will people missing from the final list be taken to detention centres immediately after August 31?
No, it is not like that. They will (get a chance) to argue their case in the Foreigners Tribunal. The onus lies on the applicants to prove their citizenship.
Normally, they say, the case will take three months. But this will require the appointment of a lot of judges.
Recently, the government has employed 230 members in Foreigners Tribunal, but are they enough to resolve all those cases?
It is only when you are not able to prove you are an Indian that you will be sent to the detention camp.
But...
(Interrupts) Many people staying out of Assam have not filled the NRC form because they don't feel the need to fill it as they feel they are citizens of India.
But what happens to those people when they go back to Assam after staying out of the state? I feel it is a tricky situation.
What happens to those who leave Assam and go to other parts of India? We have no answers to such questions, at least in the public domain.
If you are declared as an illegal immigrant and instead of reporting to NRC authorities, you go away to some other part of India. How is the government going to track you then? Is there some mechanism?
This is a tricky situation. If you have all Indian documents and leave Assam, you can settle in any part of India and be a citizen of India.
You mean if you have an Aadhaar card but are left out of NRC, you can go to any part of India and settle down? Doesn't it mean the entire exercise of NRC is futile?
Genuine Indian citizens who are not living in Assam for many years have not registered for the NRC, as a protest (in some cases).
They believe that they are genuine citizens of India so why should they register. What happens to them?
BJP MLA Shiladitya Dev criticised NRC and said it will provide citizenship to Muslim Bangladeshis while Bangladeshi Hindus might be excluded from the list.
Honestly, I don't know how many Bangladeshi Muslims came to India.
As a researcher, I go by facts and I don't have hard facts to analyse (right now).
If you go to Bangladesh and talk to people, you will find out that there has been an exodus of Hindus when military rule was there most of the time and hardcore Islamists were in power.
But I don't have solid data. It is India's failure to provide solid data to prove that they (Hindus) are from Bangladesh. But I have not seen any such kind of data.
In your research have you come across any kind of data that says the Hindu population has reduced in Assam due to the influx of Bangladeshi Muslims?
I cannot say that but we cannot overlook the shift of demography in Assam. But again, we have to look into our own family planning system.
This is also a factor and we cannot overlook it.
There has been rise in population of Muslims in 7-8 districts of Assam and census suggests this much. But are they original Indians or Bangladeshi Muslims, it is difficult to prove.
But there is a concern and people say so and there is a perception on this point.
Another thing I must add, people in Bangladesh say why would they go to Assam right now as their economy is doing well as compared to that of Assam. The moment you step into Bangladesh, you will find the difference as they have progressed more.
You mean the border areas of Bangladesh are doing better economically than the Assam side of the border?
Yes, to some extent.
How did the Nellie massacre of 1983 change the politics of Assam? Can you tell us about its background?
The Assam Movement (against illegal immigrants between 1979 and 1985) caused mutual hatred between Assamese bhadralok (upper class) and Bengali bhadralok.
The Assamese elite felt that the Bengalis come and take their jobs.
In fact, they used to welcome the Muslims of Bengal as they were labourers and tilled land during British times.
Muslims used to mention Assamese as their mother tongue.
But when the Nellie massacre took place, slowly these Muslims started reclaiming their identities more and more as Bengalis. And that changed the situation.
In Nellie, most of those killed were migrants from Bangladesh.
Also, you have to understand that we have not defined yet who is Assamese. What defines an Assamese? Are Assamese only those people who speak Assamese language? Or the people who have lived in Assam for many years?
Assam is a multi-ethnic and multi-cultural society. There are many languages in Assam. Bodo is a major language and there are so many tribes like Karbis who have their own language.
It is being felt that Bengali Hindus are also being targeted in Assam?
The whole problem in Assam started because of Bengali bhadralok Hindus.
The Assamese had no problems with Bengali Muslims as they were the working class.
The fight was between elite Assamese and elite Bengalis as the British brought in Bengalis for overall governance. They were the support staff and the Assamese elite found themselves missing. This problem started from the 1900s.
I am talking of Bangladeshi Hindus who are more in the NRC list.
Bangladeshi Hindus are the first target (in NRC), more than Muslims. Now the narrative has changed but the problem started in (Assam) because of Bengali Hindus.
And therefore, there is so much opposition in Assam to the Citizenship Amendment Bill cap (2014). People of Assam are opposing the cap of 2014.
(Note: The Citizenship (Amendment) Bill, 2019 states that Hindus, Jains, Christians, Sikhs, Buddhists and Parsis from Bangladesh, Pakistan and Afghanistan, after seven years of residence in India, instead of 12 years which is the current norm, even if they do not possess any document if they came to India before December 31, 2014.)
But now Hindus, irrespective of their origin, can become citizens of India, thanks to the Citizenship Bill.
That is why the Assamese are opposing it. They are opposing the deadline of 2014.
Though I have doubts on how many Bangladeshi Hindus actually came to Assam.
Whichever Hindu migrated from Bangladesh, went to West Bengal or abroad but did not come to Assam.
I did not meet any of them (Bangladeshi Hindus) in Assam though I'm working with them for quite some time.
But the NRC has names of Bangladeshi Hindus in large numbers.
What I have heard is that more Hindus are excluded from NRC. The number of Hindus is much higher in NRC (excluded list) than Muslims.
People talk about Muslims being targeted but that is not true as it is a major ethnic problem in Assam (between Assamese and Bengalis).
It is more of an ethnic issue than a religious one. It is also a polarising issue.
If Bangladesh is not accepting these illegal migrants, what do we do with them?
From the very beginning, Bangladesh has been saying they will not accept them.
They say NRC is an internal issue of India and it should deal with it. The challenge lies in how smartly we can handle it.