'They have a voracious appetite.'
'But there are many places where they go and they lose.'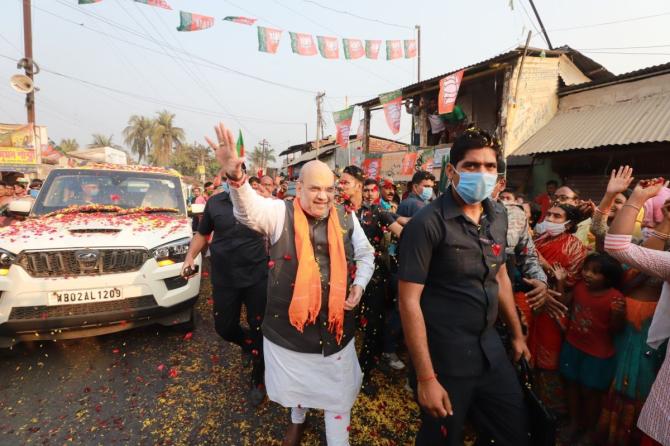 The Election Commission has announced an unprecedented 8-phase election for West Bengal starting March 27.
Saugata Roy, the Trinamool Congress Member of Parliament in the Lok Sabha and one of the senior-most members of Chief Minister Mamata Banerjee's team, says "this is very unfair to West Bengal".
A retired professor of physics, he has been elected an MLA in West Bengal for five terms (1987-2009). In 2019 he began his fourth term in the Lok Sabha. He served as Union minister of state in 1979 and again from 2009-2012.
Professor Roy speaks to Rediff.com's Senior Contributor Payal Singh Mohanka on Bengal's biggest battle as Mamata Banerjee goes 'vocal about local' and projects herself as the daughter of Bengal pitted against the outsiders.
As a veteran politician who has won several elections, how do you react to this 8-phase bitter battle ahead?
Like my party the Trinamool Congress I too react adversely.
This is very unfair to West Bengal.
If Tamil Nadu can have elections within one day, why should West Bengal have elections for eight days? It is unfair because people of the state will be put through a lot of difficulty.
For one month there will be no schools, no work, no offices.
Life will come to a standstill. The Election Commission may have reacted to whatever complaint the BJP made against us, but it came as a surprise.
The law and order in Bengal is not so bad, there are no mass killings every day, there is no violence.
This picture is being painted by a section of the media, but nothing cataclysmic has happened which warrants such a step.
We are against this, but what can we do. The Election Commission is the sole arbiter in this matter.
Do you think this will work to the BJP's advantage?
No no. Nothing will work to their advantage.
They will lose. The victim card or the sympathy card will be with the TMC.
The people of Bengal do not like the misuse of power. The TMC is fighting this election with an edge.
It is ahead of the BJP. The BJP is spending a lot of money, bringing big guns.
They are putting a lot of pressure, but the TMC is still ahead.
Amit Shah claims the BJP will get 200 plus seats.
What Amit Shah says is not important. Amit Shah lost in many states -- Maharashtra, Andhra Pradesh...
Chief Minister Mamata Banerjee is going vocal about local Bangla nijer mei kay chai (Bengal wants her own daughter). Do you think this slogan will work?
I think it will work for her. It raises an important question. Will Bengal be run from outside or from Bengal itself?
The BJP promises 'Asol Paribortan'.
That is just a slogan. It has no meaning. Modi has given that slogan. What poribortan will the BJP show?
It is running the government in Uttar Pradesh, Madhya Pradesh, Gujarat and other states. What poribortan is it showing?
Right now, both sides are on overdrive. Prime Minister Modi plans to launch projects worth Rs 4,700 crores in Bengal, while Mamatadi has gone ahead with a slew of populist schemes and sops, some of which are not easy to sustain.
Modi so far has not done anything for Bengal.
He is saying he will do in the future. Mamata's programmes touch the common man like the Swasthya Sathi health scheme or the afternoon meal for just Rs 5 or free rations.
All these programmes have touched the people.
Founding members of your party have walked out. Is it true your leader had fears about your exit too? (Professor Roy's elder brother Tathagata Roy is a BJP hardliner and former Meghalaya governor.)
Just two ministers have left. Suvendu Adhikari and Rajib Banerjee. The TMC had a majority in the state assembly.
It had 211 out of 294 assembly seats. We roughly have the same number now.
Some people have joined, some people have left. There has been no large scale erosion or desertion.
I am ideologically opposed to the BJP, there was never any question about me joining the BJP or leaving the TMC.
At the moment Mamata is fighting the BJP. I don't think everything about the TMC is perfect, but we will put up the best fight against the BJP.
What do you think is wrong with the TMC?
Lower down, there is some lack of discipline, financial and behavioral. That is being addressed.
There is a perception that Tollywood is given more importance than senior members of the party.
According to me that is not true. With Tollywood, there is a recognition factor. People recognise the face of those they see on television or on screen.
How does someone as refined as you cope with the culture of the TMC, the abuse?
I think the BJP is much more crude and uncultured than the TMC.
Amongst the charges against the TMC is the politicisation of the administration.
That is not true. The bureaucracy always tends to be politicised in states. They get influenced by the party in power.
To some extent that may have happened. But during the Left Front regime, the administration was even more politicised.
Modi has torn into Mamatadi's government alleging a delay in implementing central schemes.
Do you fear that the BJP will use this delay to its advantage in the election to drive home the point that there is a lot lacking in governance in West Bengal?
Two schemes Mamata has not accepted. One is the Ayushman Bharat health scheme and the other is the PM Kisan Samman Nidhi.
She has given her reasons for not accepting them. She has given a better health scheme in Swasthya Sathi.
Modi mentioned her delay in implementing the Jal Jeevan Mission?
There is no truth, no substance in that allegation.
The BJP is now milking a notification issued in 2017 by the Bengal government that suspended the immersion of Durga idols on two specific days on account of Muharram observed by Muslims as a day of mourning.
Mamata issued no notification. In one or two cases, the local administration may not have given permission.
She gives every Puja Rs 50,000. In the history of the country nobody has ever given such help.
Your party accuses Modi of stifling dissenting voices. The TMC too has been guilty of this in the past when a youth was arrested for a Facebook comment, a professor for forwarding a cartoon.
These are old issues. They are no longer relevant. Modi is totally authoritarian.
He is clamping down on social media and arresting people like Disha Ravi.
Since 1972 Bengal has not seen the same political party in the state and the Centre. Some feel that if the BJP were to come to power, West Bengal would benefit. How would you react?
This will not give any advantage to the state. If there is a different government in the state it can make better demands, better bargains with the Centre.
There will be no special advantage for Bengal.
Knowing the BJP's voracious appetite for elections, is there a sense of fear in the TMC? The PM and home minister are spending a huge amount of time in Bengal.
They are gluttons. Yes, they have a voracious appetite. But there are many places where they go and they lose.
Feature Presentation: Aslam Hunani/Rediff.com