'The border has stayed the way it was for over 30 years, and they are now trying to change it'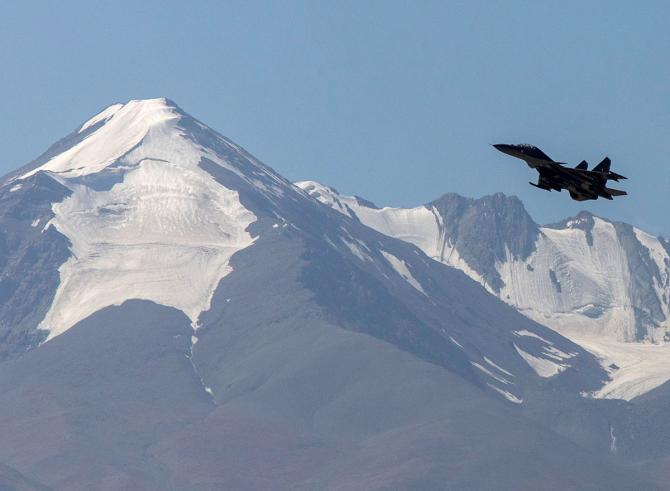 Former national security advisor Shivshankar Menon tells Aditi Phadnis that all aspects of India's relationship with China need a reset.
The prime minister has said that in eastern Ladakh, no one has intruded nor has any post been captured. But territory does appear to have been lost.
All of it is Indian territory.
So the use of the word 'territory' is wrong.
The Chinese are sitting on Indian territory.
They have built roads, bridges.
So when people say 'lost' territory, 'gained'; territory, what does it mean?
All of it is ours, Aksai Chin included.
The question is: Have they violated the Line of Actual Control?
I don't know why people keep saying LAC is not clear.
We know where the LAC is.
The Chinese have also respected it for years.
This (violation) is a new phenomenon.
The border has stayed the way it was for over 30 years, and they are now trying to change it.
Chinese ghus aaye hain (the Chinese have infiltrated).
But will they now restore the status quo?
That's what we have always managed to get them to do in the past.
Always?
Except in Doklam.
But that isn't our territory.
But it doesn't happen overnight. And it takes a series of measures.
Not all cases are the same and there is no one set pattern of behaviour, either by them or us.
But what they have done this time is different from before.
So let us see.
If they don't restore the status quo, what leverage can India use?
The same leverage that we have used in the past.
I think part of the worry today is that because the Chinese are behaving in this manner across the entire line -- in a few cases simultaneously, in much larger numbers -- one assumes that the deterrence that worked before has broken down.
And, therefore, the first job would be to restore that deterrence.
Now, deterrence is subjective.
His (China's) current course of action is an idea in his mind and is reflected in his behaviour.
I think we are in the process of doing that (developing a deterrent).
But it is not something you do overnight.
And it is not something you do by making statements.
India is engaged in a war with China through other means. Can it do more?
We use the word 'war' too easily.
This is not war.
What we are dealing with, with China, is a much bigger thing.
We are talking here not just about territory or military balance or effective military balance at the LAC, but about the economy, about the nature of the relationship, about India's place in the world, about China's place in the world.
Our relationship with China has deteriorated over several years.
And we now have several points of friction and a host of issues that we have to deal with.
So I think, we need to reset the entire relationship.
So banning a few apps, or making it harder for Chinese companies to do business in India. Is that the way to go?
Some of it might work, some might not.
If you think banning apps will work, good luck!
I am not sure whether the owners and developers of those apps are going to generate sufficient pressure on the Chinese government to make it change its behaviour on the border.
But I do think that we have a bigger issue with China that we need to address. And we have done this before.
We had Sumdorong Chu in 1986, but by the end of 1988, we had a new modus vivendi, a new strategic framework for the relationship, which worked well for about 30 years.
But now it is no longer that era.
Something is not working.
So we need to devise a new modus vivendi together with the Chinese.
And that is what the external affairs minister is saying, that we have to renegotiate, we need a new framework.
India has a Neighbourhood First policy.
But our relations with our neighbours are in a shambles.
Is this the China factor at work or has New Delhi played its cards all wrong?
I think we need to do more work.
There is no point blaming other people.
It is our relationship.
We should take responsibility for it.
We are all grown-ups here.