'An individual cannot fight the might of the State.'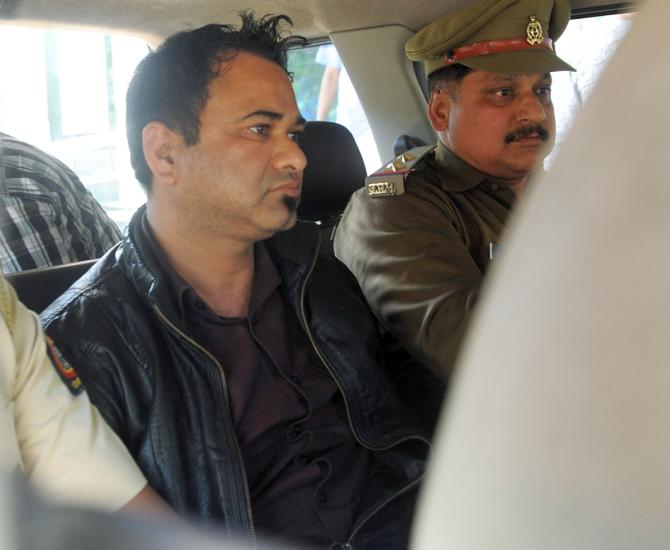 In September 2017, Dr Kafeel Khan was arrested in a case related to the deaths of 63 children at the Gorakhpur BRD Medical college.
These children died due to short supply of oxygen when Dr Khan was on duty, trying to save them, but the Ajay Mohan Bisht -- aka Yogi Adityanath -- government in Lucknow felt otherwise and arrested him for negligence.
From then on, Dr Khan's ordeal has not stopped.
He has spent 500 days in jail in the 3.5-year rule of the Bisht government.
The last time he went to jail was for his participation in protests against the Citizenship (Amendment) Act. He was charged under the stringent National Security Act, which was later quashed by the Allahabad high court, setting him free.
Last week, the Supreme Court dismissed the appeal moved by the UP government against the high court verdict, which was a huge victory for Dr Khan.
"I don't regret participating in the anti-CAA protests. My mother told me never shut your eyes when there is injustice happening around you," Dr Khan rells Rediff.com's Syed Firdaus Ashraf.
What was going on in your mind before the Supreme Court refused to review your acquittal?
It's the blessings of people that I am a free man today.
You won't believe, but before the Chief Justice of India pronounced his order, I was thinking that I will have to go back to jail.
Why?
You see Solicitor General Tushar Mehta was arguing against me.
Though my advocates were sure that nothing would go wrong and told me not to worry before the judgment.
But my past experiences were not good as my lawyers had told me then too that nothing will go wrong, but I ended up behind bars.
And, during my imprisonment, I was slapped with the National Security Act too, without any fault of mine.
So, a little fear automatically creeps into your mind. My family members were even more worried.
I had hugged my mother and my children before the judgment, thinking that I may not remain free after that.
And due to past experiences, I was also apprehensive about my release when the time of the Supreme Court verdict came.
Do you feel that the UP government is acting with a vengeance against you?
It's not only me. There are many like me. I just feel it is my story that comes out in public because the media reports it.
Have you shifted to Jaipur permanently for good?
Right now, I am in Delhi. I feel bad as a doctor that I am unable to perform my duty during this pandemic.
I have written four letters to the UP government stating that either they sack me or accept my resignation.
Moreover, I don't want to get into the past and want to start a new chapter in life.
The Medical Council of India has not put any restrictions on me as far as my practice is concerned.
I want to conduct medical camps which I used to do regularly.
I have done more than 100 medical camps, but unfortunately, I am not getting permission to do that from the government now.
It looks like you want to forgive the UP government and move on with your life, like a Gandhian.
An individual cannot fight the might of the State. It is very difficult.
And, secondly, once a doctor, always a doctor. Some people thought earlier that I will contest the Bihar assembly election.
I didn't go although there were too many offers. I wanted to spend time with my family then.
What is the biggest regret that you have in life when you look back from the day you have been in and out of prison?
The time I missed not seeing my children growing. That time will never come back in my life again.
My eldest daughter was 11 months old when I was put in prison. She could not walk and speak then.
This was in 2017 and when I came out of prison, she had started walking and talking.
I came home on April 18, 2018 after nine months of the Gorakhpur tragedy.
When my daughter saw me, she could not recognise me and covered herself with a blanket as she thought I was a stranger.
Later on, the same thing happened with my younger son.
He used to play in my arms when I was charged with the NSA and arrested.
And now that I am out of jail, he thinks my elder brother is his father and he is more attached to him.
He does not sleep next to me and insists to sleep next to my elder brother. In my absence, he became closer to him.
This pain will be with me forever.
When I was studying paediatrics, my teachers used to say that you will understand more about children when you yourself will become a father. Sadly, I could not understand that period as I was in jail.
That time will never come back in my life.
They will understand you when they grow older. Won't they?
I did realise during my incarceration that I am not the only one who suffered injustice.
When I used to pray in jail, I used to question Allah why he chose me to go through these difficult times for no reason, but I never got a reply.
I was all alone in jail and no one used to visit me except my family members. I had no idea what was going on in the world outside.
When I came out, I realised that so many people love me and spoke against the injustice meted out to me.
Now, I feel it is my responsibility to raise a voice against those who are oppressed unjustly.
Therefore, I am supporting the farmers' protest now.
Do you feel that you should not have participated in the anti-CAA protests as the government had already targeted you during the Gorakhpur tragedy?
No, I don't regret participating in the anti-CAA protests.
If I have to go to jail again to save the life of a child, then I am ready for that.
The only problem is that my family suffered a lot too.
This time when I was released, my family told me to keep my mouth shut.
And I told them that my mother taught me that 'zulm karne wale se zyada zulm sehney wala zimmedar hota hai (mute spectators of oppression share more blame than the oppressor)'.
My mother told me that never shut your eyes when there is injustice happening around you.
So I did that and in future too, I will raise my voice against injustice.
Do you fear for your life?
It is all up to Allah. If he wants (to end) my life then I will go. It is in his hands.
If you recall, my brother was shot in 2018. Two years have passed and there is no chargesheet or arrest in the case.
I get messages that after my brother, it is my turn. So, I don't fear death and I feel somewhere that fear of death has gone.
As far as jail is concerned, it is my second home now.
I have spent 500 days in jail during 3.5 years of the Adityanath government.
What are your future plans?
I am working on health for all campaign as right now I cannot practice medicine.
I met Union Health Minister Dr Harsh Vardhan too and gave him proposal for my Health for All campaign on which I am working.
I will also move to the high court for security because I am getting death threats on social media too.
Also, three cases are going on against me in Bahraich, Gorakhpur and Aligarh, so I have to fight them too.