The stupidity of someone buying impressions on people meters is like saying the BJP wins elections because the EVMs are rigged.
I predict zooming TRPs for Republic TV, says Sudhir Bisht.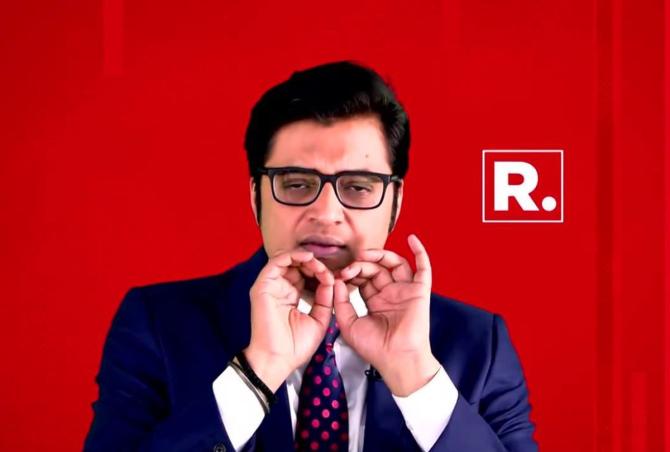 Readers may recall my article Arnab Goswami and his fish market.
So my loyalty is not to Arnab.
I may be in the same ideological camp, but I hate Arnab's arrogance, his 'I am the greatest' proclamations.
I dislike his alleged rough treatment of employees who are not his 'disciples'.
Remember there was one who said he was shouted at when he refused to jump over the wall of Sunanda Pushkar's father's bungalow to extract a byte against Shashi Tharoor. So inhuman, if it is true.
I detest the way he dehumanises people on his television debates, who look miserable at being labelled fools and even dishonest by him. What makes these guests not walk out has been a mystery to me.
So, in short, I dislike watching Arnab's shows but I am also aware that his Republic TV is the right wing's answer to the combined might of Aaj Tak, India Today (English) and NDTV, the powerful poster boys of the left wing.
To cut iron, one needs iron. The Khan Market media needs saffron resistance.
Arnab goes for the jugular of the left wing just as the three channels carry on with their relentless onslaught on the right-of-centre government in the country, following the people's mandate of course.
Arnab is the most gutsy warrior against the likes of Rajdeep Sardesai, Rahul Kanwal and their camp followers.
The aggression of Arnab is mocked at, but every TV journalist, every reporter, every anchor has been emulating or imitating him. I suspect that a sober guy like Bhupendra Chaubey quit television as he realised that he could never hold the viewership to his channel if Arnab was on another one.
It is Arnab who made Rahul Shivshankar, one of the most respected and knowledgeable anchors of Times Now, behave like a wrestler on his show.
Poor Navika Kumar has been reduced to making second-hand scoops after the same have been told on Republic two hours earlier.
In short, Arnab has become everyone's reference point. Everyone, from a veteran to a rookie newsperson, wants to be reborn as Arnab. In this life or next.
As per Broadcast Audience Research Council (BARC) India, Arnab's channel is the number one English news channel and his Hindi news channel too is number one in its class.
Republic TV English beats Times Now and India TV by a ratio of 5:1.8 each.
It beats CNN-News18 by a ratio of 5:1.2 in terms of viewership.
I am referring to the BARC figures between September 26 and October 2, 2020.
Similarly, Republic Bharat, the Hindi news channel, beats India Today's Aaj Tak by a ratio of 2:1.7 for the same period.
Since the BARC TRP ratings are based upon the people meter, an audience measurement tool used to measure the viewing habits of TV and cable audiences, the placement of these meters is highly confidential. It is impossible for TV channels to know where exactly these are located across the country.
BARC has placed close to 45,000 people meters at randomly selected households in the country. The findings of these meters help in generating the TRP ratings and that in turn provides the basis of the reach every television channel possesses.
Higher the viewership figures, higher the TRP ratings, and this leads to higher advertising revenues for the channel.
Mumbai Police Commissioner Param Bir Singh has now stepped into this picture even though his job profile has nothing to do with TRPs. I find it strange that the police commissioner of Mumbai has to hold a press conference on the alleged rigging of TRPs by Republic TV.
TRP is a commercial issue between the advertiser and TV channels.
Hindustan Lever Limited's 305,652 TV commercial insertions on various channels between September 26 and October 2 is a matter between HLL, its advertising agencies and various TV channels.
Are we to believe that HLL's marketing team is so naive that it relies on BARC's botched people meter technology?
What has the Mumbai police got to do with TRPs unless a complaint has been lodged by any of the stakeholders mentioned above?
The PC doing a press conference on the basis of a complaint received by the third party associate of BARC is very odd, to say the least.
It is well known that the TRPs cannot be manipulated so easily, unless BARC itself is compromised -- a rare possibility.
And I am not able to fathom the reason for the hue and cry over TRPs being dodgy when many newspapers have been known to print copies and throw them in the river or burn them to show larger circulation figures.
I routinely get free copies of newspapers at airports and railway stations. Many rival newspapers hire hawkers to throw their papers for free at the doorsteps of those who read competing newspapers. Is this really ethical?
The Mumbai PC alleges that Republic TV pays Rs 400 to Rs 500 to households to keep their channel switched on its channels to ensure high meter impressions.
The claim is, if Republic TV had 200 million impressions and most of it was manipulated, then the channel is pumping in hundreds of millions of rupees in cash to top the viewership battle.
This not only looks implausible, it appears to be a joke as well.
The Mumbai PC has an ongoing battle with Arnab. Not that Arnab is a saint. I think Arnab's obsession with the Sushant case is as much due to his journalistic instincts as it is to embarrass the PC who had in the past tried to ensnare him.
Meanwhile, the rival television channels are agog with ecstasy and boyish exuberance. They are all like, 'we told you Republic TV's figures are manipulated!'
Rahul Shivshankar and Rahul Kanwal are in top gear. Rajdeep has got his smile back.
But Arnab's vote bank will swell further. His TRPs will shoot up further. The stupidity of someone buying impressions on people meters is like saying the BJP wins elections because the EVMs are rigged.
I predict zooming TRPs for Republic TV.
Alas, the fish market will continue to assault our television, but Arnab wins this round easily.
Sudhir Bisht, PhD, author and columnist writes from New Delhi and tweets @sudhir_bisht