Some believe she should no longer be the face of the struggle to free Myanmar from the new military dictatorship, observes Prakash Bhandari.
Three years years ago on an assignment to Myanmar to provide the Jaipur Foot for the disabled of Myanmar, my friend Ganeshan Chettiar,a goldsmith, took me for a Nepali lunch in Moghul Street, Yangon.
Moghul Street still has large buildings once owned by rich Indian businessmen, mostly Marwaris, Gujratis and Chettiars.
They were there for more than two centuries when most Indian businessmen fled Burma after the Japanese invasion in the Second World War.
Burma was a part of India till 1931 when the British gave it a separate identity and in 1948 Burma became Independent.
A large number of Indian businessmen returned from their native states.
"Burma has always been in turmoil and its people could not understand what democracy and freedom means. Just a year before independence General Aung San, a nationalist leader, was assassinated in 1947," Chettiar said.
"The leadership after Aung San's murder came on the weak shoulder of U Nu, who was not politically sharp and this paved the way for the military to become powerful," Chettiar added.
"It is because our people even now do not know what democracy is and how it should be secured. A military can take over a country when all democratic forces fails," Chettiar stated.
Chettiar was right in his assessment as he had seen how the generals ruled Burma and made it a fragile country.
The military once again holds the reins of power in Myanmar.
Citing constitutional provisions that give the military control in national emergencies, army officers detained elected people's representatives in the early hours of February 1, including State c=Sounsellor and popular national leader Aung San Suu Kyi.
An announcement on military television said the move was in response to 'fraud' during last year's general election.
A spokesman said power had been handed to the army's commander-in-chief, General Min Aung Hlaing, who would hold power for one year, after which there would be new elections.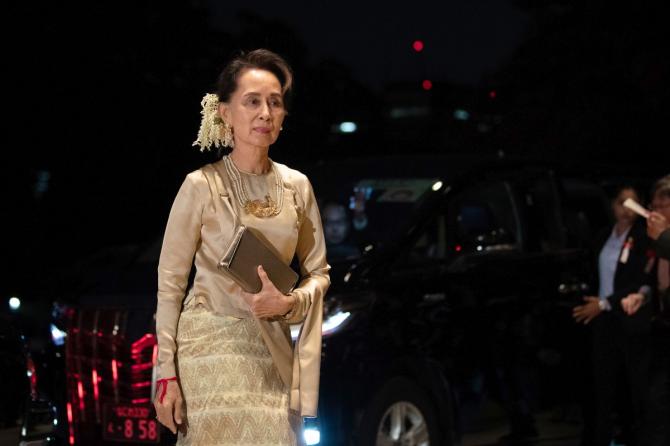 Erstwhile Burma and current Myanmar has a history of military rule.
Barely two years after independence, a civil war broke out in 1949 between the government and an array of different insurgent forces, including Communist and ethnic armies.
As the civil war raged on and national politics became increasingly divisive, the military came to see itself as the only force that could hold the country together.
Military control of the government is nothing new for the Burmese people.
In one way or another, the military controlled the country from 1962 to 2011.
General Ne Win, who took power in a military coup, took the country economically and politically down a road informed by a new ideology that mixed together Buddhism and Marxism, known as the 'Burmese way to socialism'.
It brought an end to democratic institutions and civil liberties.
Nationalisation of the economy and the forced sales by farmers of produce to the government removed private incentives and ruined the economy, leading to mass protests.
Aung Suu Kyi is the daughter of Myanmar's independence hero, General Aung San.
He was assassinated when she was only two years old, just before Myanmar gained independence from British colonial rule in 1948.
In 1960 she went to India with her mother Daw Khin Kyi, who had been appointed Myanmar's ambassador in Delhi. She lived and studied in Delhi.
Four years later she went to Oxford University in the UK, where she studied philosophy, politics and economics.
There she met her future husband, academic Michael Aris.
After stints of living and working in Japan and Bhutan, she settled in the UK to raise their two children, Alexander and Kim, but Myanmar was never far from her thoughts.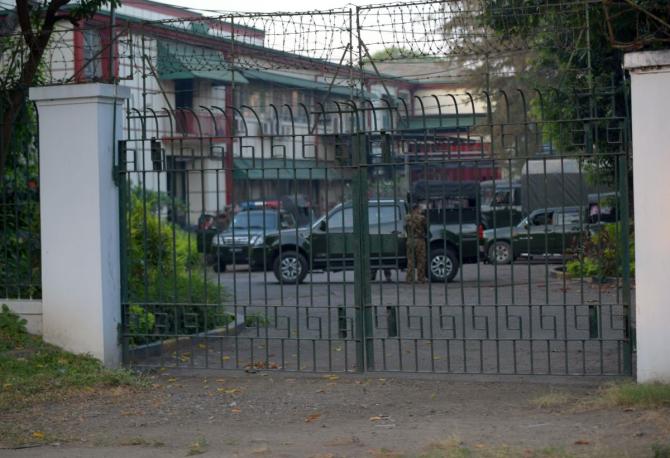 When she arrived back in Yangon in 1988 -- to look after her critically ill mother -- Myanmar was in the midst of major political upheaval.
Thousands of students, office workers and monks took to the streets demanding democratic reform.
'I could not as my father's daughter remain indifferent to all that was going on,' she said in a speech in Yangon in August, 1988.
She went on to lead the revolt against the then dictator, General Ne Win.
Inspired by the non-violent campaigns of Mahatma Gandhi and US civil rights leader Dr Martin Luther King Jr, she organised rallies and travelled around the country, calling for peaceful democratic reform and free elections.
In 1991, Aung San Suu Kyi was awarded the Nobel Peace Prize, while still under house arrest, and hailed as 'an outstanding example of the power of the powerless'.
In 2015, she led her National League for Democracy to victory in Myanmar's first openly contested election in 25 years.
Aung San Suu Kyi spent nearly 15 years in detention between 1989 and 2010.
What had been touted as a true democratic transition when Myanmar's 2008 constitution was implemented actually set up a system whereby the military still maintained enough power, through its veto power and control of a 25 block of parliamentary seats, to block any reforms that would lead to real change.
This was particularly the case given they had banned Aung San Suu Kyi from becoming president.
The Myanmar constitution forbade her from becoming president because she has children who are foreign nationals.
Aung San Suu Kyi, now 75, was widely seen as Myanmar's de facto leader with Win Myint as the figurehead president.
In 2020, her NLD once again won a landslide majority, getting even more votes than in the 2015 election.
The military disputed the results, claiming election fraud.
On the day parliament was to sit for the first time, the military arrested Aung San Suu Kyi along with many other political leaders.
It then declared a state of emergency, handing power to the military for a full year.
Aung San Suu Kyi was later charged with illegally importing communications equipment.
The police said they found seven walkie-talkies in her home which she was not authorised to possess.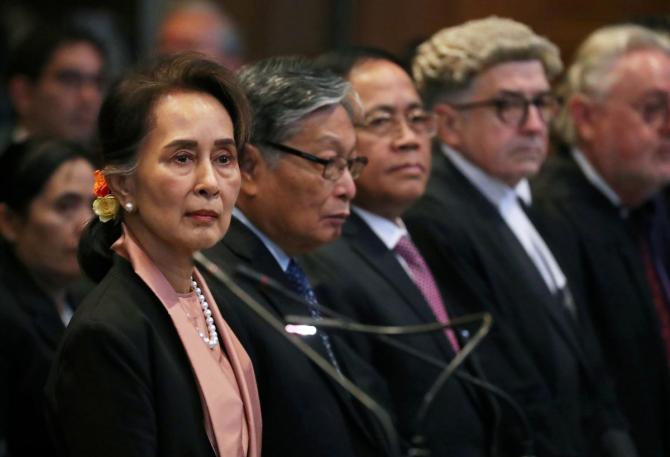 In 2016, the NLD, having won an earlier round of elections in 2015, created the office of state counsellor for Aung San Suu Kyi.
The move allowed to take her place as de facto leader, with Win Myint, a close aide, as the figurehead president.
Aung San Suu Kyi's father, General Aung San, was also the founder of the modern Burmese army, also known as the Tatmadaw.
The Tatmadaw is the very institution now depriving his daughter of her liberty and his country of their leader.
In 2017, the Myanmar military launched a brutal assault on the Rohingya ethnic group (external link) in Rakhine province in Western Myanmar.
Thanks to social media campaigns on platforms like Facebook, the majority Bamar Budhdist population had been whipped up into an anti-Islamic frenzy.
Aung San Suu Kyi did not oppose the military's actions as the military had hoped, which would have lost her a great deal of popular support.
Instead, she denied the military's culpability, joined in the military's political game of not recognising the Rohingya as a nationalist cause, supported the arrest of journalists who had discovered evidence for the military's actions and even defended the military, most recently in 2019 in the International Court of Justice.
These actions were the reason she has lost the human rights halo (external link) she once held in the eyes of the world.
Army leaders were perturbed that their actions had not cost her and the NLD public support.
Her continued popularity was demonstrated in November 2020 when the NLD swept the election (external link).
The military's fear that it was losing the nation, and that Aung San Suu Kyi might use this support to force constitutional changes, over-ride the military's control and bring their game to an end, meant that something had to be done.
The current military front party, the Union Solidarity and Development Party, claimed election fraud, perhaps drawing a lesson from Donald Trump in the United States.
On January 28, Myanmar's election commission rejected these claims (external link
Planning for the takeover of the government evidently began immediately.
There is speculation that Chinese-brokered negotiations between NLD leaders and the military came to naught when Aung San refused to budge to military demands.
The military moved in on February 2 morning and the Myanamarese woke up to yet another version of military control.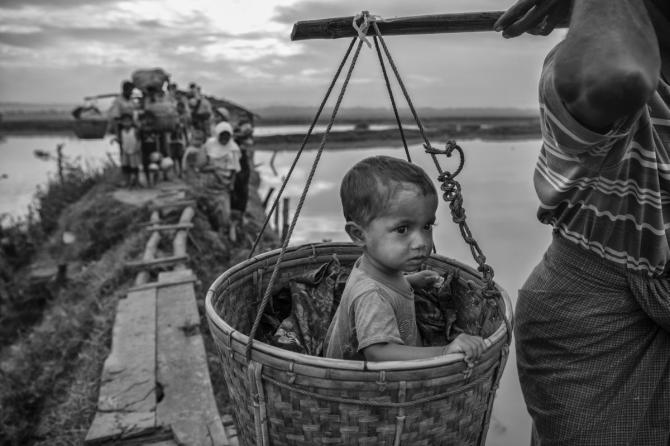 Aung San Suu Kyi decided to be the face of the effort to justify the crimes of Myanmar's unaccountable army.
Despite the widespread loathing of the military, it boosted her popularity at home and she was praised for protecting the country's honour.
But some now believe she should no longer be the ubiquitous face of the nascent struggle to free the country from newfound military dictatorship.
'It's about opposing a military coup against a popularly elected government and supporting the vast majority of ordinary Myanmar people and their democratic rights and freedoms,' observes Richard Horsey, a Yangon-based political analyst.
As so many times after so many coups and 'corrective moves; made before, the future of Myanmar is in the military's hands.
Sooner or later, military rule in Myanmar will become stronger and stronger.
But only until it threatens to actually lead to real change.
Then Myanmar is likely to see the cycle repeated again.
Politics moves slowly in Myanmar. the military likes it that way.
Prakash Bhandari is a veteran commentator based in Jaipur.
Feature Presentation: Aslam Hunani/Rediff.com