India and China met and spoke a lot this year, says Rup Narayan Das, but failed to produce any meaningful results.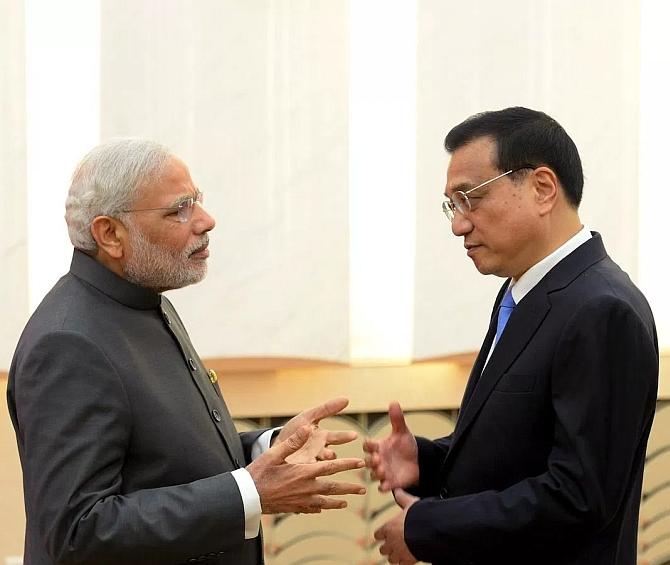 India and China completed yet another year of roller-coaster relations with some engagements and pinpricks, but more significantly without upsetting the applecart.
Exchange visits at various levels, including at the highest political level, took place without any bottlenecks.
President Pranab Mukherjee's visit to China from May 24 to 27, 2016 was significant in the narrative of the relationship between the two countries.
The high point of his visit was his candid and fruitful discussions on all issues of mutual interest, including the difficult ones, with his Chinese counterpart Xi Jinping and other top leaders like Premier Li Keqiang and China's National People's Congress Standing Committee Chairman Zhang Dejiang.
Prime Minister Narendra Modi met Xi Jinping on the sidelines of the G-20 summit in Hangzhou on September 4.
In a message of goodwill, Xi articulated that China was willing to work with India to maintain their hard-won sound relations and further advance cooperation.
The two countries, Xi added, had seen healthy, stable and speedy development of their relationship, and that as neighbours and developing countries they should continue high-level exchanges.
Significantly, ahead of his visit to Hangzhou, Modi visited Vietnam on September 2-3 amidst turbulence in the disputed South China Sea and extended a defence credit line of $500 million to Hanoi.
Modi and Xi had earlier met on the sidelines of the Shanghai Cooperation Organisation's summit meeting in Tashkent where the former urged Beijing to have a 'fair assessment of India's NSG bid'.
In April, Defence Minister Manohar Parrikar travelled to China.
During his talks with his Chinese counterpart General Chang Wanquan, Parrikar reiterated that 'India attaches the highest priority to relations with China and was committed to further developing friendly cooperative relations with China.'
Parrikar also met China's highest military official, General Fan Changlong, the vice chairman of the Central Military Commission, which is the overall commanding body of the 2.3 million-strong military.
Parrikar reiterated India's stand of demarcation of the 3.488 km-long Line of Actual Control, which was raised during Modi's visit to China in 2015.
Terming the recurring incidents of Chinese troops entering what India claims as its territory as 'transgression, not incursions,' Parrikar emphasised that clarity over the LAC will bring down tensions between the troops on both sides.
Marking the LAC is 'one of the preconditions' of smooth border operations, the minister added.
He also called on Chinese Premier Li and visited China's newly integrated Western Command military headquarters in Chengdu.
Army Chief General Dalbir Singh Suhag led a high-level defence delegation on a four-day visit to China in November. The visit assumed strategic significance in the context of reported incidents of border incursions on the LAC by PLA troops in Arunachal Pradesh and Himachal Pradesh.
During the visit, General Suhag was accorded a ceremonial guard of honour by General Li Zuocheng, head of the PLA.
During official-level talks, the two sides noted with appreciation the holding of the sixth round of the Sino-India joint military exercise 'Hand in Hand' 2016 in Pune.
General Suhag also held talks with Chinese air force chief General Xu Qiliang.
From the Chinese side, Xi Jinping's participation in the BRICS summit held in Goa in October was the high point.
In September, China's State Councilor Yang Jeichi visited India and held discussions with Prime Minister Modi and National Security Advisor Ajit Doval. A high-powered Chinese defence delegation visited India in November.
Bilateral dialogues also took place between the two countries through the institutional mechanism, although they didn't produce any meaningful results.
The 19th round of border talks under the framework of the Special Representatives took place in Beijing in April.
Doval, who doubles up as India's Special Representative to the border parleys, held talks with Yang Jeichi. Later, when they met again in Hyderabad in November, both Doval and Yang decided to hold the next round of talks in Delhi this year.
The eighth India-China Financial Dialogue was held in Beijing in August. While the Indian delegation was led by Economic Affairs Secretary Shaktikanta Das, the Chinese delegation was led by Shi Yaobin, vice minister in the Chinese finance ministry.
Similarly, the fourth India-China Strategic Economic Dialogue took place in New Delhi with the Indian side being represented by NITI Aayog Vice-Chairman Professor Arvind Panagariya and Xu Shaoshi, chairman of the National Development and Reform Commission, leading the Chinese delegation.
While on the positive side, dialogue and discussions continued unabated, persistent security dilemma persisted indicating strategic trust deficit.
The border incursion by the PLA in Uttarakhand's Chamoli district was unprecedented and unusual in recent times.
China's obduracy on India's bid for Nuclear Suppliers Group membership and its opposition to the United Nations resolution relating to a ban on Jaish-e-Mohammad and Pathankot attack mastermind Masood Azhar have not found favour with India.
Despite clinching evidence of the JeM's complicity in terrorist attacks in India, the Chinese media's critical comments -- particularly by the State-controlled Global Times -- caused a lot of heartburn in New Delhi.
Both sides could hope that 2017 brings better hope for the relationship between the two countries.
With Donald Trump coming to power in the United States and a new emerging equation between major and rising powers, both India and China will have to be more sensitive to their bilateral relations and think out of the box to re-calibrate their relationship.
Rup Narayan Das is a New Delhi-based China scholar.
IMAGE: Prime Minister Narendra Modi with Chinese Premier Li Keqiang. Photograph: Kenzaburo Fukuhara/Reuters