Mr Modi and Mr Shah will need him if they want to win UP again in 2022 and India in 2024.
This signals a Yogi Adityanath-sized change in BJP politics, even under Mr Modi, Shekhar Gupta.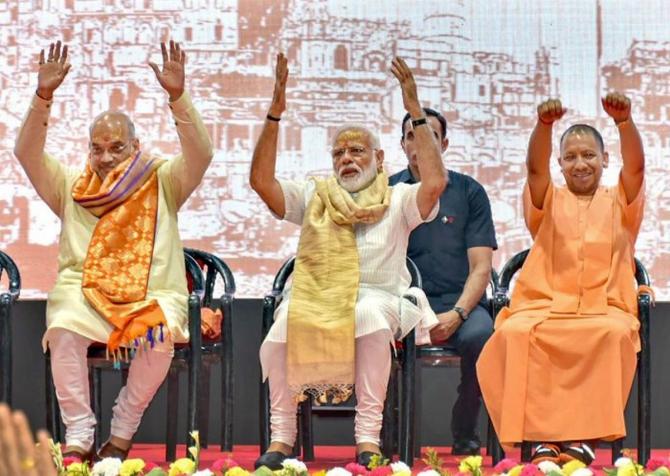 If Narendra Modi has any competition for national headlines, it comes from his party's chief minister in Uttar Pradesh, Yogi Adityanath.
Check out the main headlines on the day the prime minister delivered his carefully crafted address to the annual World Economic Forum session in Davos, held virtually this year.
Find much mention of it? All of that prime real estate in the national mind space was occupied by the farmers' protests, of course.
Just that the cherry on that cake also was Yogi Adityanath's police filing that ludicrous FIR under IPC sections as grave as sedition and conspiracy against six senior editors and a prominent politician.
Even the following day this story dominated that one dimension of media the Modi-Shah BJP is most conscious about: Social media.
Most of the political trends were UP-related.
Sure enough, there were copycat strikes too.
With Madhya Pradesh, where Chief Minister Shivraj Singh Chouhan is now guaranteed to copy everything Yogi does, also filing FIRs against the same journalists over the same tweets.
Major mercy: This did not include Section 124 of IPC (sedition).
Yogi Adityanath, born Ajay Mohan Bisht in what is now Uttarakhand, became a surprise chief minister of Uttar Pradesh in March 2017.
He was a surprise choice because nobody had until then seen him as a front-runner to don the most prized jewel in the Modi-Shah BJP crown.
There were many more obvious claimants, old and new.
He was, in fact, seen as an outsider in several ways.
He was seen as the leader of just one region of a region in a state, as we might describe Gorakhpur and its adjoining districts in the sprawling, thickly populated Eastern Uttar Pradesh or Poorvanchal.
He wasn't originally from the BJP or even RSS.
His 'monk' dynasty had an order of its own, the Gorakhnath Math, a Hindu Mahasabha affiliation, and he his own Hindu Yuva Vahini.
He was also young then by the standards of Indian politics, only 45, born in 1972.
Mr Modi and Amit Shah enjoy surprising Lutyens' Delhi and its pundits and take particular pride in proving all guesswork wrong.
As they did with their choice of Yogi.
Four years from then, as he makes headline after headline, from Hathras to Badaun to Bareilly to Bijnor to Bulandshahar to Kannauj, Sakshi Maharaj, Kuldip Sengar, Vikas Dubey and this scandalous sedition FIR over tweets written from New Delhi, they should be assessing whether they made the right choice.
Especially as the state enters the election year.
We need to bring in three earlier references as we take the argument forward.
The first was an article D K Singh, political editor at ThePrint, wrote on how Yogi had now become a role model for other BJP chief ministers and wannabe leaders.
The second was an article I wrote in December 2018, asserting that the choice of Yogi as Uttar Pradesh chief minister was Mr Modi's worst mistake, not demonetisation.
I had then written he knew how to do only one thing: Polarise.
Which he will. But with this he might lose control over his state and make it much too challenging for Mr Modi to sweep it again in the 2019 Lok Sabha elections.
Political analysts hate to remind their readers of when they got something so wrong, but the fact is, I said, with Yogi in Uttar Pradesh, Mr Modi may struggle to get even 50 seats out of the 80. He won 60.
And third is an article I wrote while covering the Uttar Pradesh elections in 2017, from Gorakhpur.
Prannoy Roy and Dorab Sopariwala of NDTV and I had had a conversation with Yogi in his math.
Should Uttar Pradesh be divided into smaller states, I asked.
He didn't seem to object too much.
Should one of those states be Western UP, known probably as Harit Pradesh? He said no, not that.
That would lead to a threat to national security.
We don't need to translate that. But just in case, in a state of 230 million where one in five is a Muslim, it is Western UP that has the largest percentage of that minority.
Should the east, or Purvanchal, be a separate state? I thought his eyes lit up.
I then wrote that he fancied his chances as chief minister of that smaller state.
As you can see, I was proven wrong with both the things I had said.
With him, Mr Modi swept UP again and within weeks of that conversation in Gorakhpur he was chief minister of the entire state.
But, as much as I was wrong, D K Singh is turning out right.
Yogi is the new role model for the BJP's other chief ministers and those nursing ambitions in the future.
It is nobody's argument that he is, or should be your or my role model.
But, if you look at the power people in the BJP today, the 1-2-3 count is not as easy as before: Mr Modi, Mr Shah, (Rashtriya Swayamsevak Sangh sarsanghchalak) Mohan Bhagwat.
Now you will need to fit Yogi somewhere there. Maybe just ahead of Mr Bhagwat.
The hard political fact is, what Yogi does today, others in the BJP do tomorrow.
He is also the only one who can compete for headlines with Mr Modi.
And ask any BJP leader in any state who are the three speakers guaranteed to attract a crowd and who all of them want? There's Mr Modi, of course.
But the second is Yogi. It's an aside but an indicator of the shape of things to come, that the third is relative newbie Tejasvi Surya.
Be reminded once again, it is the BJP politics we are talking about.
While he was never the front-runner for UP chief ministership, his elevation was greeted with a sense of euphoria in the party.
Part of the euphoria also came from the belief that with the defeat of the caste identity-based parties, the state would now have a leader, free of family encumbrances, to rescue it from decades of decline.
The state's law enforcement is as much 'better' as you find in your headlines.
Similarly, he was expected to turn the state's economy around.
It would seem that in the second half of Akhilesh Yadav's term, his state had broken out of its stagnation.
Its GSDP grew at 8.85 per cent in 2015-2016 and 10.87 per cent in 2016-2017.
Yogi took over in early March 2017, just ahead of the new financial year.
The growth rate under him over the next three years kept declining.
To 7.24 per cent in 2017-2018 to 5.33 per cent in 2018-19 and then by 2018-2019 it was 4.38 per cent.
If anything, the state's growth halved under his three years from what he had inherited.
This pandemic year, let's not talk about.
In spite of all this, he is seen as the BJP's future.
He is the only BJP leader who seems like he can act on his own.
He is the party's number one polariser.
If Mr Modi and Mr Shah dreamt of a Congress-mukt Bharat, he's working towards his own idea of Muslim-mukt Uttar Pradesh, in the sense of completely marginalising them, 50 million Indians.
His personality, power, and politics are sui generis.
He hasn't done very much good for his state, but Mr Modi and Mr Shah will need him if they want to win UP again in 2022 and India in 2024.
This signals a Yogi Adityanath-sized change in BJP politics, even under Mr Modi.
By Special Arrangement with The Print
Feature Presentation: Aslam Hunani/Rediff.com