May 25, 2008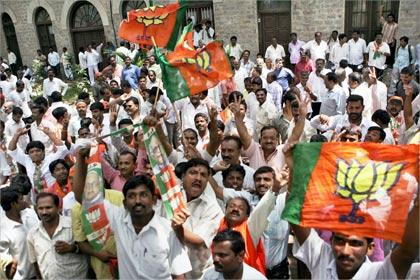 Ecstatic leaders of the Bharatiya Janata Party celebrated at the party office in Bangalore as they saw their party inching towards majority in Karnataka on Sunday.
Live Coverage: Battleground Karnataka
A room in the office, which had the television, was packed and every time news of their candidate winning or their opponent losing was announced, crackers were burst and sweets were distributed.

BJP leader Venkaiah Naidu, who sat glued to the television, said the final tally of the BJP would be 120 seats, which is 8 more than the magical number to form the government in the 224-member Karnataka legislative assembly.
Although B S Yeddyurappa will be the chief minister once the BJP forms the government, a legislative party meeting will be held on Monday to officially announce his name for the top post.
'The BJP will break all records in Karnataka'
A beaming state party president Sadananda Gowda said he had predicted that the BJP would win in Karnataka.

Several BJP leaders felt they had made inroads into the Congress vote bank in the first and third phase of the polls. They say the non-announcement of a Congress candidate for the post of chief minister had proved fatal to their rivals.

From day one, we were clear about our stand and Yeddyurappa was always our leader, a BJP party leader said.

Reportage: Vicky Nanjappa | Photograph: PTI Photo