Home > India > News > First Look


Discuss |
Email |
Print | Get latest news on your desktop


Rajasthan: Congress dethrones Raje from power

December 09, 2008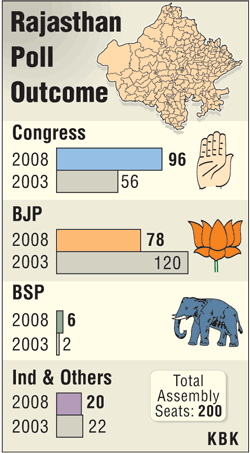 Inflicting a shock defeat on BJP, the Congress today ousted the Vasundhara Raje government from power, emerging the single largest party with 96 seats falling short of a majority by just 5 seats.
The ruling BJP, which depended heavily on Chief Minister Vasudhara Raje Scindia for a second term in office, got 78 seats in the 200-member House with a number of its prominent leaders suffering humiliating defeat at the hands of their rivals.
One Samajwadi Party and six BJP candidates also made it to the hung house.
Conceding defeat, Raje resigned from the post saying her party would work as a constructive opposition.
 In the 2003 assembly election the BJP, which rode to power with a massive majority by winning 120 seats, under the leadership of Vasundhara Raje failed to tide over incumbency and charges of corruption.
In this election, several rebel candidates of both parties won at the cost of the official  party candidates.
While seven of the Congress rebels won as independents, the BJP's won in six assembly constituencies.
Prominent losers among both parties were BJP ministers Sanwar Lal Jat, Nathu Singh Gurjar, Kalu Lal Gurjar, Madan Dilawar, Kanak Mal Katara, Amra Ram while all the office bearers of the opposition Congress including the party president C P Joshi suffered humiliating defeat.
Joshi who was an aspirant for the chief minister post lost to BJP's Kalyan Singh Chouhan by just one vote in the Nathdwara constituency. Chouhan got 62,216 votes while Joshi secured 62,215.
However, some of the BJP stalwarts who won by a huge margin included Vasundhara Raje by over 32,581 votes and Ashok Gehlot (Congress) by over 15,000 votes.
Out of five sitting MPs (4 BJP, one Congress) who tried their luck, only Kiran Maheshwari (BJP) won by a narrow margin of 5,458 votes.