Home > India > News > First Look


Discuss |
Email |
Print | Get latest news on your desktop


Chhattisgarh: BJP rides on Raman Singh's charisma


December 09, 2008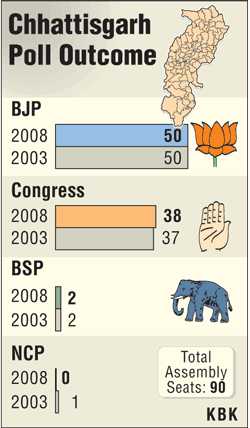 For Raman Singh, who spearheaded BJP's victory campaign in Chattisgarh for the second successive term, it was the organisational skills and the ability to push populist economic programmes that made him stand out among other party leaders.
Maintaining its previous record, the saffron party retained power in the state by winning 50 seats again, leaving behind Congress which could only secure 38 seats.
Asked how he managed to fight the anti-incumbency factor in the state, a jubilant Singh said, "It is because of my government's pro-poor policies, including provision of 35 kg rice each at Rs 3 to 35-lakh families."
When Singh earned the distinction of becoming the first elected chief minister of Chhattisgarh five years ago, the party did not even projected him as a candidate for the top post after shifting him from the union council of ministers to head the party's state unit.
However, after leading BJP's emphatic victory in the 2003 assembly election with 50 legislators in the 90-member House, he was the natural choice of the party's central leadership to become the chief minister mainly because of his clean image.
The defeat of Congress' stalwarts Mahendra Karma, Leader of the Opposition in the assembly, and Deputy Leader of the Opposition Bhupesh Baghel added to the woes of the party.
 Karma, a former Industry Minister, not only lost in Dantewada but also was pushed to the third spot behind BJP's winner Bhima Ram Mandavi, a political greenhorn, and CPI's Manish Kunjam who finished second.
Prominent BJP losers were Assembly Speaker Prem Prakash Pandey in the steel city of Bhilai, state party chief Vishnu [Images] Deo Sai in Pathalgaon, Agriculture Minister Megharam Sahu in Sakti, School Education Minister Ajay Chandrakar in  Kurud and Minister of State  for Food Satyanand Rathia in Leilunga.
 Another political heavyweight to suffer was NCP state President Nobel Varma who was defeated by BJP's Yudhvir Singh Judeo, son of high-profile BJP leader Dilip Singh Judeo, in Chandrapur.
Besides Yudhvir, another politician's son to emerge victorious is Amitesh Patel, son of late Congress leader Shyama Charan Shukla, in Rajin constituency.
See also: All about Rajasthan poll results