Home > India > News > First Look


Discuss |
Email |
Print | Get latest news on your desktop


Congress storms to power in National Capital

December 08, 2008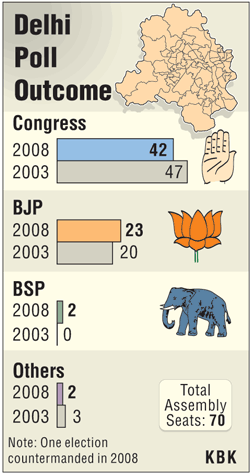 The Congress on Monday created history in Delhi [Images] by winning Assembly elections for a third consecutive term, overcoming anti-incumbency and fear of Mumbai terror attacks [Images] costing it votes.
The party romped home with 42 seats in the 70-member Assembly, leaving BJP far behind with 23 seats and dashing its hopes of wresting power after 10 years.
Chief Minister Sheila Dikshit and all six of her cabinet colleagues emerged victorious though five sitting MLAs lost their ground in their hustings.
"I am humbled. I am happy for the Congress Party. I am happy for the people of Delhi. Thank you for this gracious verdict," said jubilant Dikshit as thousands of supporters gathered at her residence to celebrate the victory.
The 71-year-old chief minister, who retained power for the Congress on the twin plank of development and governance, listed out smooth conduct of Commonwealth games [Images] and overall development as priorities for the next party government.
The BJP, on the other hand, said its performance in the elections was "less than our expectations" and wondered whether projecting a younger candidate instead of 78-year-old V K Malhotra could have ensured its victory.
"A younger chief ministerial candidate, perhaps, could have helped. Arun Jaitley could have been a better candidate," BJP spokesperson Ravi Shankar Prasad told reporters.
The BSP, which was thought to affect Congress prospects through Mayawati's [Images] social engineering experiment, failed to make much impact in terms of seats as it got only two.
Springing a surprise, Om Prakash Chautala-led INLD opened its account in the capital with its candidate Bharat Singh winning from Najafgarh seat.
SEE ALSO: ALL ABOUT DELHI POLLS