Home > India > News > First Look


Discuss |
Email |
Print | Get latest news on your desktop


The NRI who saved 150 lives

Matthew Schneeberger in Mumbai | December 04, 2008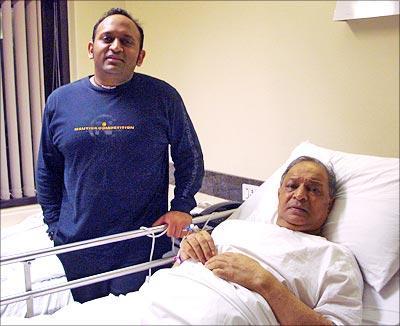 Under Siege" says British businessman Deepak Kuntawala. "Watching that dinghy move towards the shore, tightly packed with young men, who were hunched over and dressed in black, it reminded me of a scene in Under Siege."
Sometime after 9 pm on Wednesday, November 26, Kuntawala, 35, was looking out at the Mumbai harbour from the first floor Sea Lounge Bar in the Taj Palace hotel when the bizarre thought flashed through his mind, as his eyes fell on the approaching dinghy and the 'suspicious boats' further out at sea.
Though he had been plagued by vague premonitions for a day, saying "something just didn't feel right," Kuntawala brushed his worry aside. It was supposed to be his last meal in Mumbai, just a quick sandwich before leaving for the international airport, the end of a week-long India vacation that he and his 68-year-old father Vinay made to celebrate his dad's retirement. They'd already checked out and their bags were waiting at the front desk.
Minutes after Deepak's unsettling observation, two terrorists stormed the Taj and began slaughtering guests and staff, thrusting the Kuntawalas into the centre of a nightmare the whole world was soon watching.
"At first, we thought maybe it was a gang-fight, or a parade, or some kind of celebration," remembers Kuntawala, a financier. "But as the gunshots started getting louder and louder, and when some of the guests rushed in to the bar, we realised the terrorists were inside and coming towards us. Soon, we could see the firing through the restaurant's frosted glass door. They were about 10 metres away, at that point."
Kuntawala quickly took charge of the situation, leading a group that eventually totalled 150 people, who were stuck on the first floor, into one of the banquet halls on the East side of the building. Among the group were many high profile businessmen, including roughly 20 top executives from Unilever.
"We turned the lights off and told everyone to lie on the floor, away from the windows. We heard grenade blasts and gunshots and thick black smoke began seeping into the room. One of the foreigners, an European chap, helped me moved a large chest in front of the door, which we bolted. There was just a lone door separating us from the terrorists. Had they gotten inside, they would have had a field day. It would have been complete slaughter."
Hoping to be saved by Indian security forces, Kuntawala peeked out the window and was horrified to see policemen being shot and blasted with grenades when they tried to enter. Via their Blackberries, several hostages confirmed that the terrorists were hunting American and British citizens in particular. "I hid our passports and told dad to speak in Gujarati if we encountered the terrorists."
After hours in darkness waiting to be rescued, which were full of gallows humour -- "We said we'd pull our trousers down if we came face-to-face with the terrorists. We said we'd tell them, 'Hey, we're all businessmen here, mate. Let's make a deal!'" he remembers, laughing. -- and anxious phone calls, Deepak became even more decisive.
"The gunshots were getting louder and louder and the floor and ceiling were actually shaking from the blasts. I knew if we stayed put that, eventually, they'd find us. As an entrepreneur, you learn to think that nothing is impossible. The word 'No' doesn't register. So I asked myself, 'How do we do this?' and 'What would (entrepreneur) Richard Branson [Images] do?'"
"I mediate for spiritual purposes anyway, so I did a breathing exercise, to clear my mind for maximum concentration; and suddenly I was able to visualise our escape. It was a clear plan, perfect picture in my mind."
Deepak led the group to the extreme eastern end of the first floor and attempted to break the thick glass windows, but his kicks, elbows and blows with a chair failed. One of the other hostages got Deepak an unidentified metal object, which he then used to shatter the glass.
"Down on the ground, I saw the fire brigade, and they were telling us to stay put, not to jump, that they'd rescue us. Well, they were taking f*****g ages. And, in a situation like that, every second counts."
So the 150-strong group, under Deepak's direction, began tearing down curtains in the room and tying them together to create makeshift ropes, which they then fastened to window pillars.
"It was like in the film Titanic [Images], when everyone was clawing over one another to get to the life-boats. That's how people were fighting to go first, because, at this point, the terrorists were really close. I was actually worried that, after all our efforts, they'd just break in the door and shoot us all in the back as we prepared to escape. I and a few others restored the calm and made sure the elderly and women went first."
But when Deepak's father began to climb down, water from the fire brigade's hoses splashed the ropes, causing Vinay to fall 22 feet to the ground below. His foot shattered on impact; but, luckily, he escaped more serious injury.
"When Dad fell, it was just a sickening feeling," Deepak says. "I saw him crumple onto the ground, but then lost track of him, in the effort to get everyone else out. He's a diabetic and a heart patient, so I was certain that something terrible had befallen him, at the very least, a heart attack. To be honest, I thought his neck was snapped. I didn't know he was alive until I saw him later, in a cab parked outside the hotel."
It took 30 minutes, but all 150 hostages from the first floor escaped thanks to Deepak's brilliant impromptu plan. Still, today, he doesn't consider himself a hero.
"I've read articles that call me 'brave' and 'a hero', but I don't feel like a hero. The real heroes were the Taj staff; they were just fearless. They really put the guests before themselves and were completely selfless. I will definitely be in touch with (Taj chairman) Ratan Tata to commend him for their extraordinary behaviour."
"As for what I did, it was the only logical thing to do. I believe the way I acted is a reflection of my personality and my core belief that nothing is impossible. It wouldn't have made any sense to lie down and just wait for them. I wasn't going to let the terrorists win so easily."
In true hero fashion, though his father is still recovering in Bombay Hospital, Deepak has already announced his next move: to organise a charitable foundation for victims through his London-based company, DVK Private Equity.
"I want to ensure that assistance goes directly to those who most need it: victims who can't pay for their medical treatment and the families who lost their main bread-winners."
Image: Deepak Kuntawala with his father Vinay, who is recuperating at Bombay Hospital. Photograph: Matthew Schneeberger.
Also see: