Home > India > News > First Look


Email |
Print | Get latest news on your desktop


He had seen war, but Mumbai was something else

Archana Masih in Mumbai | December 03, 2008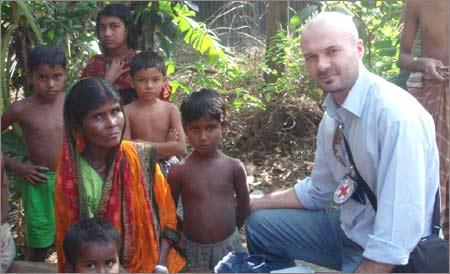 Dusan Vujasanin is from the former Yugoslavia. He has seen five wars in eight years, his hometown bombed for two-and-a-half months and searched for missing innocent among bodies exhumed from mass graves in the conflict.

Yet what he saw in Mumbai during the three days when terrorists killed in cold blood, shocked him.

"I have seen war and the atrocities that happen as a consequence of war, but in Mumbai I was seeing the aftermath of a terrorist attack for the first time," says the tracing delegate of the International Committee of the Red Cross, who helped in the identification of dead bodies in the morgue at the city's J J Hospital.

"Mumbai looked like a ghost town when I arrived here from Delhi [Images] to help out. Terrorists had struck a beautiful city by the sea, frequented by tourists -- where you could have coffee and watch the waves. They left it terrified," he says. The taxi driver who picked him from the airport on Saturday morning was sacred as rumours of more attacks came in and the scene at the hospital was gnawing.

The families of the dead waited for the bodies of their loved ones. Dusan and the hospital's chief pathologist -- both on a government steering committee to develop guidelines for management of dead bodies in a disaster -- helped families identify their own.

He spent the entire day at the morgue. Families would identify the bodies by looking at the deceased and where that was not possible, they would provide details like height, scars, tattoos, hair colour, implants, jewelry etc. "Once the data was matched, the body would be shown to them," he says.

Many had come from overseas -- mostly Israelis -- they were helped with the paperwork required for the repatriation of the bodies. The Red Cross also provided 200 body bags and by Monday many of the bodies were identified.

"The biggest part of my work there was to assist in identifying the deceased. It was no pleasant work," says Dusan who has worked with the families of missing persons from Bosnia, Croatia, Kosovo and Serbia in the Balkan conflict. "25,000 people were missing in the war."

His nine years at the Red Cross have seen him work in the turmoil of Rwanda, Sudan, Congo, Uganda, Ethiopia and the flood disasters in Bangladesh and Bihar, but what he encountered in Mumbai was terror of a different dimension. He knew of some tourists from Serbia who were at the Leopold Cafe [Images] a few days before the terrorists struck. The tragedy resulted in his fourth trip to Mumbai, he only hopes the next one would be in better times for the city by the sea.

Photograph: Dusan Vujasanin after cyclone Sidr in Bangladesh in 2007.