Home > Valentine's Day Special > Love Tales

The Rediff Valentine Special/Ronjita Kulkarni

February 13, 2004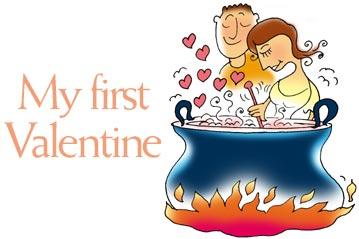 The fuss around Valentine's Day would always make me wonder: why on earth do couples celebrate a day named after a saint they did not even know?
Every Valentine's Day brought with it the usual symptoms: blushing faces, awkward glances and telling looks. This was especially common in colleges, where students would skip classes in order to be with their 'Valentines'.
Card shops would be full of red-coloured romantic missives and restaurants would play mushy music.
It would tickle me to see couples exchanging gifts on an occasion where they really had nothing to celebrate.
But all that was before I met 'someone special'.
I was still in college with my youthful enthusiasm intact when my views on this day did a complete about turn. You see, I had begun the countdown to my first Valentine's Day with 'him'. No, it was not peer pressure. Nor did I want to experiment with my new status as part of the couples club.
It was just that Valentine's Day acquired a new meaning for me. I welcomed the heart-shaped cards that dotted the shop and spent hours trying to decide what my special gift to him would be.
First, I had to get the card. I asked my experienced girlfriends for tips on what kind of card you sent someone you've only just met. The hardcore love cards are out, they said. No hearts, no reds and definitely no double entendre messages. I decided on an animated card.
The next step was the gift. This proved infinitely more difficult.  What does one give someone you've known for barely a month? I had no idea of his taste, size or preferences. In fact, the only gift I had bought for a guy, other than my dad, was letter paper! And I was not too thrilled when I saw him use the nicely decorated paper to take notes in school the next day.
In despair, I again looked to my friends for help. A pair of shoes, out. Deodorant, hmmm. Wallet, would that be a hint? A bag, too impersonal. Shirts, too personal. Audio/video cassettes, dangerous!
It took me three days and a huge random survey to finally arrive at a decision. A yellow-striped, unbranded tie seemed like a good choice -- it was neither too personal nor too impersonal and it fit, thanks to my measly pocket money, in my limited budget. When I look back now, I shudder at my sense of colour. As I discovered later, the tie never made it out of his wardrobe.
I turned to my next problem. How does one spend Valentine's Day anyway? This time, I turned to him for a solution. Both of us were sailing the same boat since it was his first Valentine's Day as well.
Movies seemed the easy way out, since romance was the flavour of the season in the theatres as well. But I nixed that immediately -- I had heard too many horror stories of what took place in the dark corners of half-empty movie halls. Dinners seemed boring and I was not the disc-hopping kind. We decided we would double-date with some common friends.
We landed up spending time at a friend's house, chatting and cooking lunch. The day just whizzed by.
I realised Valentine's Day -- just like Mother's Day, Father's Day, Children's Day or Teacher's Day -- is a time to celebrate people. It's a day to express oneself and make the other person feel special. And that it wouldn't have mattered if I had bought him the wallet instead.
That Valentine's Day was special. It was a day we got to know each other much better; it was a day we hoped would never end.
PS: The next year I was much sought after for expert advice by the newbies who had never celebrated Valentine's Day :).
Illustration: Uttam Ghosh