Home > Valentine's Day Special > Love Tales

The Rediff Valentine Special/Bijoy Venugopal

February 12, 2004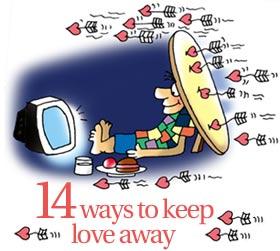 One of these days, I am going to click on a dirty email in my Bulk folder that promises, apart from unimaginable virility, 'discreet Prozac at never-before prices'.
This is the season the wily St Valentine stalks you in incarnations of red roses, mushy songs and movies, saccharine-sweet cards, teddy bears and anything heart-shaped -- edible or otherwise. Shri Valentineji or his underage disciple Cupid baba don't mean much harm by themselves, but make sure you steadfastly avoid those who promote their nefarious cause.
Read: Women.
Before you hurl whatever you are holding at me, pray stop to ruminate. Would this whole V-Day fiasco have been so popular but for women? What's in it for guys, anyway? Chocolates can be eaten but not the teddy bears or the roses. And what can you do with a card but eat your bhelpuri in it?
It's that time of year again and I know you need to get away. Count yourself lucky that this year February 14 falls on a Saturday. It only lends strength to the excuses…err… reasons I am about to offer you to stay away from love. These tips are intended to rescue men from the wiles of women, but broad-minded women (all good men have broads on their mind) can also learn a thing or two.
1. If she flutters her eyelids...
Steel your heart and tighten your atrophied abs. If barbed-wire fencing were possible, I would recommend it. Your heart gets very, very vulnerable as Valentine's Day approaches. All around you, people are going to be saying and doing lovey-dovey (eesh!) things and readying themselves for Saturday the 14th. Temptation will spread her evil tentacles to get you. Resist. Reward yourself with dinner and a movie.
2. If she wears a revealing dress...
Enjoy the view. Then tell her she looks fat in it. If she takes it as a compliment, change your mind and say she actually looks anorexic. A word of caution: prepare for mild to moderate bodily damage.
3. If she wears her favourite perfume...
Sniff the air, flutter your nostrils and politely ask around if someone ran over a dog last night.
4. If she says it with flowers...
Sneeze. Wheeze. Cough. Choke. Do your best imitation of an asthma attack. Practice, 15 minutes a day, makes perfect.. Do your best imitation of an asthma attack. Practice, 15 minutes a day, makes perfect.
5. If she says it with chocolates...
Think of the worms they showed you on television. How would you like to have them become friends with the ones in your stomach?

6. If she introduces you to Puchku, the teddy bear who shares her bed...
Remember your manners. Introduce her to Slime Shady, the pet bullfrog who lives in your pocket.
7. If she suggests a cosy vacation...
Look dreamy and excited and suggest Saudi Arabia.
8. If she invites you home...
Refuse. If you fail at first, try, try, try again. If you find yourself cornered, go for Plan B. Remember that sweatshirt you wore five times last week to the gym that you haven't yet washed? How about wearing it when you go to meet her?
9. If she cooks you lunch...


That's hard to refuse, eh? Accept. Eat heartily. Compliment her cooking. Help yourself to more dessert. Burp resonantly. And forget about it. Someone must have told her the way to your heart is through your stomach. Teach her a little basic anatomy and tell her without blinking that the road to your heart is closed for maintenance: 'Please take diversion, inconvenience regretted.' She'll understand. If she doesn't, she'll cope.
10. If she asks you to sing for her...
Only a desperate barfly or a jackass in heat will sing for a woman, because what she's really testing you for is not your voice but your willingness to sing for her. Ergo, bad singing won't put her off -- she'll actually find it cute. Consider Anticipatory Laryngitis -- tried, tested and an extremely effective put-off. Work hard on it three days in advance by drinking plenty of cold water with ice and taking cold baths at midnight. If you have hair on your head, do not dry it. Smoke. If you are non-smoker, take a puff from a smoker friend. If you don't have a smoker friend, make one.
11. If she asks you to read to her...
Smile benevolently and fish out a book of Khushwant Singh's jokes. There's half a chance she'll love it. Change your mind halfway and read aloud from Economic and Political Weekly. If she enjoys that, you're doomed.

12. If she snuggles up to you...
Open your mouth. For this to be really effective, you should be on an onion, cheese and garlic-intensive diet (it's healthy) and refrain from brushing your teeth for a week.
13. If she asks you to meet her mom...
After all that, she still wants you to meet her mom! Go for it, dude. Be on your best behaviour. Smile your stock smile. Make polite small talk about the weather and your career prospects. Ask the old lady if you should call her Aunty or Mummy. Touch her feet. Then, before you leave, tell her: "Aunty... sorry Mummy, the baby was an accident."
14. If it still doesn't work...
Sorry mate… you're the man to want. Staying away from love is just not for you.
Illustrations: Uttam Ghosh
Have you checked out rediff.com's Valentine's Day Special?