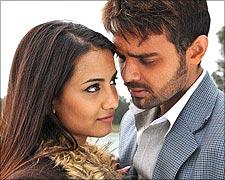 Preeti Arora reviews Haunted. Post YOUR reviews here!
"I do not use drugs, aur mein stupid bhi nahi hu. Meine MBA kiya hai, Stanford University, America se", says Mimoh or Mahaaskshay Chakraborty some 20 minutes into Vikram Bhatt's latest venture, the jadedly titled
Haunted
. India's first stereoscopic 3D film or rather horror film won't shock you but may leave you numb with boredom.
And here's the thing about good horror films: they're either brilliantly bloodcurdling, or conveniently comic. Either way, it's entertaining. But
Haunted
adds a third dimension to this classification. It's annoying. There's no subtle way of saying this, really, so here it is: nothing in this film works. Not the story, not the acting, not the music and certainly not the 3D.
Haunted
is a total downer, and the title of "India's first stereoscopic 3D film" certainly deserved a much better movie to go along with it.
The narrative of
Haunted
borrows generously from clichés so conspicuous as to assume the function of self-parody. A rich boy, fresh from acquiring his aforementioned MBA, visits a colonial mansion in a small town under some lousy pretext. He moves into the house, the lights go dark and from out of absolutely nowhere, ghosts materialize and the antics begin. 
Cut to when brave little boy goes around town seeking to unravel the raaz behind the spookiness of Glenn Manor.  Cut to the boy discovering the story of Meera; handwritten by Meera herself and tucked away in a book which lazily falls open at the hero's feet. Cut to when rich boy gets transported 80 years back in time to save Meera from being raped by the 'evil spirit' of her piano teacher. As the evil spirit himself puts it "Jo mein zinda reh kar nahi kar saka woh marne ke baad zaroor karunga". Kinky, isn't it?  
Nothing's original here. Nothing's special. It's a classic plot. And perversely so, but the rape angle was admittedly smart. There is a fine line separating 'classic' from 'cheesy' and 'done-to-death',
where storywriter Amin Hajee missed the point. Amin Hajee and Vikram Bhatt should've realized doors opening and closing on their own, chandeliers falling off the ceiling for no apparent reason, evil screams and grotesque make up have lost the ability to create terror. The only means of rescue left for a film of this kind is unpredictability. And even here,
Haunted
fails miserably.
In a far cry from his father's acting prowess, Mimoh isn't much of an actor. He lugs his bulky body across the frame, delivering his dialogues in a constant monotone, often failing to engage his hands. The script tries hard to bring out the best in this star kid, and if the script wasn't trying hard enough, Mimoh seems desperate to make an impression on you. He plays the piano, he dances, he falls in love, and he fights evils spirits…
Debutante Tia Bajpai (of
Sa Re Ga Ma Pa
and
Kyunki Saas Bhi Kabhi Bahu Thi
fame) does well in screaming so hard as if to convince the audience that she owns more than just one pair of lungs. Unfortunately for her, there is little else she can do well.
The acting plays out like a group of ten year olds reluctantly staging a poorly rehearsed skit in their classroom. It's easy even to criticize national award nominee, Arif Zakaria, in his role as the horny evil spirit. The scripting itself being so rigid, it's tough for an actor of his credentials to put up an impressive performance.
Musically speaking, the score by Chitranjan Bhatt seems promising at first, with its minimal, ambient haziness and eerie melodies doing much to salvage the rather pathetic 3D visuals. But this, too, progressively degenerates into a typical Bollywood mess of garish instrumentation, jerky  tunes and badly written full length songs.
Haunted
fails at reviving the age old haunted-house premise, bringing nothing new to the platter.
The horror fans who thrive on
Hiss
and
Click
, or the Mimoh fans might just be able to sit through this film. The others should give it a miss.
Rediff Rating: