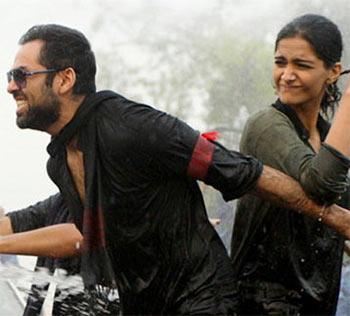 As the JNU row escalates, a look at student unrest on the big screen.
College is often a playground for romance and mischief in Bollywood. And we've witnessed the biggest (and oldest) of stars turn students over the decades.
Still, a few filmmakers have captured the discontentment and defiance it provokes among the youth when the ugly face of politics invades its space.
There's a whole lot of it in the news right now following the JNU row.
Student unrest documented on the big screen.
Rang De Basanti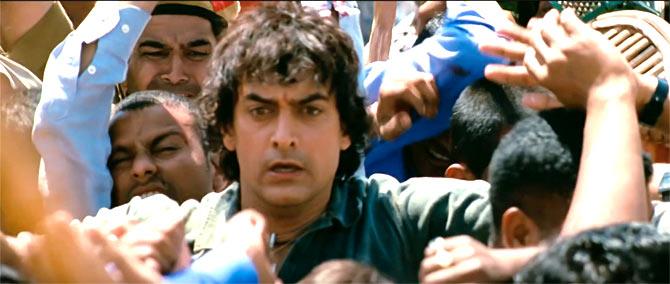 IMAGE: Aamir Khan in Rang De Basanti.
The power of the irritated and frustrated youth and the extreme measures it will resort to in the absence of governing accountability is effectively conveyed in the hostile demonstrations of Rang De Basanti.
Raanjhanaa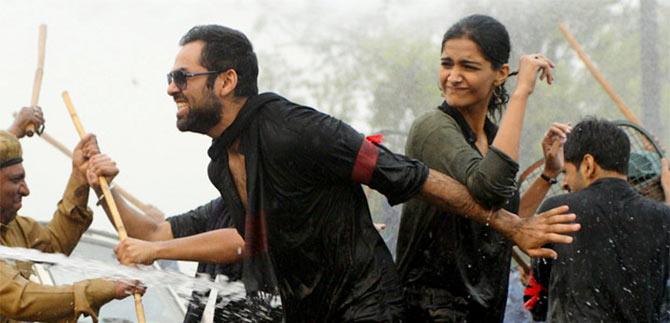 IMAGE: Abhay Deol and Sonam Kapoor in Raanjhanaa.
Although Anand L Rai's Raanjhanaa is a love story for most part, the plot takes a curious turn when Sonam Kapoor's character, attending Jawaharlal Nehru University interestingly, falls for the student leader, Abhay Deol.
But his tragic death, prompted by Dhanush's jealousy, forces her to take Deol's place and see the All India Citizen Party achieves its vision in mainstream politics.
Obviously, it ruffles a few influential, insecure, feathers.
Yuva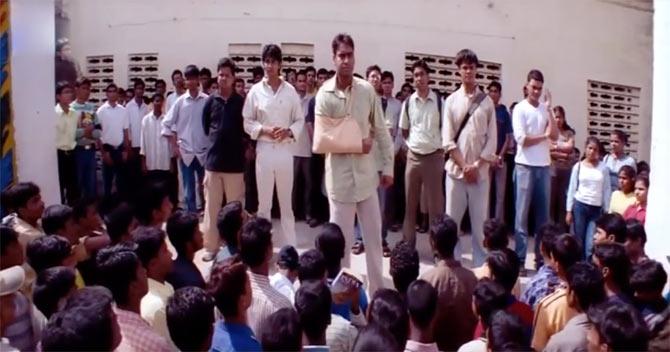 IMAGE: Ajay Devgn in Yuva.
In Mani Ratnam's Yuva, Ajay Devgn plays an uncompromising, charismatic, student leader aggressively taking on corrupt politicians.
The fight bears fruit when he launches himself in active politics with the single-minded aim to clean the system.
Gulaal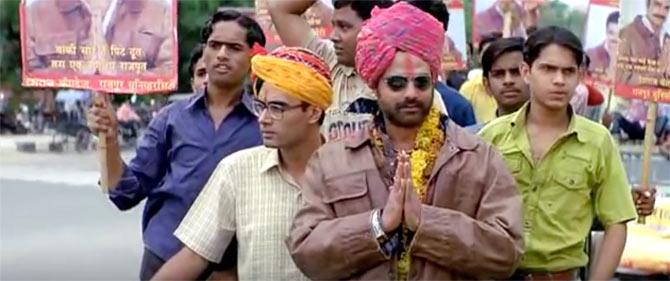 IMAGE: Raj Singh Chaudhary and Abhimanyu Singh in Gulaal.
Student politics gets the gritty treatment under Anurag Kashyap's direction in his acclaimed Gulaal.
Newcomers Raj Singh Chaudhary and Abhimanyu Singh play students engaged in college elections for the general secretary's post only to realise they are merely pawns in the vicious scheme of Kay Kay Menon's local kingpin.
Hazaaron Khwahishen Aisi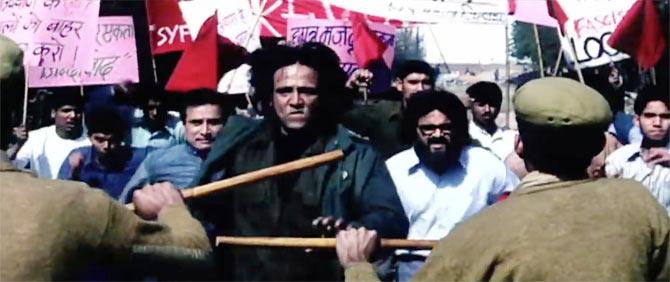 IMAGE: Kay Kay Menon in Hazaaron Khwahishen Aisi.
Set against the backdrop of the Emergency and Naxalism, Sudhir Mishra's brilliant Hazaaron Khwahishen Aisi introduced us to the talent of Chitrangada Singh. But it starts out about Kay Kay Menon as a student activist in a prestigious Delhi college dreaming of a world of equal opportunities.
Aarakshan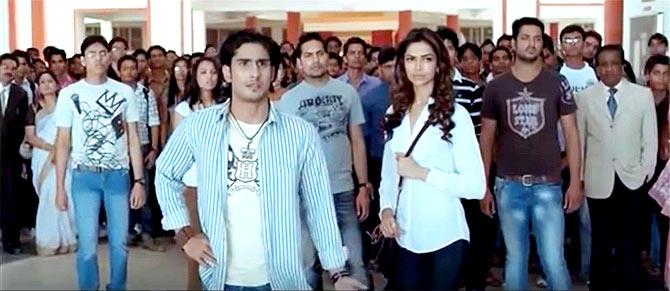 IMAGE: Prateik Babbar and Deepika Padukone in Aarakshan.
Prakash Jha's dramatic commentary on the debate of reservation versus merit triggers moments of conflict between students on either side but fails to provide a credible solution.
Haasil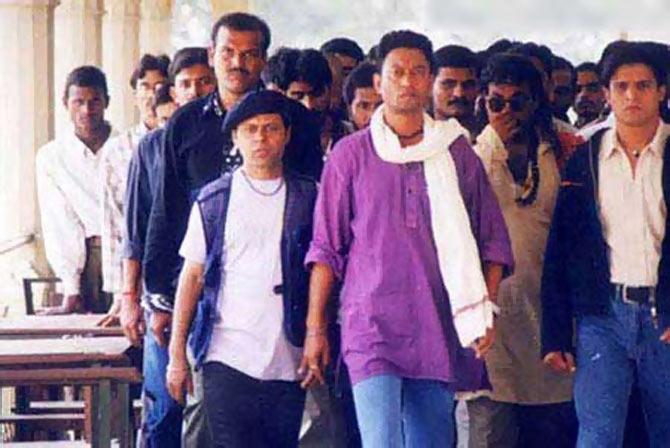 IMAGE: Irrfan Khan and Jimmy Shergil in Haasil.
Tigmanshu Dhulia's Haasil, starring an impressive Irrfan Khan, a fierce Ashutosh Rana and a gullible Jimmy Shergill revolves around rival leaders eyeing the student union's president's chair and the manipulative schemes they devise to achieve it.
Bulandi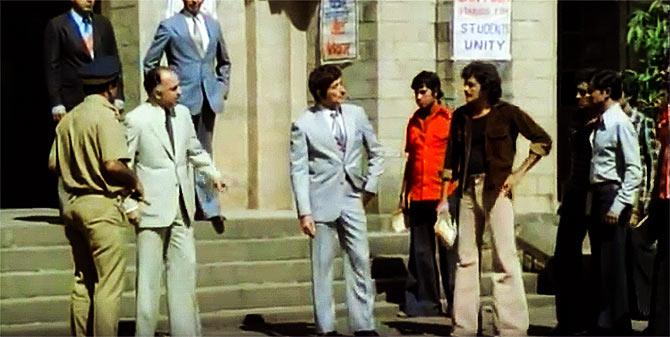 IMAGE: Raaj Kumar and Raj Kiran in Bulandi.
In the Raaj Kumar-led Bulandi, the throaty actor plays a college professor whose timely intervention rescues a mob of angry students gathered outside the building from the police's wrath after he reprimands them to use their energy constructively.
Jawani Diwani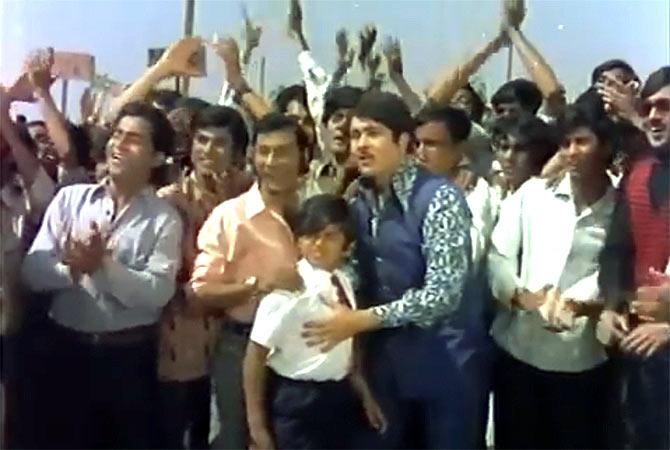 IMAGE: Paintal and Randhir Kapoor in Jawani Diwani.
College strikes transpire for the silliest of reasons in Hindi movies.
So when its most popular student Randhir Kapoor is expelled for eloping with Jaya Bachchan, his friends support his cause by refusing to attend classes till their friend can.