Parineeti Chopra got engaged to Aam Aadmi Party MP Raghav Chadha on Saturday, May 13.
Pari and Raghav exchanged rings in the presence of family, friends and guests at Kapurthala House, New Delhi.
After the ceremony, the couple took to Instagram to share the pictures.
Parineeti's caption read, 'Everything I prayed for... I said yes! Waaheguruji meher karan...' while Raghav wrote, 'Everything I prayed for .. She said yes! Waaheguruji meher karan...'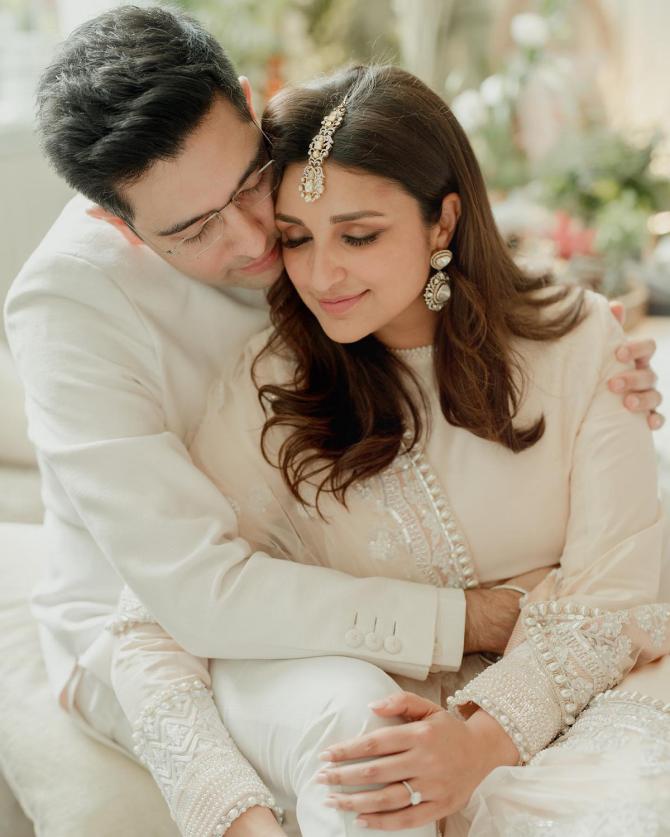 Pari wore a full-sleeve turtle neck suit, designed by Manish Malhotra. She kept her hair loose and completed the look with heavy earrings, a mangtika and rings.
Manish Malhotra explains her outfit as a 'rose-pink kurta complemented with pearl-adorned flair trousers and ethereal signature Kashmiri threadwork dupatta with our exquisite uncut jewellery for an idyllic engagement ensemble.'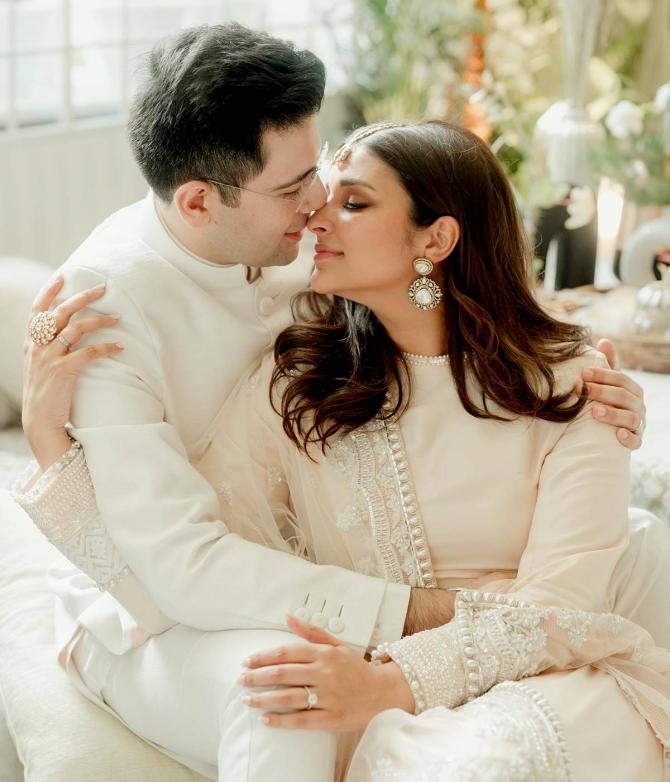 Raghav wore an achkan designed by Pawan Sachdev.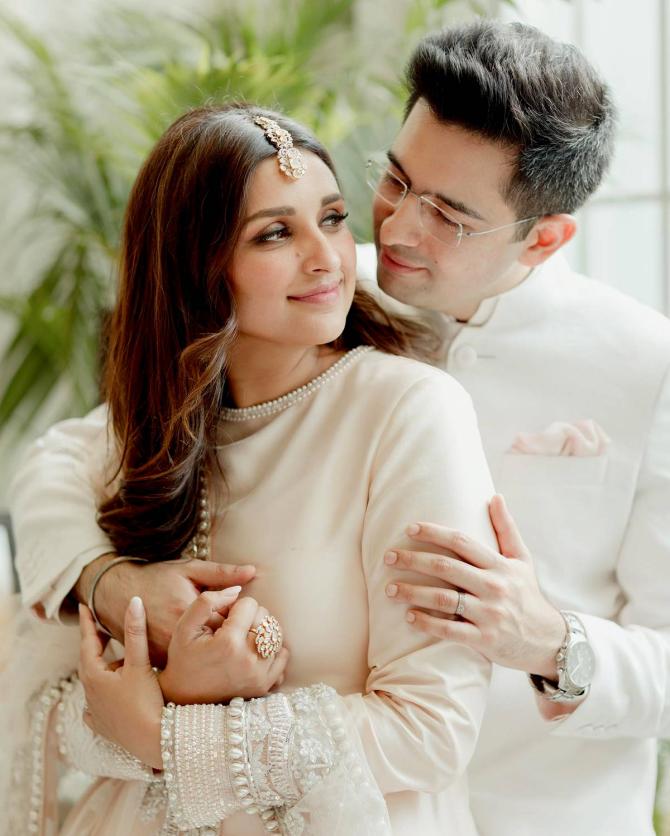 Several photographs and videos of the newly engaged couple are surfacing on social media from their engagement celebrations.
In one such viral video, the actor can be seen holding the Rajya Sabha member's arm and singing the song Ve Maahi from her film Kesari, after which the politician plants a kiss on Pari's cheek.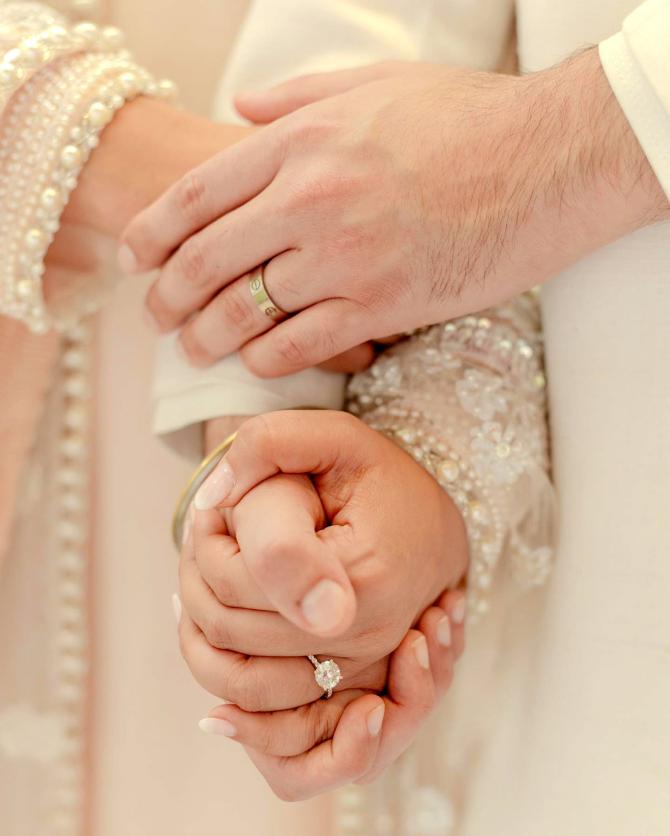 The couple greeted the media outside the Kapurthala house after the ceremony, while family members distributed sweets.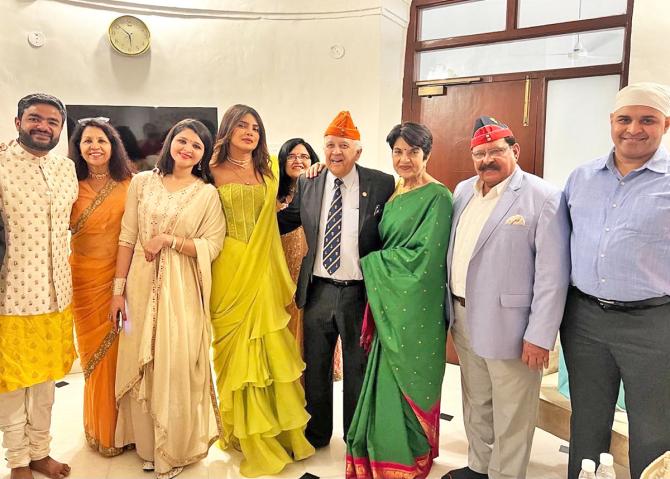 Pari's 'Mimi Didi' Priyanka Chopra flew in from Los Angeles to attend the engagement ceremony.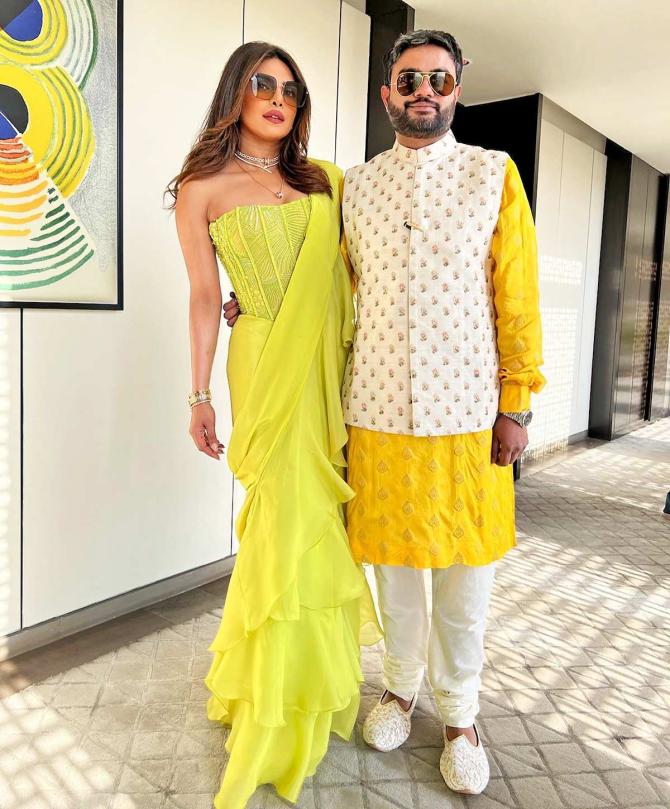 Sharing pictures, Priyanka wrote, 'Congratulations Tisha and Raghav... Cannot wait for the wedding! So happy for you both and the families, so fun to catch up with the fam!'
The Citadel star, seen here with brother Siddharth, opted for a parrot-green-coloured ruffled sari for the occasion, and matched it with an off-shoulder blouse.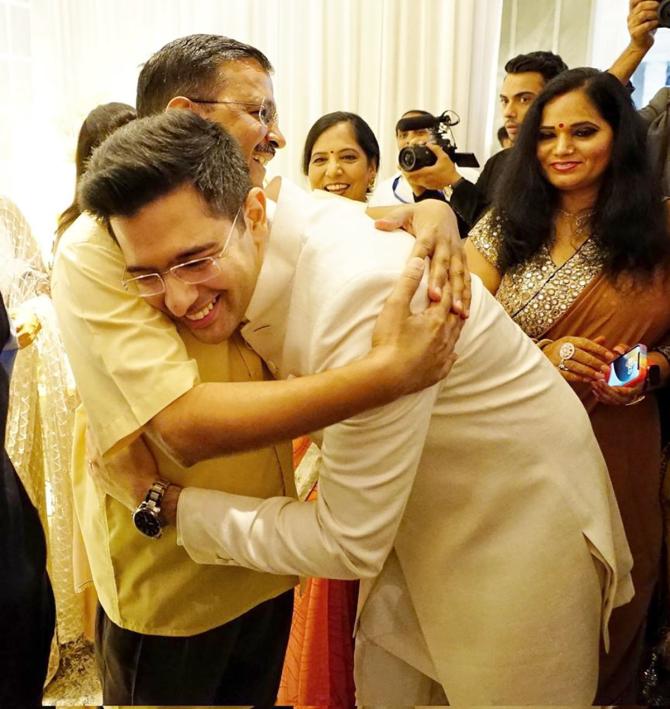 Several politicians were present including AAP leaders Delhi Chief Minister Arvind Kejriwal and Punjab Chief Minister Bhagwant Mann, former finance minister P Chidambaram and Shiv Sena leader Aditya Thackeray.
Kejriwal posted pictures from the ceremony on Twitter, and wrote, 'Many many congratulations to both of you on the beginning of this new journey of life. May God keep both of you happy always. May this beautiful pair of yours made by God last forever.'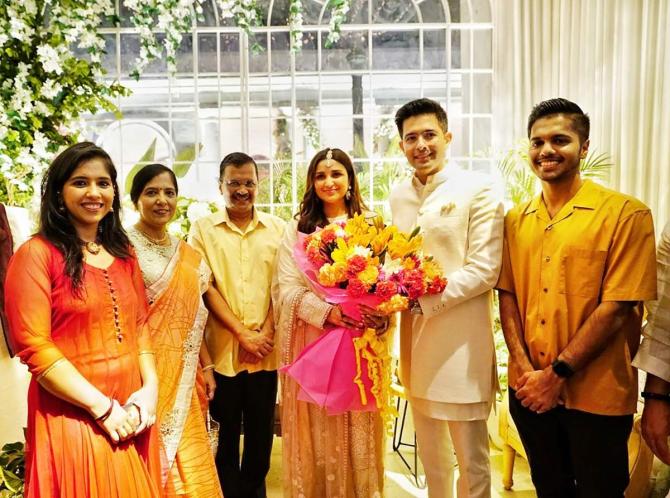 Raghav became Kejriwal's blue-eyed boy after he participated in the anti-corruption movement led by K B 'Anna' Hazare in 2011. He was only 22 then.
Read more about him here.
In this picture, Keriwal's family -- wife Sunita and children Harshita and Pulkit -- join Pari and Raghav.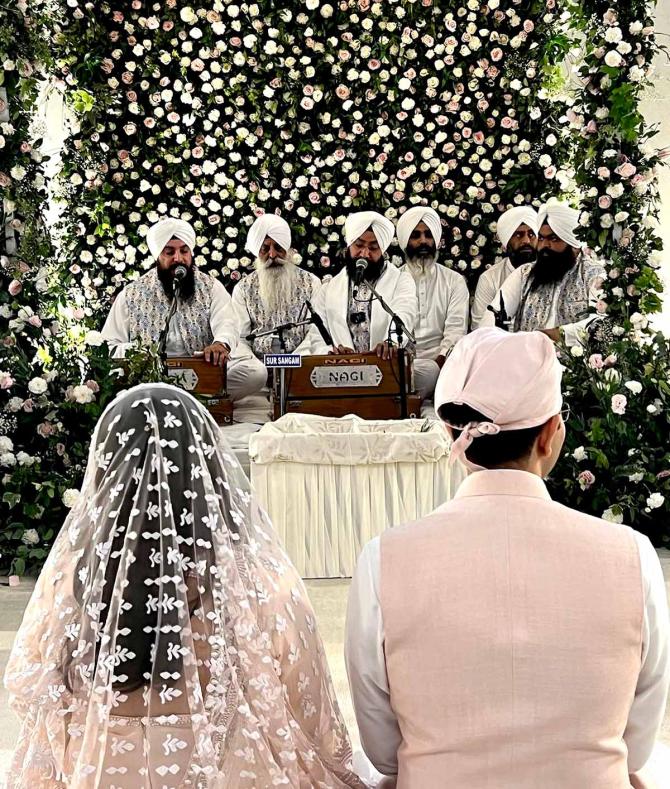 The engagement day turned out to be even more special for Raghav, who is in charge of AAP affairs in Punjab, as the party's candidate, Sushil Rinku, won the Jalandhar Lok Sabha by-election on Saturday.
Sharing his joy, Raghav posted on Twitter, 'Naanke Jalandhar waleyan ne ajj da din mere layi hor vi special bana ditta. My naanka #Jalandhar has made this day even more special and memorable for me.'