'Trust me, it's a disadvantage because people don't take you seriously.'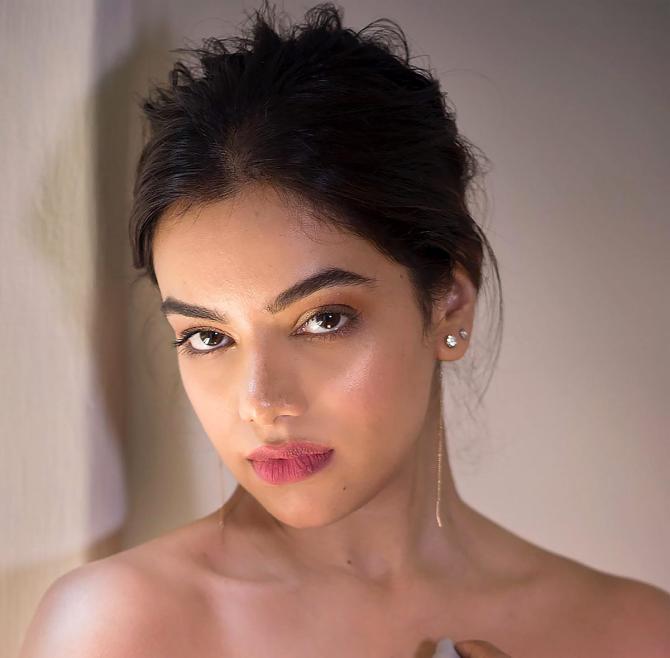 Nidhi Singh started her acting journey in the popular Web series Permanent Roommates at a time when the digital medium was just taking shape.
Today, she's a regular face on OTT.
"I really wanted to be able to act on camera. I have been a dancer all through my school, so I always had this performer in me. So the thing is till you don't try, you don't know," she tells Rediff.com Contributor Sameena Razzaq.
What was that phase like when you were starting out and to deal with all that anxiety of a beginner?
I was actually thinking about it not too long ago.
There is a lot of anxiety and self doubt that everybody goes through, and it's not just in our profession.
There is this strange kind of panic that sets into you.
Do not make it a habit, self talk yourself out of it.
It can be one of those things that multiply over the time.
Even when you do find validation in whatever profession you may be, it comes with a whole lot of responsibility.
So whatever your triggers are which make you anxious or panic, if you do not know how to counter it, it will get difficult.
Talking about my journey, I came to Mumbai at the age of 17.
I had this idea that I want to be a part of the creative process of making things even if I don't make it as an actor. That's the promise I made to my family.
I was a science student, but I knew that I did not want to pursue it.
I am a very family-oriented person. Everybody loves their family but for me, it's essential that I hold onto the little values I have been given.
And there is this recurring question in my family that what is the purpose, what are you adding to everything that's around.
That's something that hit me consciously even when I did tell my parents that I want to try being an actor.
Their first question was why did you come upon this idea because they wanted to make sure it was not because somebody told me you could be a heroine or something of that kind.
So when they realised I do have a strong purpose and that I am very passionate about the creative arts, they were like okay.
I was in HTA (Hindustan Thomson Associates, the advertising agency) for two years. After that, I became an assistant director.
Every second person around me wanted to be an actor.
Was it a lot of struggle to get that first break?
Even during my days in advertising and as an assistant director, I loved what I did. But there was a part of me that wanted to break out.
I really wanted to perform.
I really wanted to be able to act on camera. I have been a dancer all through my school, so I always had this performer in me.
So the thing is till you don't try, you don't know.
Once you start trying and nothing happens, then it's that self doubt you need to come face to face with.
Do I even deserve it, do I have it in me?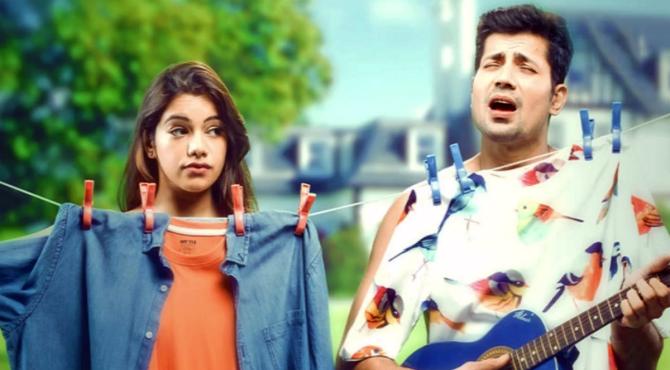 How did Permanent Roommates happen?
I was doing a play directed by Nidhi Bisht.
I had done a couple of ads and then the fine folk of The Viral Fever came to watch the play.
I was playing this really whacked up character they liked it and asked me if I want to be in a skit. It was a very funny skit, so I said, I would love to.
Somewhere we hit it off and realised that we have a similar sense of humour. We had an informal off camera friendship.
One fine day, I got a call saying they are trying to do a Web series.
I consider Permanent Roommates as my biggest break, even though just before that, I had done that little skit which had gone viral.
Lot of people did come to know me because of that.
When TVF called me for Permanent Roommates, they said we want to audition you for it. I was very confused as I had no idea what a Web series was.
There was a whole lot of anxiety.
The one way I learnt to counter it was that don't over think what you are doing, just find out if you are enjoying whatever you are doing.
Are you being authentic to what you want to do?
What is the kind of content that you like?
That is how it happened.
What made you choose OTT for a debut instead of opting for a conventional route like television?
As cliché as it sounds, I would call it love.
I did not really think that this is my break.
I just thought I am a part of something wholesome, a very nicely told and written story.
I did not see it as a break at all.
It was just another gig for me.
But I absolutely loved the story.
Biswapati Sarkar asked me to do it for a month.
It turned into something that gave me validation as a performer.
I didn't even know that time I use to feel shy calling myself an actor.
I mean, I still don't know how to prove that I am an actor.
Permanent Roommates was like a very bright star shining upon me. Nothing was planned, it just happened.
Luckily, the gamble paid off, making you and Sumeet Vyas overnight stars.
I don't know about 'overnight'. It might just seem like that.
Initially, people did not see a lot of merit in what it was.
But people in the industry only warmed up to the idea in its second season.
A lot of gravity came into it once bigger players like Netflix and Amazon started coming in and creating digital content.
Big makers like Zoya Akhtar, Anurag Kashyap, Hansal Mehta, Raj and DK, when they started coming, and Nawazuddin (Siddiqui) and Saif (Ali Khan). they started jumping in and you can't deny that's very obvious.
I am a student of mass media. Tomorrow, when students study this, they will know this is the point where it turned around.
Even then, Permanent Roommates held merit against all these Web series that were coming out. That's when people started asking around who is this girl.
We received a lot of love from fans but we also wanted the people in the industry to see it.
Did you have a hunch that the digital medium would enjoy such immense validation at some point?
I have family all over the world.
My brother stays in Australia and my extended family lives in America, so I knew about Netflix and stuff.
My brother is an IT guy, so whenever he would talk, he would say YouTube and digital content. He would keep saying that it is not going away.
I don't do analysis but I did understand it was not to be taken lightly.
Have you seen anything that grows so quickly?
Your show Wakaalat From Home is a must watch due to its novel concept. Here's a couple that's seeking divorce over Zoom calls amidst lockdown.
You consider people like Rohan Sippy and Anuvab Pal to come up with something as whacky as that. They are a bunch of very creative, fine and sweet people.
I think somewhere, they had this idea that what if somebody was going through something serious but had to do it on a Zoom call because everything was locked down.
What those two people are going through is not comical at all, their life is falling apart.
But when you see anybody from a third person point of view, all depressed and dramatic, it is very funny.
They came up with this idea, it was so organic.
I loved Rohan sir's work.
I love his sense of humour and the way he does comedy.
The show was entirely shot at home on a smart phone. How was that experience?
That experience taught me a lot.
Sumeet, Kubbra (Sait) and Gopal (Datt) had people around, I was completely alone.
But Rohan was there throughout.
He would do Zoom calls with me just to check my house, which angle would the lighting work best.
Although they tried to help, I had internet connectivity issues, the lighting wouldn't work...
Rohan made sure I received this Ring light. When my Ring light came, all the actors were like we also want it, so he sent the Ring light to every actor.
He was such a gem to work with.
We would have our phones close to the laptop camera, so that when we are looking at each other, the co-actors looked like we are looking at the phone that was recording us.
Your gaze was very essential.
It should always look like you are looking at your co actor but you are actually looking at the camera.
We rehearsed for almost a month.
Each episode was shot in one go.
Everything was shot on the phone.
Wakaalat From Home saw you reuniting with Sumeet Vyas. How was it catching up from where you left off?
It was lovely!
I mean we did have the chance to catch up with each other as we recorded an audio series just before this. So we had met each other while doing our dubbing together.
We were saying that we should work together and then the lockdown happened.
When Rohan sir called, both of us jumped on board because we loved the concept.
I had that comfort of a familiar friend and co-star.
And now that we have worked together for such a long time, we get each other without even saying stuff. I am very thankful for the companionship we share.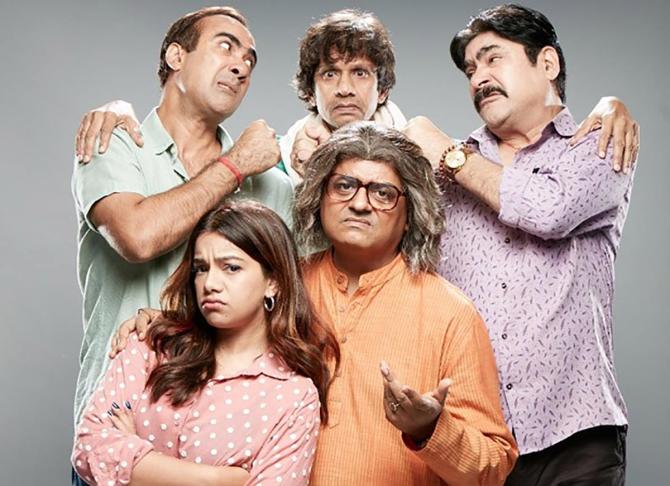 PariWar is a quirky tale about a dysfunctional family squabbling over property. How was it to be pitted against stalwarts like Gajraj Rao, Vijay Raaz, Ranvir Shorey and Yashpal Sharma?
It's like a dream come true and also scary.
This is the time when everyone is going to find out that I am not really that great.
You can't help but realise these guys, the amount of experience they have and the skill, even if you forget the talent.
They know exactly what lens, where's the camera, where's the angle, everything.
Even if I say my lines correctly, that's like a big deal.
They are delivering such fine performances, it only makes you more and more humble.
You have so much more to learn.
I was very humbled I got this chance.
We had a lot of scenes together so those scenes were the ones I was most nervous about because they were performing and I had to hold on to my character.
When you have a guide like (director) Sagar Ballary, comedy is his strongest feet. He is so good at it.
He was so nurturing, my co-actors were very nurturing.
Ranvir was so funny. I was telling him one day I don't know what I am doing. He is like if you were not a good actor, you wouldn't be standing with us.
That's a compliment and a threat and he was like no, but it's true.
Yashpal sir was also very sweet.
My character has a very odd relationship with her brothers. She always wants their approval and attention. Because of the age difference, they treat her like a child.
The teenage acne scarred skin and unibrow makeup looked so convincing, it's hard to believe you are 34 years old.
I am yet to turn 34, by the way.
I tend to look like a child.
Trust me, it's a disadvantage because people don't take you seriously.
Other than that, I would attribute that make up to the fact that I have done theatre.
In theatre, you only have to figure out what to apply, how to apply and how to look.
Of course I had a really good make up artiste.
I had this idea of giving myself freckles and scarring. You know, teenage kids are busy studying and they don't take care of their skin. My cousins were giving board exams and I realised they start breaking out because of anxiety.
Since my character is a nerd, she would too.
The unibrow idea came because I had a unibrow.
When Ranvir saw me in unibrow, he was like you look like my sister.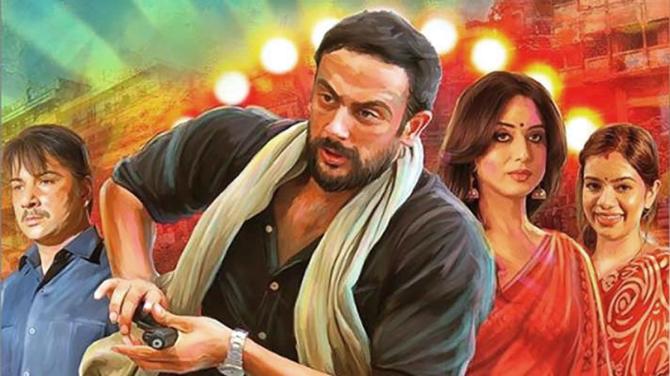 Dark 7 White will have you play Sumeet Vyas's love interest again. Is it just coincidence or people believe your pairing brings good luck to their shows?
I don't know about that.
Directors and actor duos have worked again and again.
I think it's got something to do with the resonance that people can see two of them together even as different characters.
So if people are able to see that and they think it's worth putting their money in, who am I to question that?
I am very flattered to work with a fine performer like Sumeet again and again.
Dark 7 White is a political thriller and a murder mystery. How are you prepping up for this challenging plot?
I am reading my script a lot.
I am trying to come up with who she is, what she is and why she is.
My director initially would sit with me and brainstorm for hours on the character and that has really helped.
Right now, I am trying to form something out of her. I can't reveal much.
I can only say she is a misfit in the world.
My character comes for a very small time but it has an impact.
You will also be seen in Apharan 2.
The character Ranjana is the same that I play in the first season. Of course, the story is grittier. There is a lot more going on.
It is one of those shows I have waited for almost two years to happen again.
The talk of a second season has been going on since the first season released.
Ekta (Kapoor, producer) was so happy with it.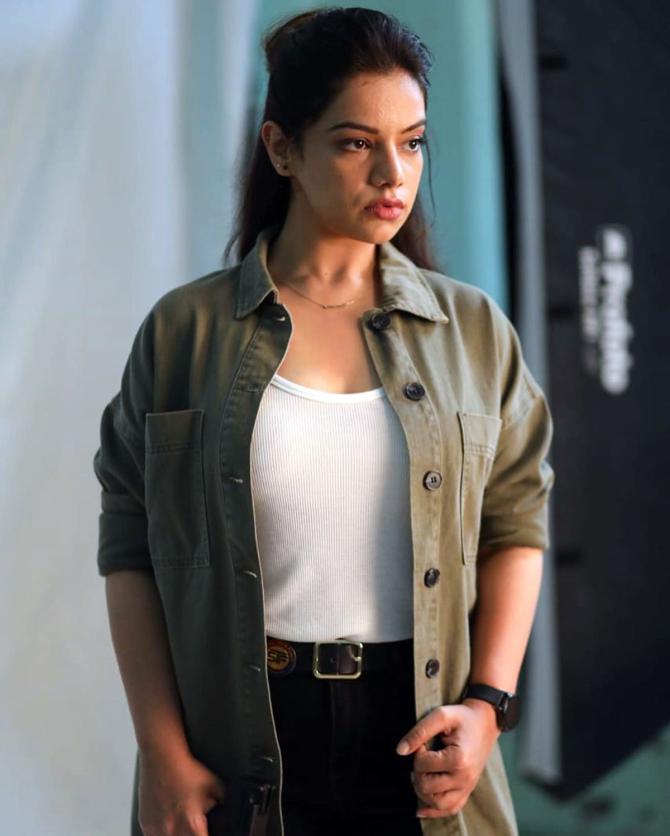 You share the screen with Kunal Kemmu in Abhay 2.
Kunal is a fine performer and a fine human being.
Working with him has been a massive learning experience for me.
He is very nurturing.
I tend to overthink stuff a lot he used to tell me to calm down.
I learnt how to take it easy from him.
He is very focused and knows when to relax.
He is a master at his craft and a very fine gentleman.
Mission Over Mars had Sakshi Tanwar, Mona Singh, Palomi Ghosh and you in pivotal roles. What did you learn from seasoned performers like Sakshi and Mona?
Sakshi and Mona are so serious about what they do and they are sincere towards everything they do.
Discipline is another thing I have learnt from all the great people I have worked with.
You can be a good actor and great at everything you do, but if you don't have discipline and don't have respect for what you do, you are not looking at the big picture.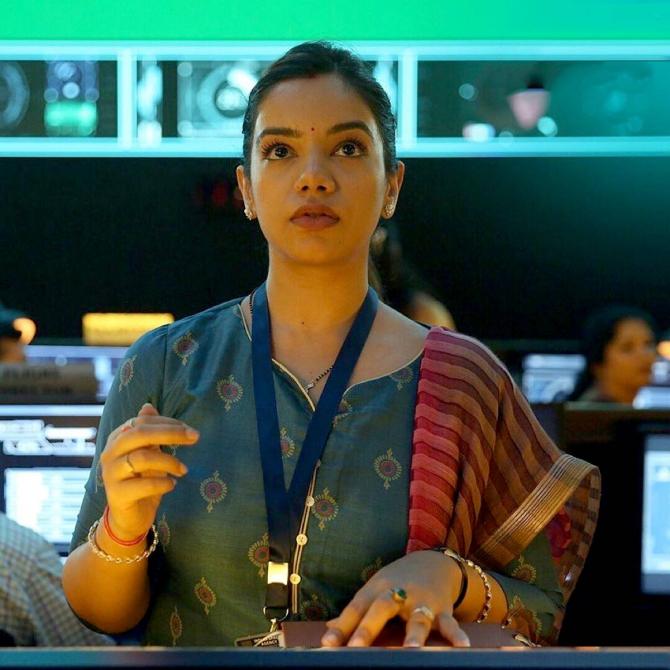 Would you continue sticking to OTT or would move to films at some point?
I am loyal to content. I am a platform agnostic.
OTT has beautiful expanse, but I will never undermine the beauty of cinematic experience.
I fell in love with story telling and performing arts after watching the films I did.
My mother is an avid film buff.
She would make us watch great films like Guide and Do Ankhen Barah Haath.
Films are the reason I gravitated towards story telling, dramatics and that experience is unparalleled.
Sitting together in a movie theatre with strangers and feeling the same emotions, nothing can surpass that.