| | |
| --- | --- |
| Amita Pathak and Adhyaan Suman | |
| | |
| | |
| | |
| | |
| | |
| | |
Advertisement
June 20, 2008 18:30 IST


Whoever said Haal-E-Dil is a copy of Dilwale Dulhaniya Le Jayenge is wrong. They have to be, because how can anyone make such a terrible copy?

 

Haal-E-Dil is a story of Sanjana [Images] Sharma (Amita Pathak), Rohit (Adhyayan Suman) and Shekar (Nakuul Mehta). Both the men are in love with the same girl. Yet, this is not a love triangle.

 

Sanjana and Rohit study in the same college and are in love. One day, Shekar meets Sanjana on a train ride from Mumbai to Simla and falls in love with her. He tries to convince her to love him back, and even stands in front of her house for a week to prove his love.

 

The film has a lot in common with Aditya Chopra's [Images] classic, DDLJ.

 

For instance, Kajol [Images] makes her entry in DDLJ in a song, dancing in the rain and then in the bathroom. Here, Nakuul makes his entry dancing a bathtub and then, under the shower.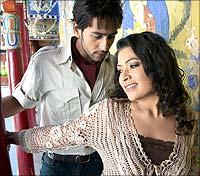 Both films have a song, which sounds very similar to Mere khabwon mein jo aaye.
In DDLJ, Shah Rukh Khan [Images] gives Kajol a hand to help her board a train twice. In Haal-E-Dil, Amita gives Naakul a hand to board the train.
In DDLJ, Shah Rukh is always shown playing his mandolin. Here, Naakul keeps playing the guitar.
In DDLJ, Shah Rukh tries to woo every girl he sees and here, Nakuul does the same.
In DDLJ, Shah Rukh goes to Kajol's home to get her family to accept him. Here, Naakul goes to Amita's home to make her accept him.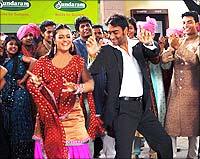 Haal-E-Dil is a poorly made film, shot in great locales. The story drags. Anil Devgan, who made disasters like Raju Chacha and Blackmail, does not impress once again.

 

Tanuja gets the worst deal in the film. She barely has any dialogue in the film, and when she does talk, she talks to the plants!

 

Amita performs decently but does not have it in her to become a heroine. She looks older than both the actors.

 

Naakul is a charmer. And this is really not the kind of launch Shekar Suman's son Adhyayan deserved.

 

Haal-E-Dil is definitely not worth a watch

.

 

Rediff Rating: