Home > India > Movies > Interviews

The Rediff Interview / Nakuul Mehta

'Haal-E-Dil is a love story with a twist'

June 17, 2008


| | |
| --- | --- |
| Nakuul Mehta | |
| | |
| | |
| | |
| | |
| | |
| | |
You may not know his name but you would recognise Nakuul Mehta from his commercials, which include Sprite, Cadbury and Thumps Up.
This 23-year-old model will now make his big screen debut with Anil Devgan's Haal-E-Dil. The film, produced by Kumar Mangat (of Omkara [Images] fame), also stars Mangat's daughter Amita and Shekhar Suman's [Images] son, Adhyayan.
Nakuul talks to Ameeta Gupta about his new film, his future plans and his mirror fetish!
What is Haal-E-Dil about?
It's a love story with a twist, involving three people. If you've seen the promos, you will see that the film is visually amazing. The script is incredible.
Tell us about your character.
My character's name is Shekhar. He's 24, very mischievous, goofy, immature and a ladies man. He also has these incredible one-liners. After meeting Sanjana [Images] [played by Amita], his priorities change and he realises for the first time what true love really is.
When were you bitten by the acting bug?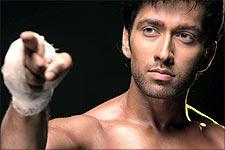 I always wanted to be an actor but modelling was never a part of the plan. It just happened. Satish Kaushik spotted me outside my college and decided to cast me for the first Sprite commercial, which he directed. Since then, I've done over 50 commercials. But, you know, as a model, people may recognise my face but they don't really know me. It's a different kind of recognition than what an actor receives. Also, in ads, you play a limited role.
Was it difficult making the transition from ads to Bollywood?
Not at all. Acting in movies was a natural progression for me. I've always had confidence in my ability as an actor. I've done a lot of theatre work with Mujib Khan, Om Katare and Joy Fernandez. Doing theatre gives you an idea of your capability as an actor. I mean, you get an immediate feedback with a live audience -- good or bad -- and most of the response I've received was positive.
The truth is I've been offered many movies over the years but I turned them down. I've been waiting for a script like Haal-e-Dil, a film that I believe in.
How did you bag this role?
Soham Shah, who directed Kaal, mentioned that Kumar Mangat had seen my ads and wanted someone like me to star opposite his daughter. Eventually, I got a call from Mangatji last December to come in for an audition. The whole process lasted for about four hours.
Were nervous about the auditions?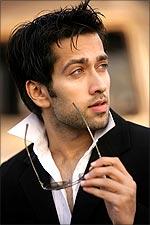 I wasn't nervous about performing; I have always been comfortable in front of the camera. But I was anxious about succeeding. There were three set scenes for all the actors to try out. I did those, but Mangatji asked me to do a completely new scene where I had to improvise. I went along with it but I didn't understand why he asked me to do the fourth scene. Later, when I'd got the part, Mangatji told me that he'd liked watching me perform so much that he wanted to see what more he could get out of me, and what I could bring to my role.
You share your debut film with two other newcomers, Amita and Aadhyayan. How was it working with them?
Amita and I did a three-month acting workshop with Om Katare, which involved a lot of acting exercises like improvisation. I got to know her through that experience. It was so comfortable performing with her in front of the camera. We would help each other out. If one of us missed a cue or if a scene required the other to just stand in, both of us would do it, no questions asked.
What about Aadhyayan?
He's a great guy, so much fun. But I didn't spend much time with him on the sets, as we don't share many scenes. In fact, we just have a song together.
Any fun incidents on the sets?
I have a thing for mirrors. I'm always having a bad hair day so I needed to keep a mirror at hand to fix it. If I pass by a mirror, I always check my hair. This amused everyone on the sets. They would all break or hide my mirrors just to tease me.
We shooting a song in Switzerland [Images], where I bought two mirrors for myself thinking no one would mess with them. But within a day, they 'accidentally' broke them. I was forced to do the entire song without looking at a mirror even once.
Do you admire any actor in particular?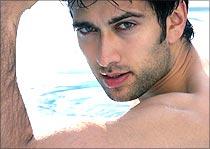 I don't have any favourite actors. I'm inspired by performances, not by any individual actor. For me, what Shah Rukh Khan [Images] did in Kabhi Ha Kabhi Na was inspirational, Aamir Khan's [Images] performance in Sarfarosh, Tom Cruise [Images] in Jerry Maguire and Will Smith [Images] in The Pursuit Of Happyness, these performances inspire me.
So many newcomers are making their debut now. Are you nervous?
It's great for the industry to have so many new talents coming in. About finding your own place in it, it's quite simple. It depends upon your acting capability. If you can put yourself out there and perform your heart out and work really hard, the industry is big enough. It will make room for you.
What are your future plans?
I'm reading scripts. Also, Kumar Mangat and I have talked about this great idea he has for another film. I'm in no hurry. I don't want to do a film just for the sake of doing one. If I just wanted popularity or money, I would have stuck to ads. But I'm here to build a career.
I'm not from this industry. I don't have a Bollywood background. I get only one chance and I don't want to mess it up.